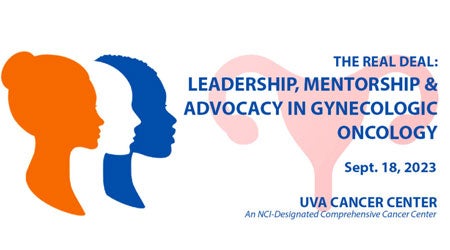 The UVA Comprehensive Cancer Center and Department of Obstetrics and Gynecology mark Ovarian Cancer Awareness Month in September with a special event featuring leaders in the fight against gynecologic cancers, who will share their perspectives on progress and promise in research and treatment, as well as the pursuit of equity in their field.
"The Real Deal: Leadership, Mentorship and Advocacy in Gynecologic Oncology," will be held 8 a.m.-2 p.m. Sept. 18 at the Pinn Hall Conference Center, with presentations by four past, current and future presidents of the Society of Gynecologic Oncology.
"In recognition of all our patients with gynecologic malignancies, our missions at UVA and our teams, we are bringing together trailblazers in the field of gynecologic oncology to discuss equity, leadership, and mentorship to advance research, advocacy, and excellence in patient care," says Paola Gehrig, MD, Chair of the Department of Obstetrics and Gynecology and event committee lead. "Our goal is that our conversations will innovate and enhance education, clinical care, research and equity."
Featured event presenters are:
Stephanie V. Blank, MD; Director, Gynecologic Oncology, Mount Sinai Health System; Professor of Obstetrics, Gynecology and Reproductive Science, Icahn School of Medicine at Mount Sinai; Associate Director, Women's Cancers, Tisch Cancer Institute; Director of the Women's Cancer Program at the Blavatnik Family – Chelsea Medical Center at Mount Sinai and SGO President 2022-2023: "Gender Equity in Medicine"
Amanda Nickles Fader, MD; Professor, Johns Hopkins Medicine Department of Gynecology and Obstetrics and the Sidney Kimmel Cancer Center; Vice Chair of Gynecologic Surgical Operations and Director of the Center for Rare Gynecologic Cancers, The Johns Hopkins Hospital; Associate Editor, Gynecologic Oncology and SGO President-Elect: "Health Equity, Equality, and Disparities: How Do We Create Sustainable Change to Narrow the Gaps?"
Angeles Alvarez Secord, MD, MHSc; Professor, Division of Gynecologic Oncology, Director of Gynecologic Oncology Clinical Trials, Associate Director of Clinical Research – Gynecology Oncology, Duke Cancer Institute/Duke University Medical Center and SGO President, 2023-2024: "Clinical Trials and Building Consortiums"
S. Diane Yamada, MD; Joseph Bolivar DeLee Professor of Obstetrics and Gynecology and Section Chief for Gynecologic Oncology, University of Chicago Medicine and SGO President 2021-2022: Leadership – Developing a Mentorship and Professional Development Pipeline"
The incidence and mortality of many cancers is declining throughout the world, but not for many gynecologic malignancies. While HPV vaccination, prophylactic surgery, improvements in the availability of genetic testing and increased numbers of novel therapies are all making a significant difference, there remain significant disparities and there is insufficient research funding.
"By bringing together leaders in our field, we hope to generate dialogue about how to create and maximize the sustainability of women in medicine, increase research funding and improve the outcomes of the patients we serve," says Marilyn Huang, MD, MS, head of the School of Medicine's Division of Gynecologic Oncology and an event committee member.
For more information and to register, click here. While this is an in-person event, virtual attendance is available; please RSVP for details. If you have questions, please contact Erin Erickson.
Filed Under: Clinical, Community, Diversity, Equity & Inclusion