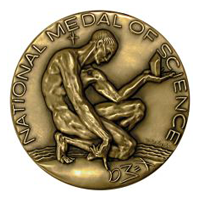 Recognize one of your peers by submitting a nomination for the 2023 National Medal of Science. Nominations are encouraged across the science and engineering community inclusive of individuals from the broad range of geographic, institutional, and demographic diversities represented by our Nation.
This premier award for American scientists and engineers — considered by some as the US equivalent of the Nobel Prize — was established by the 86th Congress in 1959. It is the highest recognition our Nation can bestow for outstanding cumulative contributions to knowledge or sustained, impactful work in the fields of engineering, physics, biology, mathematics, and behavioral and social sciences. These broad areas include such disciplines as astronomy, chemistry, computer and information science and engineering, geoscience, materials research, and research on STEM education.
Conferred by the President of the United States during a ceremony at the White House, the Medal has been awarded to over 500 pioneering individuals. The National Medal of Science program is administered by the National Science Foundation (NSF) in conjunction with the Executive Office of the President.
Submitting a Nomination
For this prestigious honor, please nominate colleagues and peers who have made extraordinary contributions that have advanced the scientific enterprise. Complete nomination packages, consisting of a completed nomination form and three letters of support, are due by May 26, 2023.
To submit a nomination, please visit the National Medal of Science website at http://www.nsf.gov/nms.
If you have any questions, please contact the Program Manager for the National Medal of Science at nms@nsf.gov.
Filed Under: Call for Nominations