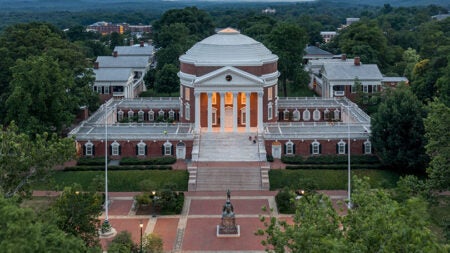 The Thomas Jefferson Awards are the highest honors given to members of the University community. Award recipients exemplify the principles, ideals, and mission of the University, in their character, work, and influence.
The committee is now soliciting nominations for the two Jefferson Awards – one for service and the second for scholarship.  The submission deadline is noon on Monday, April 17, 2023. 
First Award – Excellence in Service
The first award, sponsored since 1955 by the McConnell Foundation, recognizes excellence in service to the University.  This award is open to faculty, University Managerial and Professional staff, and Executive Staff.  The selection committee is looking for a nominee who has provided long-term and significant service to their school/unit and to the University as a whole.
Second Award – Excellence in Scholarship
Established in 2009 by the Alumni Board Trustees Endowment Fund, the second award recognizes excellence in scholarship..  The selection committee is looking for a faculty member who has demonstrated excellence in scholarship, research, and/or creative works.  Nominees should have a dedicated record of creation and/or dissemination of knowledge and have contributed substantially to the education and/or development of students.
Recipients must have been employed by the University in a full-time capacity for 15 or more years.  Retired faculty and staff are not eligible, with one exception – faculty and staff members who retired after April 1, 2022, are eligible for this year's awards.
The nomination packet should include a letter of nomination describing the contributions of the nominee, supporting letters (minimum of three, maximum of five), and curriculum vitae/resume.  More information about the awards and the nomination submission may be found on the Thomas Jefferson Award home page.  If you have questions or encounter problems with the submission, please email the Thomas Jefferson Awards Committee at  tjawards@virginia.edu or contact Cecil Banks, Executive Director for Major Events and External Relations at banks@virginia.edu.
Filed Under: Call for Nominations