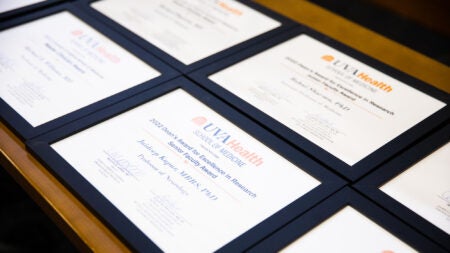 We are pleased to announce the inaugural call for nominations for the Dean's Award for Excellence in Faculty Mentorship. The Dean's Distinguished Faculty Mentor Award recognizes the essential contribution of effective faculty mentorship in achieving institutional excellence and promoting an inclusive culture. This award pertains to mentorship of faculty at UVA specifically. Nominees will be evaluated on the quality, efficacy, and magnitude of their mentorship. Criteria for the award include consistent demonstration of all of the following:
Provide counsel and expertise that furthers the professional and academic development of faculty, allowing mentees to measurably develop independence and their own professional identity;
Encourage innovation, supporting the development of projects and acquisition of skills;
Offer content expertise in a relevant capacity, be accessible;
Serve as an excellent role model at the institution and within the profession, upholding the ASPIRE values;
Challenge the mentee and set high, clear expectations, provide constructive critique;
Support an inclusive environment, involve the mentee in opportunities that advance the mentee's academic development and provide valuable exposure within professional organizations and networks;
Promote the mentee's accomplishments and value to the institution and profession, advocate for the mentee's wellbeing, show support for the mentee's academic advancement.
The award is $1,500. The nomination deadline is Monday, June 26, 2023.
Nominees must meet the following criteria:
be faculty members of the University of Virginia School of Medicine with 7+ years of service
be at the rank of Associate or full Professor
not have previously received this award
demonstrate exemplary compliance with UVA Health's ASPIRE values.
Nominations may be submitted from any School of Medicine faculty member. Self nominations will not be accepted.
A nomination letter for the candidate that provides a testimonial of how the candidate has mentored and shaped the careers of faculty mentees in terms of specific behaviors, interactions, accomplishments and their related significance. The letter should be no longer than 2 pages. Review the criteria above as a guide.
Two to three letters of support from current or former UVA faculty mentees. The letters should provide examples of how the candidate has excelled at mentoring and the impact their mentoring efforts have had on their career development and success. Letters should include descriptions of what the mentees accomplished that can be directly credited to the nominated mentor. Each letter should be no longer than 2 pages.
A copy of the nominee's CV.
Submit an electronic copy of the nomination packet as a single PDF here.
Questions? Contact Ashley Ayers.
Filed Under: Call for Nominations