By Matt Kelly, mkelly@virginia.edu, Reprinted from UVAToday.
Nate French, a 2012 Duke University political science graduate, decided to become a doctor after working as an emergency medical technician in his hometown of Rochester, New York.
French is currently in the University of Virginia's School of Continuing and Professional Studies' post-baccalaureate, pre-medicine program, a one-year curriculum that enrolls students in the prerequisite courses they need to apply to medical school. The program is designed for career-changers – people who have already earned an undergraduate degree in one field and then decide they want to go to pursue studying medicine. Graduates of the program have a 95% acceptance rate into medical school.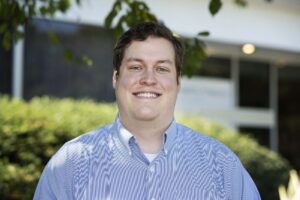 I was working in consulting and not loving it," French said. "It was just a job I got out of college that I sort of fell into. I was living in Washington, D.C., at the time, and my brother, a doctor, suggested that I take an EMT course just as something to do at the time, a fun way to volunteer on the weekends.
"I ended up enjoying that course so much more than what I was doing. I figured that was a good sign that I should try a different career."
French returned to Rochester, worked as an EMT for about a year and then as a paramedic for another year.
"I just loved it so much," he said. "There is a scientific side of it, and you get to work with people one-on-one and really make an impact on that one-on-one basis."
While French had medical experience, the SCPS program attracts a wide array of people.
"We have investment bankers from Wall Street, kindergarten-through-12th-grade teachers who worked for Teach for America and people who have worked on public policy," said Jillian Golaszewski, the program's academic adviser and manager. "We have had several students with Ph.D.s come through our program, and psychology is a very common major. They really come from a little bit of everywhere."
In this pandemic time, more people are seeing a future in medicine; applications to medical schools have increased 18% this year, according to the Association of American Medical Colleges. Some admissions officers have called it the "Fauci Effect," after Dr. Anthony Fauci, director of the National Institute of Allergy and Infectious Diseases and a prominent media figure during the COVID-19 pandemic. The SCPS program receives 250 to 300 applications a year for 35 slots.
The students in the cohort follow a structured, 11-month program of medical school prerequisite courses, consisting of general chemistry and biology, organic chemistry, physics and biochemistry. In a normal year, all the classes take place on Grounds with faculty from the College of Arts & Sciences; these days, they are online.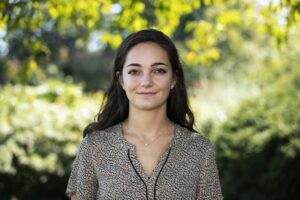 Marie Vetter, the daughter of an Army doctor, joined the program after graduating from Pacific Lutheran University, a small liberal arts college about 30 minutes south of Seattle. She traces her interest in becoming a doctor to an internship she had in her mother's native France while a college sophomore.
"I worked in a French hospital and I got to see firsthand the care that people received, and I felt that was a much more formative event for me," she said. "Getting those one-on one interactions with people and seeing it on a concrete basis, how their physicians and their care team affected their lives. I really like to connect with people; getting with them on a daily basis is something that makes me feel the most fulfilled, and so medicine seemed to be the right option to take for me."
The cohort members attend a weekly seminar on U.S. health care, which focuses on its structure, bioethics and other issues that future doctors face. The seminar is taught by Dr. Robert Powers, one of the chief medical officers at UVA Health.
"I think of our program as much more holistic than what I see in other programs," Susan Salko, director of the program, said. "UVA's program focuses on the academic, professional and personal development of the students and provides advisers in each of these three areas to serve as guides."
Aside from the classwork, students have opportunities to shadow medical professionals and volunteer in clinics.
"We offer the opportunity for them to do clinical work, so we facilitate orientation to the UVA Medical Center and to the Free Clinic, and those are hard positions to get," Salko said. "There is a lot more happening than just what happens in the classroom."
Filed Under: Featured, Media Highlights