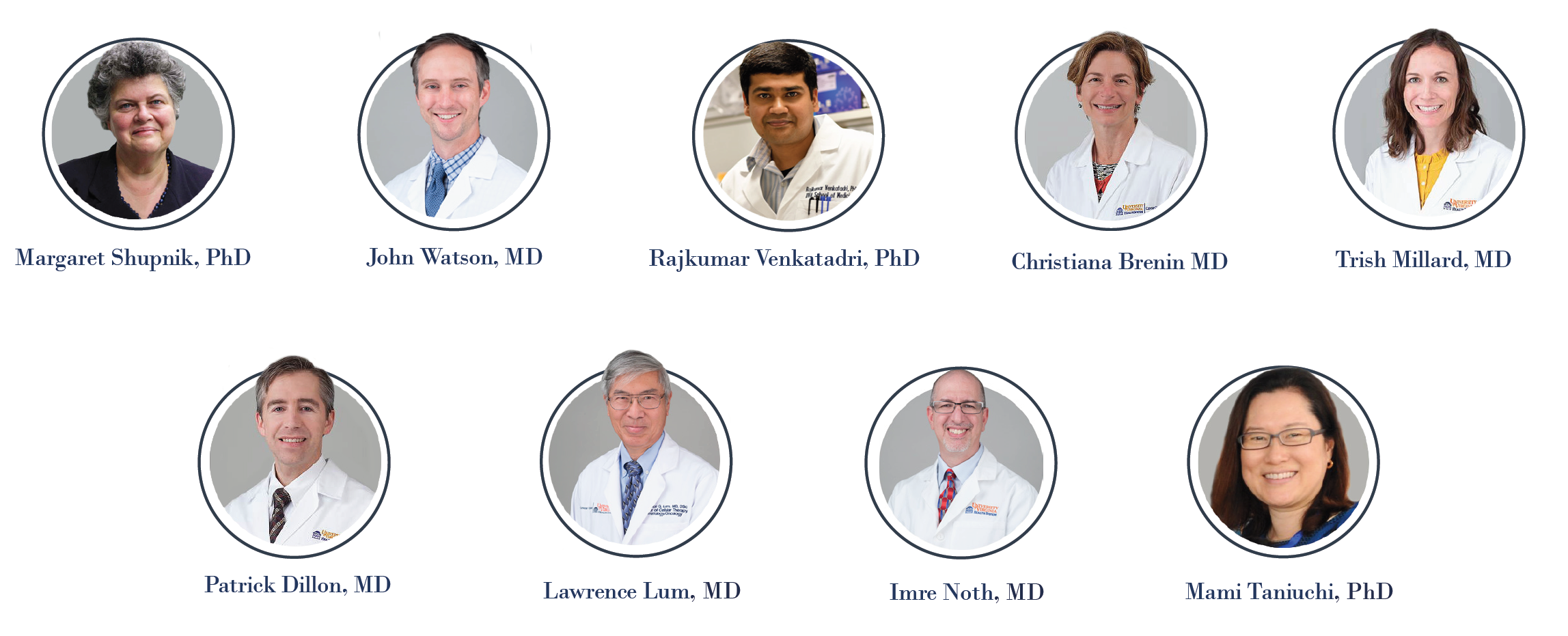 Congratulations to Dr Margaret "Peggy" Shupnik who was named Women's Center's 2020 Zintl Award Recipient (the University of Virginia's pandemic-delayed 2020 Elizabeth Zintl Leadership Award). Read the full article about Dr Shupnik here.
Congratulations to Fellow Dr John Watson in the Division of Pulmonary and Critical Care on his Nursing Excellence Award as an Exemplary Fellow.
Congratulations to Fellow Dr Rajkumar Venkatadri in the Division of Nephrology, and Dr Rahul Sharma's lab, for winning the Shyr-Te-Ju Award for 2021 at this year's UVA Scholar's Research Day.
Congratulations to our Breast Care Team, Drs Christiana Brenin, Trish Millard, and Patrick Dillon on their recent publications:
Sytov, A., Brenin, C., Millard, T. et al. Long-Term Non-progression in Metastatic Breast Cancer Beyond 5 Years: Case Series and Review. Curr Breast Cancer Rep (2021).
Mariotti V, Han H, Ismail-Khan R, Tang SC, Dillon P, Montero AJ, Poklepovic A, Melin S, Ibrahim NK, Kennedy E, Vahanian N, Link C, Tennant L, Schuster S, Smith C, Danciu O, Gilman P, Soliman H. "Effect of Taxane Chemotherapy With or Without Indoximod in Metastatic Breast Cancer: A Randomized Clinical Trial." JAMA Oncol. 2021 Jan 1;7(1):61-69. doi: 10.1001/jamaoncol.2020.5572.
Congratulations to Drs Patrick Dillon and Lawrence Lum on their newly published article in Expert Opinion on Biological Therapy titled "Bispecific antibodies for the treatment of breast cancer."
Congratulations to Dr Imre Noth, Pulmonary and Critical Care Chief, on the publication of his groundbreaking, co-authored paper, "Effect of Antimicrobial Therapy in Respiratory Hospitalization or Death in Adults with Idiopathic Pulmonary Fibrosis" in The Journal of the American Medical Association.
Congratulations to Dr Mami Taniuchi on receiving a $6 million grant from the Bill and Melinda Gates Foundation to create integrated sewage and clinical case surveillance network in Karachi to monitor diseases. Dr Taniuchi worked in partnership with Aga Khan University in Pakistan. This project follows a similar model to the integrated sewage surveillance that Taniuchi implemented in Dhaka, Bangladesh, with promising results.
Filed Under: Basic Research, Clinical Research, DOM in the News, News and Notes, Notable Achievements, Publications, Research
Tags: Cardiology, DOM, Education, faculty, fellows, June 2021, June 2021 Medicine Matters, June Medicine Matters, June Medicine Matters Newsletter, profile, profiles, Publications, Research, Residents, staff