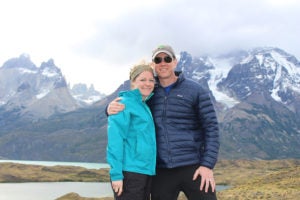 Tell us a little bit about yourself.
I was born in Washington, D.C. and grew up in Fairfax, Virginia. I then attended Duke University as an undergraduate, where I majored in French and Comparative Area Studies (similar to International Relations). I took a year off after college and worked at the NIH (mostly because I didn't get my dream job of driving the Oscar Mayer wiener mobile cross-country), and then came to UVA for medical school. After pursuing internship/residency in Internal Medicine at Beth Israel Deaconess Medical Center, fellowship in Allergy/Immunology at Johns Hopkins, and a PhD in Clinical Investigation at the Johns Hopkins Bloomberg School of Public Health, I came back to UVA as faculty in 2016. I live in Crozet with my husband, three daughters (ages 4, 3, and 3), and our dog, Mayor McCheese.
Why healthcare?
When I was little, I had severe asthma, and I had a lot of interactions with the health care system. When I was in 4th grade, my parents took me to an allergist in Northern Virginia, who had a substantial influence on my life. Under her care, my asthma became manageable, and I vowed at that time that I wanted to pursue a similar career and help other people with allergy-driven diseases. All these years later, I'm still happy with my decision!
What brought you to Charlottesville?
My husband and I met at UVA when we were medical students. We were married here in 2008 and always hoped that we would come back to Charlottesville one day to raise our family. After spending a few years in Boston, and then Baltimore, two job opportunities opened up for us in 2016, and we jumped on them!
What excites you about your work?
Most of my job at this point involves researching a rapidly emerging form of food allergy called eosinophilic esophagitis (EoE). This is an incredibly exciting field, as there is so much that we don't know yet about this disease, and every day we are learning more. I love identifying the gaps in our knowledge and then thinking about how we can answer those questions with the resources we have here at UVA. I also love working with my colleagues in gastroenterology (Drs Barrett Barnes and Bryan Sauer) and nutrition (Tegan Medico and Alexa West), who all approach the same disease from different viewpoints and work together to provide outstanding care for these patients.
Proudest/greatest achievement outside the professional realm?
No question—my family. I married an amazing man who is able to balance his own career with caring for our children, while also making us laugh about the mayhem that is our crazy life. And, while our girls are still really small, it's amazing watching them become little people with distinct personalities and interests. There's nothing better in this world.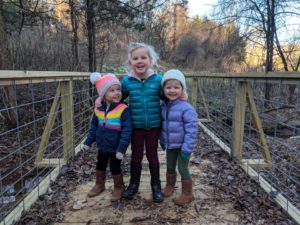 Next life?
Maybe I'll finally get that job driving the Oscar Mayer wiener mobile.
What are you usually doing on the weekend?
You can usually find us taking the kids on a hike, visiting a winery/brewery, and doing all the outdoor things that make Charlottesville so great. My parents and in-laws both live in town as well, so we spend a lot of time with family.
How did you meet your partner?
I first met my husband after he did a stand-up comedy set in medical school, and I thought he was hilarious. A year later, we had our first date, and we bonded over our love of former Olympic athletes, John Stewart, and Victory Golden Monkey.
What's one thing you always have in your fridge?
Frank's Red Hot.
Favorite vacation/activity spot?
Sea Island, Georgia.
What about you would surprise us?
I had a (albeit short-term) gig as a radio DJ in college. I was also a waitress at Chili's for 3 years.
Favorite fictional characters?
Midge Maisel.
What is the last book you read for pleasure?
"Where the Crawdads Sing" (Delia Owens). I highly recommend it.
Do you collect anything?
Vinyl records.
What was your first job, how old were you?
Swim team coach (16).
Filed Under: Faculty Profiles, News and Notes, Profiles