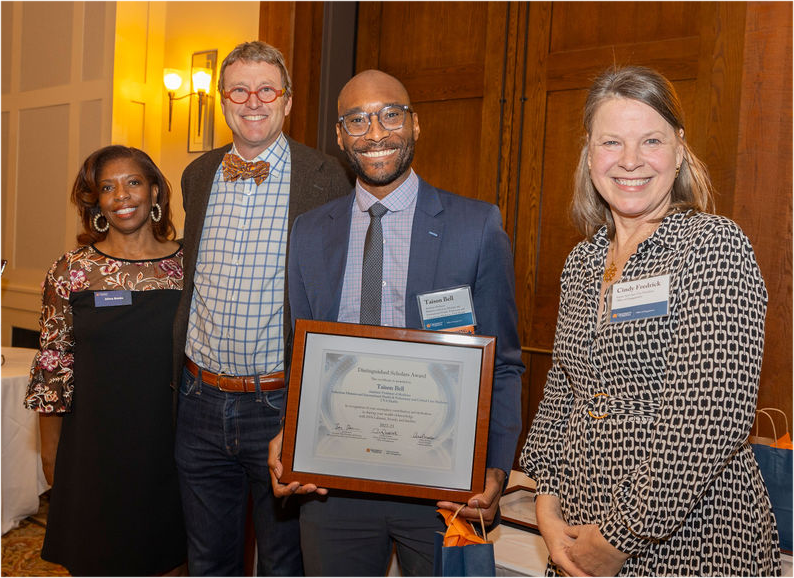 Congratulations to Taison Bell, MD, Assistant Professor of Medicine, Divisions of Infectious Diseases and International Health and Pulmonary and Critical Care Medicine, who was honored by The University of Virginia Office of Engagement as a Distinguished Scholar on November 1, 2023. His peers joined Dr. Bell at the ceremony, where he was recognized for the outstanding nature of his FY2022-23 contributions and commitments. The nomination text Louis Nelson, Vice Provost for Academic Outreach, shared illuminated his decisiveness in a crucial moment.
In January 2023, Taison Bell, MD, recorded a UVA Speaks podcast entitled "Heart Attacks and Cardiac Arrests: Immediate Intervention Saves Lives," which had the highest number of listens of all UVA Speaks podcasts in FY23. The podcast's topic was particularly relevant because the recording occurred a few weeks after Damar Hamlin, an NFL football player, collapsed on live television due to cardiac arrest. Dr. Bell delivered a message that explained the physiology of heart attacks and cardiac arrests in a way that would make sense to a broad audience and explained the importance of learning CPR and having access to defibrillators. In the podcast, you can also hear his passion for highlighting healthcare disparities in black and brown communities regarding CPR delivery and the need to increase awareness and education in these communities.
Again, congratulations, Dr. Bell, and thank you for all you do!
Filed Under: DOM in the News, Education, In the Know, News and Notes, Notable Achievements
Tags: Awards, DOM, ID, Infectious Diseases & International Health, Pulmonary