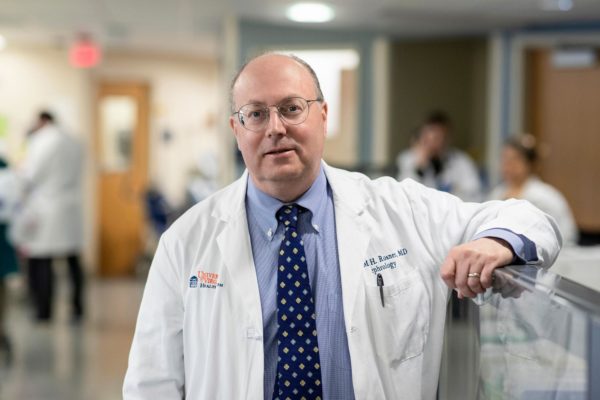 This month, the Department of Medicine underwent its annual review with the School of Medicine and Health System. It is an excellent opportunity to look back at our mutual accomplishments, identify areas for improvement, and set priorities for the year. I wanted to share with you some of our notable achievements and highlight areas that we need your engagement and input on to continue to excel in our missions.
Notable achievements:
•Total grant award dollars to the Department of Medicine exceeded $90 million. This is a $17 million increase over the prior year and signifies tremendous growth in this critical mission. This growth represents the work of established DOM faculty and the recruitment of new investigators to the DOM. Of this total, approximately 50% were NIH grants.
•For 2022, the DOM ranked 39th out of 114 academic internal medicine departments in terms of research funding in the Blue Ridge Institute rankings.
•DOM faculty published 1,014 unique publications in CY2022 (up from 949 in the prior year)
•The average student evaluation score for our clerkships and electives was 4.9 out of 5
•The DOM was selected by the students as the best teaching department in the SOM (the Mulholland Award)
•In the Doximity Residency Navigator rankings, our medicine residency program ranked 35th out of 622 programs.
•We have NO ACGME citations in any of our accredited educational programs.
•Clinical growth year over year was 11%, and DOM faculty produced 1,206,664 work RVUs
•Our overall mortality index was 0.98, with a very high case mix representing the high severity of illness we care for.
These are just a few of the many outstanding results from the past year, and my thanks to all of you. Our Department of Medicine is excellent because of you and our collective and collaborative efforts to better the health of our patients and community.
Now, we have areas for improvement, and we will discuss these areas in more detail in the coming weeks. However, I wanted to highlight several areas that cross the entire Department.
•We must work together to develop larger, collaborative grants (U and P awards). We will work on plans to build research communities to facilitate these submissions.
•We have to better manage research space to maximize our limited resource use. This is especially the case as we try to recruit more investigators to UVA.
•We must develop a more robust culture of support and respect for all of our learners across gender, race, and equity and hold ourselves to creating an inclusive and supportive environment where everyone feels welcome and can reach their potential.
•We must improve ambulatory access for our patients when demand for services is at record levels.
•We must continue to improve the quality of care we deliver, focusing on lowering mortality, length of stay, and readmissions.
•We have to improve our work to ensure that patients understand their prognosis and are engaged in discussions around goals of care and advanced directives.
In the following weeks, you will hear more about the DOM's improvement initiatives, but I welcome your input as we develop plans. Thank you again for all of your efforts. Enjoy this month's edition of Medicine Matters highlighting the Division of General Medicine.
With best wishes,
Mitchell H. Rosner, MD, MACP
Henry B. Mulholland Professor of Medicine
Chair, Department of Medicine
Filed Under: Message from the Chair, News and Notes, Top News
Tags: Awards, DOM, Education, faculty, fellows, GENERAL MEDICINE, GMGPC, medicine matters, October 2023 Medicine Matters, October Medicine Matters, October Medicine Matters Newsletter, profile, Publications, Research, staff