Message from Mark Okusa MD, Nephrology, Division Chief
We are grateful to have an exceptional Nephrology team! As we remain COVID-19 vigilant, our extraordinary team never ceases to astonish us with their unwavering dedication and productivity. This year, we take immense pride in acknowledging a host of faculty, fellows, researchers, and staff for their laudable accomplishments, nationwide recognition, newly acquired grants, published papers, and significant milestones. The joy of removing our masks and returning to face-to-face interactions is beginning to sweep across our health system. A resurgence of tangible normalcy in the form of hybrid seminars, conferences, and, most importantly, in-person meetings are becoming increasingly prevalent.
We went en masse to ASN Kidney Week in Florida, united for Kidney Health. Once more, we could engage in person in compelling and thought-stirring presentations. Additionally, the joy of reconnecting with friends and colleagues, some unseen since 2018, added a heartfelt warmth to the conference.
We resumed hosting our Visiting Professor Program – in person- facilitating networking, collaborations, and education. This year we hosted three successful endowed lectureships. Dr. Katalin Susztak, was our Philip C. Liverman Distinguished Lecturer, and we were delighted to have Thierry Liverman join us for dinner at the Colonnade Club. He spoke with remembered emotion about his brother Philip, for whom this lectureship is named. Established in 1986, it is the longest-running lectureship/endowment in the Department of Medicine.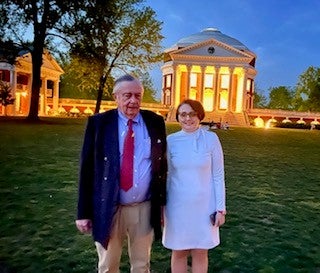 Our W. Kline Bolton Distinguished lecturer was Dr. Paul Palevsky, and Dr. Mark Perazella was our Nuzhet O. Atuk lecturer.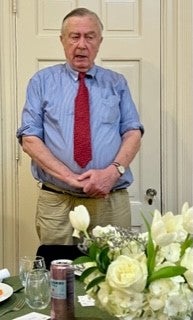 Our ever-evolving Division looks for new ways to treat our patients. We started a stone clinic, created an education suite for our fellows, and incorporated KDSAP into our outreach efforts. The transplant team is slated to open an innovative new kidney and pancreas clinic early next fiscal year, including on-site echocardiography and an outpatient treatment center with infusion capabilities. The recent Supreme Court ruling made us even more committed to examining and incorporating diversity and inclusion into every aspect of our Division. Most importantly, we would like to highlight two patient-centric programs that we supported.
~ Mark Okusa, Division Chief
---
KDSAP – Kidney Disease Screening and Awareness Program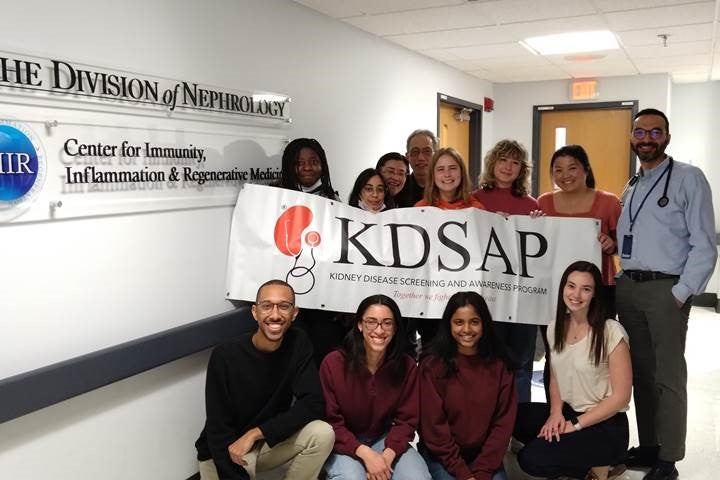 We recently became a Chapter of the Kidney Disease Screening and Awareness Program. Under the guidance of Dr. Li Li Hsaio, Director and founder of KDSAP at Harvard Medical School, our enthusiastic undergraduates and their mentors trained to participate in outreach clinics for underserved populations who cannot afford healthcare or do not trust healthcare institutions. KDSAP has two key objectives: student career development and community outreach. These screenings can inform community members about their overall health and if they have clinical test results that indicate chronic kidney disease (CKD). CKD is a silent disease; 1 in 7 Americans have CKD, but 90% do not know if they have it. Early detection, like through a KDSAP free kidney health screening, is vital in identifying those with kidney disease and in slowing the progression of CKD. We had our first screening at Mt. Zion First African Baptist Church on March 25, 2023, where the UVA KDSAP team screened 35 patients and picked up a few patients with hypertension, hematuria, and/or proteinuria. Our thanks go out to Marissa Yee (UVA 4th yr) and Dr. Tushar Chopra for leading the effort and the rest of the incredible undergraduates, faculty, staff members, and of course, David Simmons for coordinating with Mt Zion FABC. News outlets were there to cover the event, calling it their "top story."
UVA Food Pharmacy. Under the leadership of Leslie McPhatter, Assistant Clinical Nutrition Manager – Renal Nutrition, we continue underpinning our unwavering commitment to our patients; the UVA Dialysis Program launched an on-site Food Pharmacy in March 2020. This initiative, fueled by a generous grant from the Blue Ridge Area Food Bank (BRAFB), was designed to enhance our patients' access to kidney-friendly, nutritious food.
As of July 2023, our food pharmacy seeks continued funding to maintain its valuable services. It caters to approximately 300 patients across 6 of our 12 dialysis units. The enduring aim is to broaden this service to all our dialysis units, as food insecurity continues to be a significant challenge for many patients. Our ongoing dedication to patient welfare drives this effort, underlining our commitment to offering comprehensive care that addresses medical needs and nutritional well-being. This year the Division of Nephrology/CIIR, through an endowment from the Ralph Cohen Fund, provided a significant gift to the Food Pharmacy Program.
---
Education Updates
We developed subspecialty nephrology electives such as a point-of-care ultrasound elective with Dr. Kumar and a subspecialty CKD (chronic kidney disease) elective with Drs. Cavanagh and Renaghan. Dr. Kumar's outstanding contribution to our educational mission earned him the Department of Medicine's Educational Excellence Award in 2023. We continue to enhance fellow's elective experience by developing a palliative elective with Dr. Blackhall and an apheresis elective with Dr. Balogun.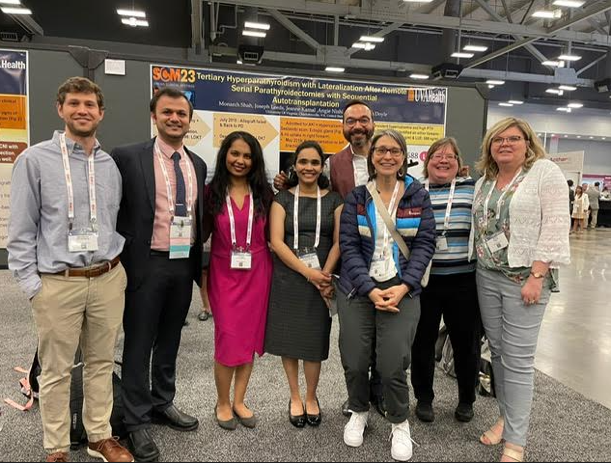 We had an exceptional year for our fellowship program. UVA Nephrology maintained its ACGME (Accreditation Council for Graduate Medical Education) accreditation of 2-year clinical adult Nephrology fellowship training and a 3-year Clinical/Research fellowship via the IGNITE-KUH award by the National Institute of Health. We have a comprehensive educational curriculum incorporating innovative conferences. This latter conference has been a remarkably enduring and excellent conference.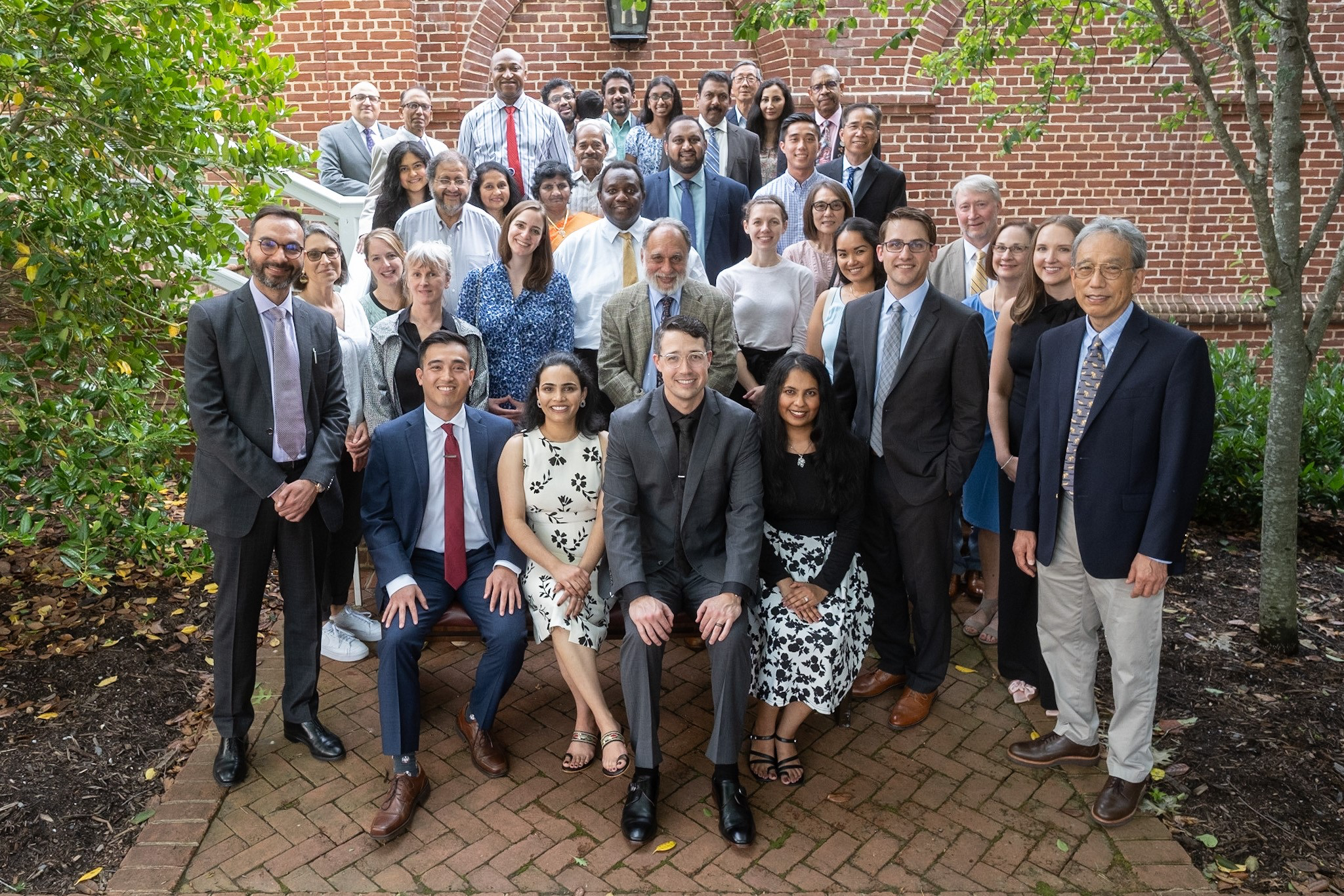 Our UVA Nephrology fellows have excelled academically with excellent representation at the National Kidney Foundation and American Society of Nephrology meetings with poster presentations and several manuscripts.
At our reception and in the Poster Hall, previous fellows showed up to cheer on the new. They worked incredibly hard during the year and won awards for their efforts.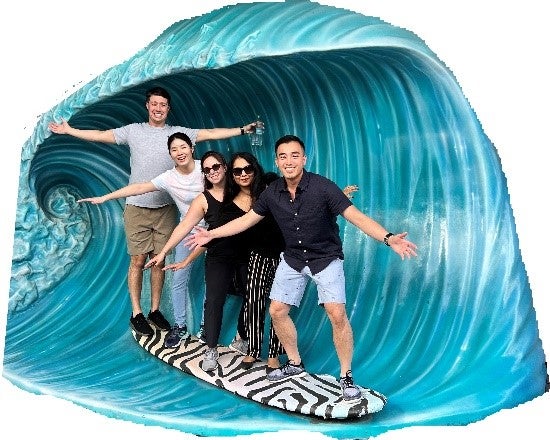 They also took time out to surf the ASN waves, and at the holiday party, they dropped their masks, went full-on Karaoke, and danced the night away.
We had 100% recruitment for our incoming class of 2023 – 2025, with a stellar group of candidates from all facets of America. We are thrilled to welcome: Michelle Tran, Abdallah Abdelrazeq, Sindu Marampudi, Alexander (Sasha) Gogolli, and one transplant fellow Iram Rafique.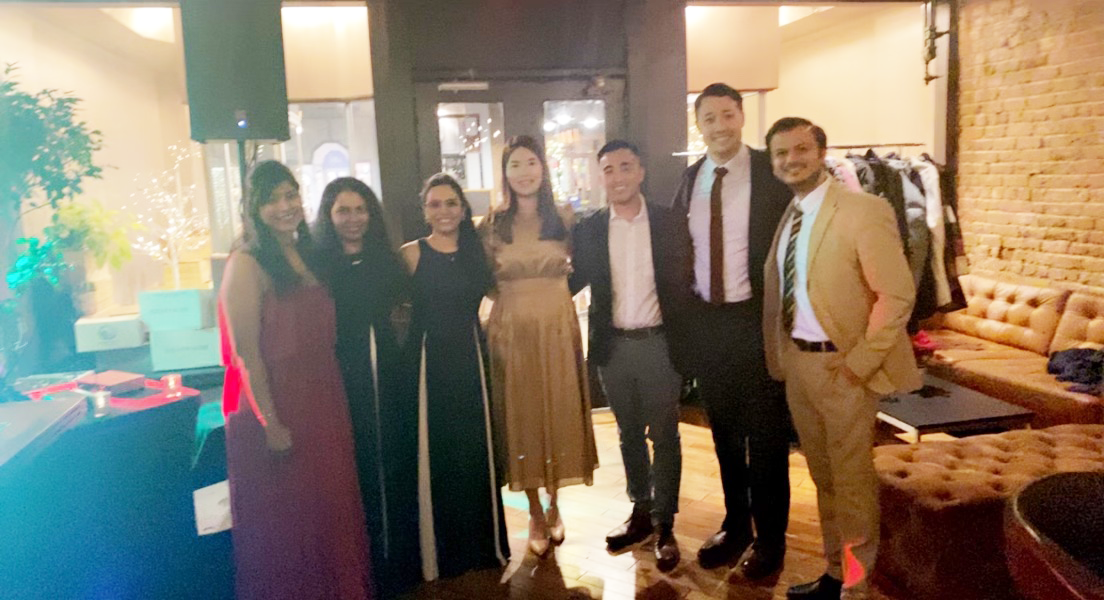 Our associate program director, Dr. Corey Cavanaugh, and his wife, Brittany, will move closer to family and relocate to the Cleveland Clinic (see below). Dr. Amanda Renaghan has been appointed as our new associate program director. We are very excited that she will work with Dr. Tushar Chopra, our Program Director, to provide exceptional training for our fellows.
Nephrology Fellows – Class of 2025
---
Clinical Updates
UVA Stone Clinic – The Division continues to exceed all expectations from an in-patient to an outpatient setting. While we have a growing subspecialty area that includes glomerulonephritis and onconephrology, Dr. Adam Campbell has been working with our Urologists at the UVA Stone Clinic at Fontaine. He sees complex patients with nephrolithiasis and co-manages them with Urology staff.
Polycystic Kidney Disease Center of Excellence – The University of Virginia was selected as a PKD Center of Excellence by the PKD Foundation. Dr. Mitch Rosner led this effort and is one of only a dozen centers in the US. The term is for three years, from 11/15/22 to 11/15/25. The program's mission stands on three pillars: 1) Understanding PKD through research, 2) Ensuring better care for all individuals with ADPKD, and 3) Educating and empowering the community.
UVA at Lynchburg – will receive a boost this year as two outstanding nephrologists dedicated to the Lynchburg/Farmville area began service this month. Dr. Hanna Zaraket has been the sole nephrologist managing UVA at Lynchburg practice. However, Dr. Hasan Iftikhar (Farmville) and Dr. Varsha Pothula (Lynchburg) began seeing patients last week along with our nurse practitioner, Joanne Anderson. We are now poised to pursue full-scale operations in the Lynchburg/Farmville area.
Transplantation – Under Dr. Swati Rao's interim direction, the transplant program continues its outstanding performance. UVA's kidney and pancreas programs continue to grow, posting the highest numbers in their 55-year history. Patient survival, graft outcomes, and access measures remain excellent during this growth. The transplant nephrology team has spearheaded an extensive network of outreach sites across the Commonwealth (5 locations) to allow for greater patient access to the transplant programs. The team is slated to open an innovative new kidney and pancreas clinic early next fiscal year, including on-site echocardiography and an outpatient treatment center with infusion capabilities. Soon UVA will equip the program with a new state-of-the-art HLA laboratory coming online over the next few months. The kidney team is at the forefront of donor acceptance using ABO-incompatible donors, early adoption of hepatitis C + and COVID+ donors, Peds en bloc donors, and 2:1 high KDPI donors. With an active collaboration with the HLA lab, they have been able to perform transplants in highly sensitized patients.
The Division of Nephrology has an exceptional Advanced Practitioner Program led by Leah Wayner, MSN, ACNP, CNN-NP, and includes:
• Danielle Wentworth, FNP-BC
• Laura Krause, MSN, FNP
• Larkin Muncaster, MSN, FNP
• Nina Stewart RN, APRN, FNP-C
• Diane Burns, FNP
• Kimberly Gahring, AGA-CNP
• Joanne Burkes-Anderson, AG-ACNP
• Karen Sumner, AG-ACNP
They represent a significant academic Advanced Practitioner Program, and individuals provide a broad spectrum of clinical services, including outpatient dialysis, in-patient ESRD service, CKD education, and outpatient CKD clinic. The APPs host nursing and pharmacy students during clinical rotations. Leah Wayner is developing a national presence by advocating independent APP practice. She recently published a "perspectives" paper in the Clinical Journal of the American Society of Nephrology entitled: Promoting Independent Advanced Practice Nephrology Care: New Care Models to Advance Kidney Health. Her other UVA nephrology APPs are completing a follow-up manuscript on the same topic. On this topic, her abstract Advanced Practice ESRD Hospital Care was featured during the Opening Ceremonies and Reception at the National Kidney Foundation Clinical Spring Meeting on April 12, 2023, in Austin, Texas.
When one of our Farmville-based nephrologists took medical leave for several months this past year, we were challenged to care for several local UVA patients with kidney diseases. Although several individuals stepped up, I would like to highlight four individuals. Joanne Anderson took over the entire practice in Farmville, handling all in-patient and outpatient cases in collaboration with attending physicians. Nina Stewart regularly made trips to Farmville to ensure all UVA Dialysis patients were cared for. Dr. Hanna Zaraket, based in Lynchburg, took calls almost daily for a year. Lastly, Michael Wilkowski, who many of you may remember as one of our most outstanding educators in the 1990's drove up from Georgia to spend several days a month for over a year to help cover the clinical practice. Many other attendings helped out during this period of time. We are incredibly grateful for their efforts to get us to where we are today, in which we have a full complement of providers with the addition of Drs. Hasan Iftikhar and Varsha Pothula (see profile section).
---
Research Updates
It has only been three years since we hired Dr. Sanja Arandjelovic, Assistant Professor. While working with Dr. Kodi Ravichandran, former Chair Department of Microbiology, she made significant advances with publications in Nature, Nature Immunology, and Nature Communications. Naturally, when the opportunity arose, we were excited about recruiting her to the Division and Center. Her current work on tuning apoptotic cell clearance to maximize anti-inflammatory metabolite release could improve our understanding of cell clearance's impact on tissue health. Sanja's research findings challenge the dogma that posits that lingering/uncleared apoptotic cells increase tissue pathology in inflammation and have the potential to lead to the development of entirely novel therapeutic strategies for the treatment of inflammatory diseases like RA. This year Sanja received 3 NIH grants: an R01, R21, and R21 (notice of award that is pending). Three NIH grants in 1 year is an amazing feat for anyone, let alone a 3rd-year faculty member. She received the Department of Medicine's Research Excellence Award for 2023 for her outstanding contributions. We are incredibly proud to have this gifted scientist in the Division and Department. Oh, and the protein she studies is called Elmo1.
Uta Erdbrügger, widely recognized as one of the world's leaders in extracellular vesicle (EV) research, continues her groundbreaking work on novel bio-markers and bio-activators in vascular and renal disorders; in particular, she is testing disease and site-specific EV biomarkers in blood and urine with single EV flow cytometry. She is the Treasurer of the International Society for Extracellular Vesicles (ISEV), Associate Editor for the Journal for EVs, and co-Chair for the Annual Meeting in Seattle (May 23). Most recently, she received an American Diabetes Association grant entitled. Urinary extracellular vesicles characterize early diabetic kidney disease phenotypes.
Two years ago, the Division of Nephrology/CIIR, in partnership with VCU and Va Tech, received the coveted U2C/TL1 training grant. The Integrated Virginia Research Training Centers in Kidney, Urology, and Hematology (IGNITE KUH) is a pre-and postdoctoral research training program designed to address the increase in disease burden in the areas of kidney, urology, and hematology, where there is a shortage of the workforce to advance scientific discoveries and technology. We had our first very successful External Evaluation Board Meeting on May 28, 2023, in which three external advisors (David Ellison, Oregon University, Greg Tasian, University of Pennsylvania, and Betty Pace, Augusta University) gave us excellent feedback. Our trainees gave impressive summaries of their research projects. The input will be instrumental as we plan for a competitive renewal application soon.
Baoshan He has recently been appointed Division/CIIR grants administrator. He holds a Master's in Account from Indiana University -Purdue University Indianapolis. He was the grant coordinator at the University of Kansas Office of Research. He is very experienced in pre-award and post-awards, and we are fortunate to have such a talented grants administrator.
---
Administration Updates
We have outstanding faculty and fellows and often receive high accolades, many others are critical in ensuring that the day-to-day operations remain highly functional and efficient. We truly have a talented core of administrative assistants, including those listed below.
Jane Beckert is a wonderful person and an exceptional administrator. She is a kind and jolly person who spreads cheer wherever she goes. Jane is organized, resilient, and resourceful, thus handling even the most complex tasks easily. She has an uncanny ability to anticipate the needs of the faculty and, more than likely, has already worked out a solution before you come to her with the problem. Jane loves the outdoors, and her eyes sparkle when she recounts her favorite hikes in the various National Parks. Jane is a true asset to the nephrology division, and we deeply value her support and wisdom.
Amy Thompson has a strong, steady work ethic and firm appreciation for deadlines which helps to form the backbone of our financial operations. She capably navigates the complexities of financial transactions, astutely manages reconciliations, meticulously tracks budgets, prudently approves expenses, and diligently ensures that our monthly financial reporting is always accurate and timely. Outside work, her love for music and crossword puzzles hints at her prowess in keeping us fiscally sound.
Jacqueline (Jackie) McCauley has been a remarkable addition to our Division. She was initially focused on providing administrative support for the Nephrology Clinical Research Center, but others start calling on you when you do a great job. Now she has expanded her portfolio to assisting with CIIR seminar series and the U2CTL1 training grant providing outstanding support for these additional critical missions within the Division.
Mary Lenahan has a constant be-of-service attitude and always finds a way to "get it done." What makes her most unique is her willingness to step in and help, no matter the challenge or what needs to be accomplished. She stands tall among high performers, and we are grateful to have her on our team. The faculty she supports is delighted with her performance, and she is undoubtedly a great example of citizenship and support of the missions of the Department of Medicine and well deserving of this award.
We welcome Sheryl "Oriah" Vaughn as our Clinical Program Coordinator, Kidney Care First (KCF) Program, a Center for Medicare & Medicaid Innovation (CMMI) alternative payment model. Oriah has jumped in and handling well a complicated program. We are grateful for her expertise.
Fawad Sohail took over as the Nephrology Fellowship Coordinator last October, and we are thrilled to have him on board; he is a great contributor to his fellowship program. He completed his bachelor's degree in law and management from Kabul University. Before accepting this position, Fawad worked for the Charlottesville General District Court as a Deputy Clerk. Fawad moved to Charlottesville 10 years ago and lives here with his family. He has also worked for UVA Medical Center as a Health Unit Coordinator and worked for the International Rescue Committee. Fawad's life and administrative experiences have allowed him to interact with and relate to a diverse group of people. His strong computer technology skills, along with his legal background, will most definitely serve him well in his new education coordinator role. In his spare time, Fawad likes to hike, cook, play soccer and enjoys volunteering in the community.
Caroline McCormick is the glue that keeps the Division together. Caroline has ensured a well-run invited speakers program, including three endowed lectureships. Her interface with visiting professors is critical; her effervescent and professional attitude and the meticulously arranged visits send a lasting impression of our Division to visiting professors. She has become instrumental in assisting in promotion and tenure portfolios and ensuring that the tele video system functions for meetings and conferences. Lastly, Caroline has become the resource for all administrative assistants. Whatever is asked, she approaches each request with a "can do" attitude. For these reasons, she was the recipient of the Department of Medicine's Outstanding Staff Contributor Award for 2023.
In Bob's absence, we were grateful that Nadine Knight stepped in immediately and helped manage the Division through a critical period (Budget season!). As always, Russ Manley was there to backstop everyone and is continuing as our interim Division Administrator while managing the operations of the Department. Lastly, we are very excited that Lauren Swindell has joined our Division as Associate Administrator of Operations.
---
Accolades
We heartily congratulate the following faculty members for their achievements:
Dr. Mitchell Rosner was appointed global associate director for the Americas at the Royal College of Physicians (RCP). He is a fellow of the RCP and has been appointed on a four-year term, where he will help guide RCP activity in the Americas.
Dr. Mitchell Rosner, Director of the new ADPKD Center of Excellence sponsored by the PKD Foundation. The term is for three years, from 11/15/22 to 11/15/25.
Dr. Jeanne Kamal was elected by the American Society of Transplantation's (AST) Trainee and Young Faculty Community of Practice (TYF-COP) as Member-at-Large for 2023-2025.
Dr. Angie Nishio-Lucar was approved as an American Society of Transplantation Fellow. This is quite an honor, and we are proud of your achievements in advancing the transplant field. Selection requires a deep commitment through service and achievements. Only a handful are selected each year.
Dr. Rasheed Balogun was elected as the 13th Board Member and President-Elect of the International Society of Apheresis (ISFA). He will be President of ISFA in 2025.
Our esteemed faculty and staff persistently deliver top-tier performance in their designated fields, a testament to their ceaseless dedication and diligence. This year, we had the pleasure of witnessing multiple individuals being honored with the Department of Medicine Excellence Awards, including:
Sanja Arandjelovic PhD – Department of Medicine Excellence in Research, 2023
Anubhav Kumar MD – Department of Medicine Excellence in Education, 2023
Caroline McCormick – Department of Medicine Outstanding Staff Contributor Award, 2023
Rahul Sharma PhD – Dean's Excellence in Faculty Research Award, 2022
We celebrate the new journey that Linda Deeds embarks upon after her long tenure with us in Nephrology and CIIR. Undoubtedly, Linda played a pivotal role in our Division's research efforts and was instrumental in our successes since her arrival. Her consistent professionalism, calm demeanor, and collected approach to her work were deeply appreciated. We are grateful for her significant contributions as a valued Division member. Due to her outstanding abilities as a grants administrator, Linda has now transitioned to the School of Medicine's Grants and Contracts Office.
We bid a bittersweet farewell to Dr. Corey Cavanaugh as he moves on to a new chapter at the Cleveland Clinic Foundation, Ohio. Dr. Cavanaugh will serve as an Assistant Professor in the Nephrology Division, working under the guidance of Dr. Crystal Gadegbeku, Chair, Department of Nephrology, Glickman Urological & Kidney Institute, and a former UVA fellow.
Dr. Cavanaugh joined UVA in 2019, fresh from his fellowship training at Yale University. Since then, he has significantly contributed to our Division as a dedicated clinician and exceptional educator, particularly in glomerular disease. His educational initiatives, like the Kidney Pathology microscope rounds and Rheumatology – Nephrology conferences, have profoundly influenced our fellows. His roles as associate nephrology fellowship program director, Core Faculty Committee member, and Chair of the Clinical Competency Committee bear testament to his dedication to our Division.
Although his departure brings a sense of personal loss, there is also immense pride in knowing he will continue his illustrious career at Cleveland Clinic, serving as an ambassador for UVA. Dr. Cavanaugh and his wife Brittany also gain the opportunity to live closer to family, a comforting prospect. His departure is undoubtedly a significant loss to the UVA faculty and fellows, but it is heartening to anticipate the continued contributions he will make in his new role. We wish Dr. Corey Cavanaugh and his family the very best in this exciting new endeavor.
We are excited for Charlotta Wriston as she starts a new chapter with the School of Engineering. She was the manager of two significant grants, the U2CTL1 IGNITE KUH, and the R25 Va KUTOR, ensuring that we continue to meet our commitments to each.
Dr. Shu Man Fu, MD, PhD, the Margaret M. Trolinger Professor of Rheumatology, Professor of Medicine and Microbiology, and former Chief of the Division of Rheumatology & Immunology (1998-2007), retired in March 2023. An internationally known physician-scientist, he has left a significant impact through his extensive academic career involving teaching, patient care, and groundbreaking research.
Dr. Fu pursued his education in Hong Kong and the US, earning his MD from Stanford University and his PhD in immunology from Rockefeller University. He is board certified in internal medicine and rheumatology. Dr. Fu's renowned research, primarily in basic and clinical immunology, has significantly advanced understanding of lupus and autoimmune disorders.
A prolific author, Dr. Fu has published more than 200 original articles and 32 book chapters, and symposium presentations, garnering over 15,423 citations. His continuous research support from NIH since 1978 has facilitated his investigation into novel therapeutic agents for lupus nephritis.
The retirement of Dr. Fu marks the conclusion of a brilliant career that will continue to impact patients and fellow researchers for many years to come.
To view the entire August Edition of Medicine Matters, click here.
---
Filed Under: Basic Research, Clinical Research, Education, In the Know, News and Notes, Notable Achievements, Publications, Research
Tags: August, August 2023, Awards, DOM, Education, faculty, fellows, medicine matters, Nephrology, profile, profiles, Publications, Research, Residents, staff