Message from Christopher Kramer MD, Cardiovascular Medicine, Division Chief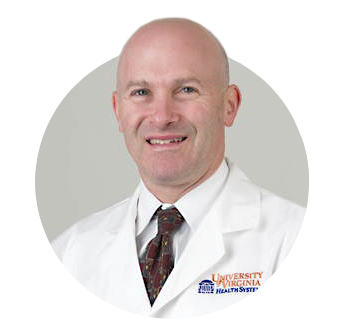 The Division of Cardiovascular Medicine celebrates its 100th anniversary in 2023. It will celebrate its reputation for excellence in patient care, research, and education with a two-day event for faculty, fellows, and alums on the 16th and 17th of this month. The Cardiovascular Division is comprised of 41 clinical and six research faculty. The Division is highly clinically active, with nearly $19 million in clinical revenue and over 230,000 work RVUs performed in fiscal year 2022. Significant growth has been seen from fiscal year 2022 to fiscal year 2023 in percutaneous valve placements (33%), EP device placements (10%), coronary interventions (11%), and advanced cardiac imaging procedures (Computed tomography angiography, cardiac magnetic resonance imaging, and positron emission tomography (24%).
The Division's clinical practice covers a wide range of disciplines, including general cardiovascular disease and prevention, cardiac imaging, electrophysiology, diagnostic and interventional cardiac catheterization, valvular heart disease, basic and advanced heart failure, mechanical support, adult congenital heart disease, sports cardiology, and vascular diseases. The collaborative approach the Division takes to patient care brings together specialists from cardiovascular medicine, pediatric cardiology and cardiac surgery, adult cardiac and vascular surgery, and diagnostic and interventional radiology to optimize treatment for each patient.
Outpatients are seen at the University of Virginia Main Hospital, Fontaine Research Park, and outreach clinic locations, including Fishersville, Zion's Crossroads, and Culpepper. Over 47,000 outpatients are projected to be seen in fiscal year 2023 at these locations, representing an increase of nearly 5% over fiscal year 2022.
The Cardiovascular Division at the University of Virginia is recognized worldwide as a leader in basic, translational, and clinical science. Over 90% of the Division faculty are actively engaged in research activities, and members of the Division have leadership roles in the Robert M. Berne Cardiovascular Research Center and the Beirne B. Carter Immunology Center. The Division is recognized as one of the top cardiovascular research training centers with two associated NIH T-32 training grants in Cardiovascular Imaging and Cardiovascular Basic Research, and mentors recognized nationally or internationally for their mentoring prowess. The Division will bring in funding of $7,327,773 in fiscal year 2023, representing an increase of 10% over fiscal year 2022. The research portfolio includes twenty NIH R-category awards (primarily R01 grants) to nine separate investigators. Two faculty also participate in a program project grant; one runs a U01, an NHLBI-supported international registry. Cardiovascular Division faculty are also leading or participating in approximately 60 clinical trials actively funded by federal grants, society grants, or private-public partnerships. Many of these trials represent investigator-initiated trials.
Other highlights of the past year include:
Eighteen Cardiovascular Division faculty won UVA Patient Experience Awards in 2022 for outstanding outpatient care based on patient surveys
Victor Soukoulis MD was elected Governor-elect of the Virginia chapter of the American College of Cardiology
Max Luna MD was awarded the Dr. Henry Harrison Wilson Jr. Everyday Humanism in Medicine Award
Rohit Malhotra MD was named the Department of Medicine Vice Chair for Specialty Ambulatory Care
Jamieson Bourque MD won the Society for Nuclear Medicine and Molecular Imaging Cardiovascular Outstanding Educator Award
Michael Ayers MD won the Faculty Teaching Award from the UVA Class of 2025 and was named to the ACC Emerging Faculty Leadership Academy
Antonio Abbate MD, PhD was named Medical Director of the Exercise Physiology Laboratory
Yaqub Betz MD, 1st year fellow, was awarded the Mulholland Teaching Award
Four faculty were named to endowed chairs:

Antonio Abbate MD, PhD – Ruth C. Heede Chair in CV Medicine
Jonathan Lindner MD – Frances Myers Ball Chair in CV Medicine
Amit Patel MD – Julius Ruffin Beckwith Chair in CV Medicine
Michael Mangrum MD – Ted Turner Chair in Atrial Fibrillation
---
Clinical Updates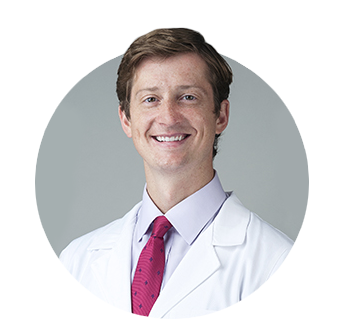 By Michael Ayers MD
Hypertrophic cardiomyopathy (HCM) is the most common inherited cardiovascular disease, affecting 1 in 200-300. It is defined by a heart muscle wall thickness greater than 1.5 cm without another cause. HCM requires multiple subspecialties to coordinate care for patients and their families, including genetic counselors, electrophysiologists, cardiac imagers, interventional cardiologists, and cardiac surgeons. There are challenging, nuanced treatment decisions, leading to the most recent guidelines to recommend patients follow at the Centers of Excellence. The University of Virginia Center of Excellence in HCM is one of 46 United States centers.
HCM causes a 2 to 4-fold increase in mortality. Most suffer symptoms for ten years or more before diagnosis. The most common concern is shortness of breath from left ventricular (LV) outflow obstruction, though heart failure can also occur due to decreased ventricular compliance. Arrhythmias are common; 1 in 3 experience atrial fibrillation. Ventricular arrhythmias causing sudden death are the most feared complication. Two-thirds of patients present with symptoms, while others are found incidentally or with family screening. Despite the high prevalence and morbidity/mortality, 85% of patients with HCM remain undiagnosed. Providers attribute symptoms to other causes, miss clues on EKGs or echocardiograms, or fail to recognize tell-tale family histories.
Treatment traditionally focused on improving symptoms with medications or septal reduction therapies (surgical or catheter-based). Increasingly, we genetically test patients and family members. Those at the highest risk for sudden cardiac death (SCD) are offered defibrillators. With improved SCD risk stratification, mortality has declined steadily. Ultimately, the drive to identify patients may have fallen short because it seemed we were treating the effects but not the cause. Actual disease modification eluded us.
How times change. Mavacamten, the first-in-class cardiac myosin inhibitor (CMI), is now FDA-approved. Unlike negative inotropes, CMIs target the pathogenesis of HCM. Mavacamten dramatically decreases outflow tract obstruction and improves diastolic function. Patients have improved biomarkers, feel better, and can do more. The drug even reverses LV hypertrophy and left atrial dilatation. Aficamten, the second-in-class CMI, looks equally promising. Approval of aficamten will create marketplace competition, increase availability, and hopefully improve awareness. In the future, expect to see trials using CRISPR/Cas9 and adenovector technologies, which aim for not treatment but cure.
The UVA Center of Excellence treats over 700 patients, bringing 150 new visits annually for the last three years. UVA is the lead site for the largest prospective HCM registry performed to date, with 2750 patients recruited from 44 North American and Europe sites, now in the follow-up phase. We participate in multiple ongoing clinical trials and have one of the most extensive experiences with CMIs globally. We have been awarded a grant to study changes in microvascular health seen with CMIs. The field of HCM charges full steam ahead, and we sit at the vanguard. As an HCM Centers of Excellence, we are here for these patients, their families, and the future of the disease, which has never looked more promising.
---
Research Updates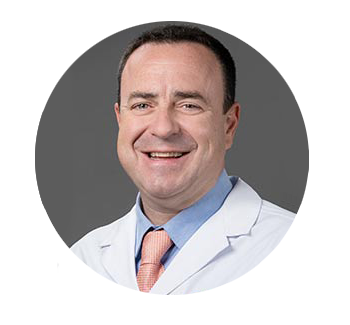 ABBATE LAB
Antonio Abbate MD, PhD, and his interdisciplinary research team develop and execute translational research exploring the impact of innate immunity on cardiovascular disease and injury. They have a focused interest in the role of Interleukin-1 (IL-1) and have been recognized for their novel work on inflammasome-targeted treatments in acute myocardial infarction, heart failure, pericarditis, and
myocarditis. Dr. Abbate and his collaborators are currently enrolling eligible participants at the University of Virginia and Virginia Commonwealth University into Virginia Anakinra Response Trial 4 (VA-ART4), their randomized, double-blinded clinical trial exploring the effects of IL-1 blockade on cardiac reserve and cardiorespiratory fitness in patients with ST-segment elevation myocardial infarction (STEMI). With data collected from the NIH-funded VA-ART4 study, Dr. Abbate and his team hope to evaluate the mechanism by which targeted IL-1 blockade may preserve cardiorespiratory fitness and cardiac reserve, ultimately preventing the incidence of new-onset heart failure in patients with STEMI.
Dr. Abbate enjoys a more than decennial partnership with Dr. Stefano Toldo, Associate Professor of Medicine in the Berne Cardiovascular Research Center, with whom they lead an NIH-sponsored study on IL-1 signaling in heart failure. Dr. Abbate and Dr. Toldo's team include program manager Anna Priday and post-doctoral research associates Austin Hogwood, Nadia Martinez Naya, and Jazmin Kelly. They also collaborate with other investigators in the Berne Cardiovascular Research Center, Carter Immunology Center, iTHRIV, Kinesiology, and Biomedical Engineering on various projects, from preclinical studies to clinical trials, focused on inflammation, cardiorespiratory fitness, and metabolism.
---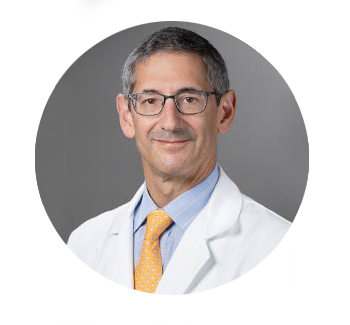 LINDNER LAB
Jonathan Lindner is a physician-scientist and leader in non-invasive cardiovascular imaging. Dr. Lindner heads a multidisciplinary research team in the Robert M. Berne Cardiovascular Research Center that focuses on developing and applying advanced forms of non-invasive imaging, including in vivo molecular imaging, on discovering novel pathogenic pathways and therapies for cardiovascular disease. Their NIH-funded research portfolio studies thrombo-inflammatory pathways contributing to rapidly progressing atherosclerosis, microvascular ischemia-reperfusion injury, thrombotic angiopathies, and aortic stenosis.
Their research activities include the discovery, pre-clinical testing, and clinical translation of new therapies targeted to interrupt these pathways. The diverse interests of the laboratory extend beyond the earth's surface. Dr. Lindner and his team are funded by collaborative grants from NASA to study astronauts before, during, and after space missions to evaluate the detrimental effects of a long-duration space environment on cardiovascular and coronary health. The laboratory is also widely recognized for its pioneering novel therapeutic applications for ultrasound, whereby the cavitation (exaggerated vibration) of ultrasound contrast agents is used to augment tissue blood flow in ischemic tissues and enhance gene delivery (plasmid and adeno-associated virus) in a site-targeted fashion.
---
Education Update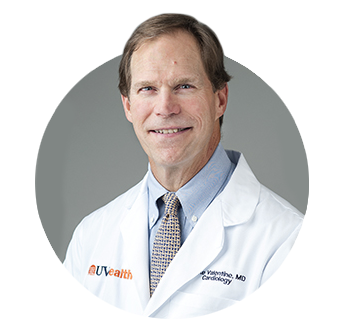 EDUCATIONAL SPOTLIGHT
Mid-Career Leadership Academy
By Michael Valentine MD
Clinicians and administrative leaders recently completed the Heart and Vascular Mid-Career Leadership Academy (MCLA) cohort. The program ran from November 2022 to May 2023. The MCLA cohort was led by Dr. Mike Valentine and Corrin McCloskey, Executive Coach and Cardiovascular Administrator at Bon Secours in Richmond. The cohort was comprised of physicians, administrators, nurses, and APPs. The Academy is a way to build personal and professional skills that help develop new opportunities and expertise in the Heart and Vascular Service Line. The program had seven classes/half-day meetings with a superb team of speakers. The meeting topics varied in the discussion, from personal branding to learning how to run successful meetings, both in person and via Zoom. The cohort centered on "learning to lead self, learning to lead teams, and learning to lead systems."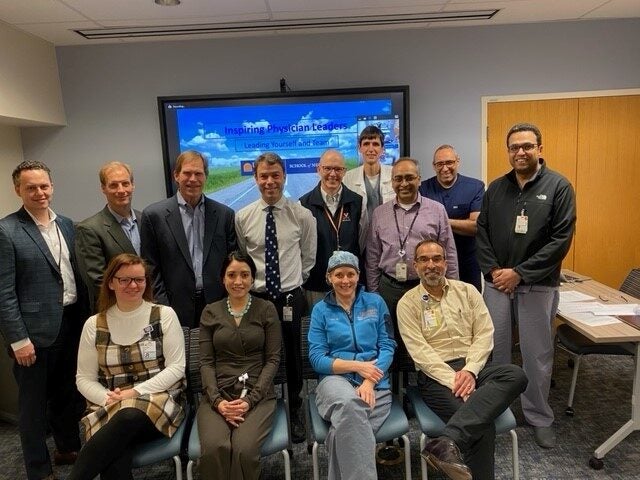 The program began with learning personal leadership styles through DiSC profiles and an introduction to the healthcare business. The DiSC profile is a behavioral assessment tool that allows each leader to identify their traits and how they can work with others more effectively, professionally, and personally. The first meeting also reviewed current significant trends in healthcare and financial drivers in an Academic system. In the next session, the MCLA cohort learned the value of personal branding from guest speaker Jim McKenna, a branding expert, and Executive Coach. The MCLA cohort learned how to use the DiSC profile to help with their leadership style and impact/relationships with others. In the next session, the cohort dove into conflict management and critical decisions in the mid-career stage. This varied from workplace conflict, crucial conversations, and decision-making to case-based problem-solving. They reviewed the book Grounded, with noted author Dr. Bob Rosen—on self-care and lifelong leadership tactics. Jim McKenna and Dr. Rick Chazal (past President of ACC) discussed intrinsic biases and leading effective meetings. Dr. Chad Hoyt led a fascinating discussion on leading teams, polarity mapping, and servant leadership. Time was spent on case-based studies on change management and its impact on our systems. Denise Stewart, a Professor at the Batten School, worked with the group on high-performance communication techniques and best practices for Zoom, in-person, and meetings. The final session allowed each participant to present a personal project via Zoom or public presentation with expert feedback and lessons to enhance long-term communication techniques.
Excellent feedback was received from all participants about how the course impacted their understanding of their leadership styles and their impact/influence on colleagues. We encouraged personal growth, team-based problem solving, and enhanced communication skills in hopes that the individuals will prosper and the division will benefit as we continue to 'build the bench' for our future together.
Participants included: Dr. Mohammad Abuannadi, Dr. Kenneth Bilchick, Dr. Jamieson Bourque, Dr. Behzad Farivar, Dr. Mohamed Morsy, Dr. Victor Soukoulis, Dr. Patricia Rodriguez Lozano, Dr. Rohit Malhotra, Dr. Amit Patel, Dr. Aditya Sharma, Dr. Leora Yarboro, Allison Kirkner, APP, Andrew Bowen, and April Howell.
---
Cardiovascular Incoming Fellows 2023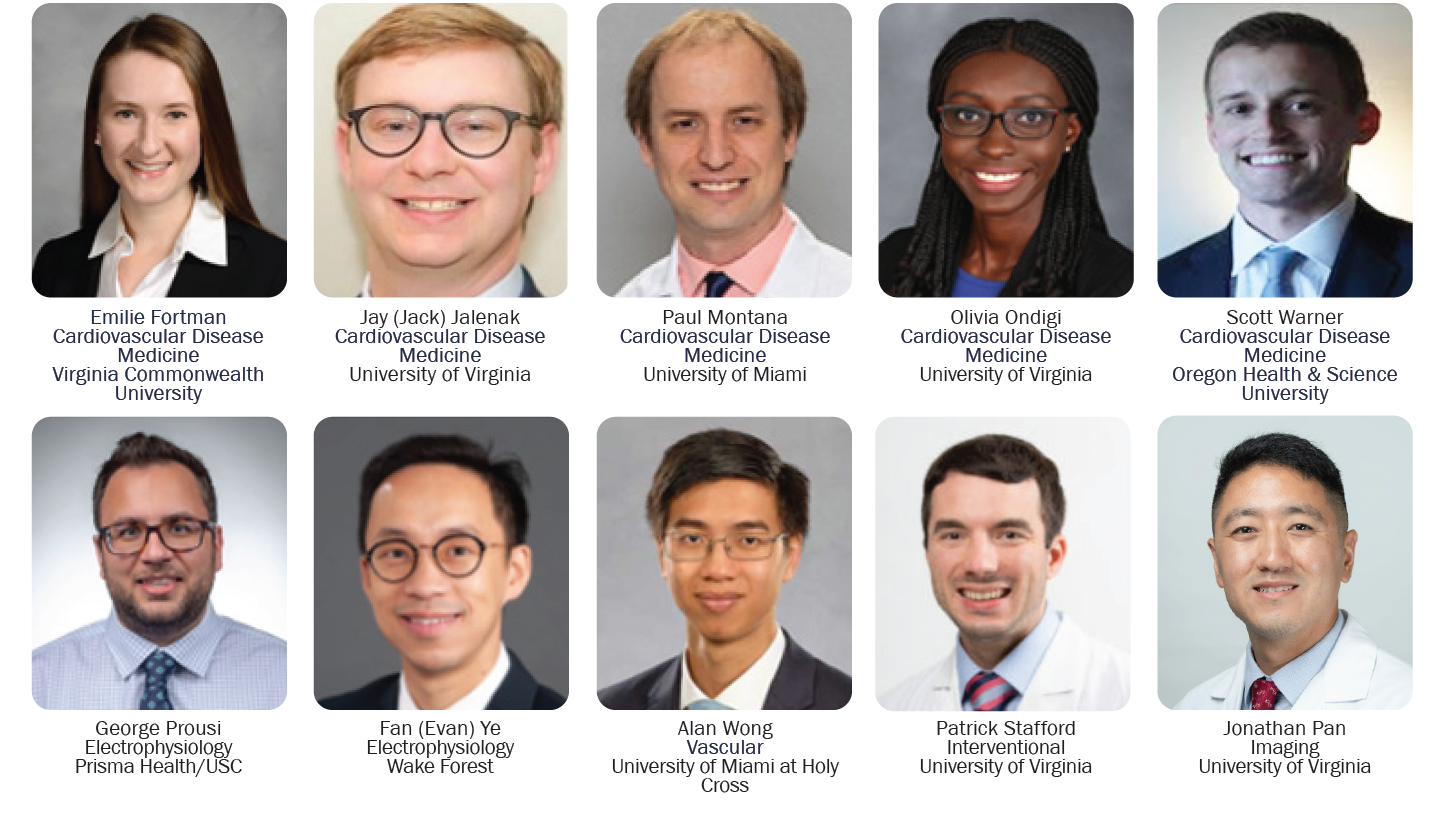 2023 Graduating Fellows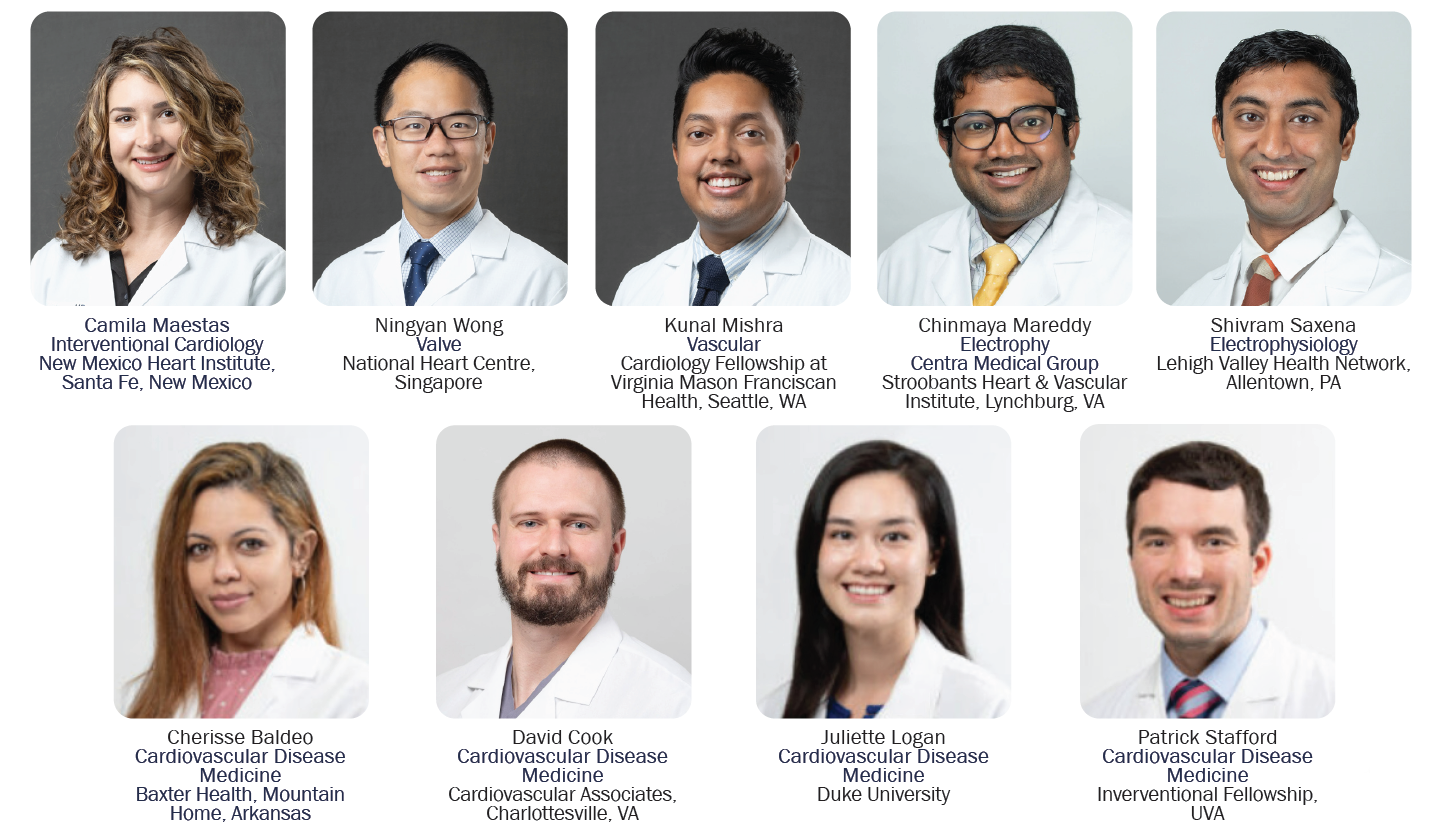 ---
Full Edition of the June 2023 Medicine Matters
Filed Under: Basic Research, Clinical Research, Education, In the Know, News and Notes, Notable Achievements, Publications, Research
Tags: Awards, Cardiology, DOM, Education, faculty, fellows, June 2023, June 2023 Medicine Matters, June Medicine Matters, June Medicine Matters Newsletter, medicine matters, profile, profiles, Publications, Research, staff