Message from Eric Houpt MD, Infectious Diseases Division Chief
Time flies as I write this at the end of 2022. I remember 2020 was the first year of the pandemic, 2021 was a year of promise because of vaccines, and last year I predicted 2022 would be a year of perseverance. Well, we persevered, and now life and work are normalizing. National in-person meetings are happening again, travel is back, and our research and clinical services are busy. I hope these trends continue and 2023 is a year of new normalcy. Our new normal remains pretty busy for our Division of about 35 faculty and over 80 staff, each of us performing some combination of clinical care, research, education, infection control, antimicrobial stewardship, or other activity.
We now have three inpatient consultation services, populated by three faculty, three fellows, and three nurse practitioners. Our transplant/immunocompromised infectious disease consult service continues to grow, with this year's addition of Dr. Tarina Parpia to that team to join Drs. Arnold, Park, Sifri, and Wispelwey.
Research productivity and funding have been outstanding. The Division now has ~14 faculty with one or more NIH R01 grants, not to mention several large projects funded by the CDC, the Gates Foundation, and the Virginia Department of Health. Work is ongoing in all aspects of infectious diseases, from basic science to translational to clinical research and public health. Please see more below and contact any of us if you are interested in the topic or collaborating!
A couple of updates for 2023 – Dr. Barb Mann will retire in the summer. Barb has been our Vice Chief for Research and Faculty Development for many
years. She has been indispensable to the University through establishing the BSL3 laboratory that enabled us to conduct COVID research. Before COVID, she worked on bioterrorism pathogen tularemia and parasitic diseases. She epitomizes collaboration, is the consummate team player, and always lends a helping hand; we look forward to working closely with her for another six months while wishing her well on such a well-deserved retirement after a fantastic career.
Also, in 2023, after seven years of leading our fellowship program, Dr. Chris Moore will pass the baton to Dr. Patrick Jackson. Chris has successfully navigated us through recruiting new fellows at a time when the national program fill rate has been declining. During his tenure, we graduated 18 fellows who have gone on to faculty positions in some of the most prestigious academic institutions around the country. These fellows have received clinical and teaching recognitions, K awards, Burroughs-Wellcome Fund awards, and Fogarty Fellowships. Patrick is already familiar with much of the Department, particularly as he trained in residency and ID fellowship here and emerged as the go-to institutional resource for COVID management. He will continue his HIV research program, clinical activities, and clinical research. Welcome, Patrick.
Recently, the Division and the Department lost a great friend with the passing of Dr. Michael Rein. Many of you knew Mike. For those who did not, he received his M.D. from Harvard in 1969 and trained in Internal Medicine and Infectious Diseases at Mount Sinai Hospital in New York and the University of Virginia. After that, he served as Head of the Clinical Research Branch of the Venereal Disease Control Division at the CDC. He was then an Infectious Diseases fellow at UVA in 1974, joined our faculty, and rose to become the William S. Jordan Professor until his retirement. During his expansive career at UVA, he directed the Thomas Jefferson District's Sexually Transmitted Disease Clinic and attended the General Medical and Infectious Diseases Consultation Services. He served as Director of the Clerkship in Medicine and the Infectious Disease Fellowship Program. He was Master of the American College of Physicians and Governor of the Virginia Chapter of the American College of Physicians. He was the past President of the American Venereal Disease Association and Editor-in-Chief of the journal Sexually Transmitted Diseases. He served as Chair of the NIH AIDS Therapeutic and Data Safety Monitoring Board, was a consultant to CDC, NIH, and WHO, and authored over 200 publications. He became emeritus in 2008 but remained extremely helpful to the Division and taught several classes. This doesn't capture Mike's personality – invariably warm, humorous, humble, and kind. Without fail, it was always a pleasure to see Mike. He was a dear friend to so many in the Division and at UVA. Our thoughts are with his wife Margie and the Rein family. ~Eric Houpt, MD
---
RESEARCH HIGHLIGHTS
Research activities in the Division of Infectious Diseases and International Health focus on critical issues in infectious diseases that impact health and health care in the United States and globally. Extramural research funds total over $16 million from diverse sources such as NIH, CDC, Virginia Department of Health, the Bill and Melinda Gates Foundation, and the Manning Family Foundation. Two NIH training grants in their 46th and 20th years, co-directed by Bill Petri, and Alison Criss, from the department of Microbiology, Immunology & Cancer Biology, support the research training of our ID Research fellows and students. Highlighted below are just a few of our recent research activities.
Research Highlights:
Amy Mathers and her team, along with UVA's Biocomplexity Institute, the Virginia Division of Consolidated Laboratory Services, Virginia Department of Health, and Virginia Commonwealth University have been selected by the CDC to establish a Virginia-based center in the national Pathogen Genomics Centers of Excellence Network. This Virginia center is one of just five in the nation to be chosen by the CDC. This surveillance network aims to better identify, respond to, and prevent future infectious disease outbreaks and pandemics. Dr. Mathers' team will focus on antibiotic resistance and "superbugs" that do not respond to existing antibiotics and further refinement of wastewater surveillance to detect antibiotic resistance and other infectious diseases. Investigators will use their data at the Biocomplexity Institute to develop more accurate models and analyses of future infectious disease outbreaks and the effects of antibiotic resistance.
Kate McManus and her research team are working with six state health departments to understand the best ways for states' AIDS Drug Assistance Programs to deliver antiretroviral therapy to people with HIV with low incomes. Kate is the only researcher with federal funding to study this 2.4 billion-dollar program. While the state AIDS Drug Assistance Programs are federally funded, they are implemented at the state level, leading to variation in healthcare delivery and outcomes. Kate is partnering with colleagues at UVA School of Nursing, Emory University, DC-based non-profit NASTAD, and public health consulting group Killelea Consulting to carry out this multistate study. The study will examine healthcare delivery and HIV outcomes for 20% of people with HIV with low incomes in the United States over ten years.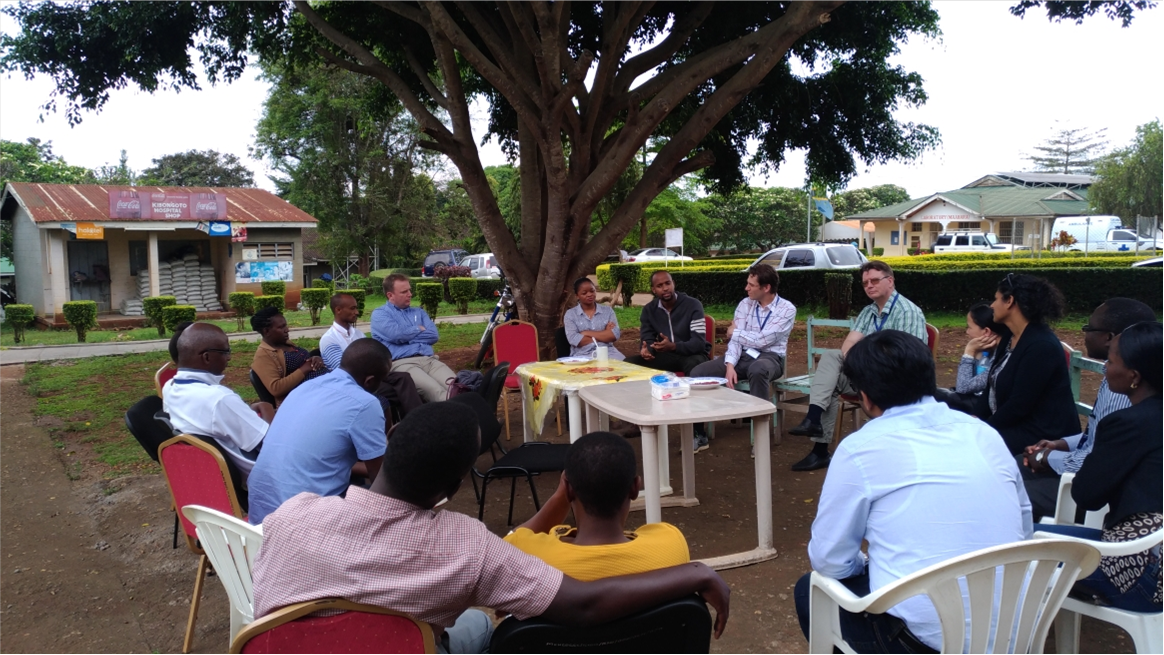 Despite curative antibiotic regimens, tuberculosis is a leading killer of a single infectious disease worldwide. Previously, tuberculosis treatment failure was thought to be due to non-adherence, a personal or programmatic failure. Scott Heysell and Eric Houpt conducted a prospective study in Tanzania, Bangladesh, and Siberia that demonstrated that individual pharmacodynamics for key tuberculosis drugs determines outcomes, suggesting that dosing and regimen selection should be personalized to a patient's own pharmacokinetics or a much more local population pharmacokinetics (Heysell et al. Clin Infect Dis, 2022).
---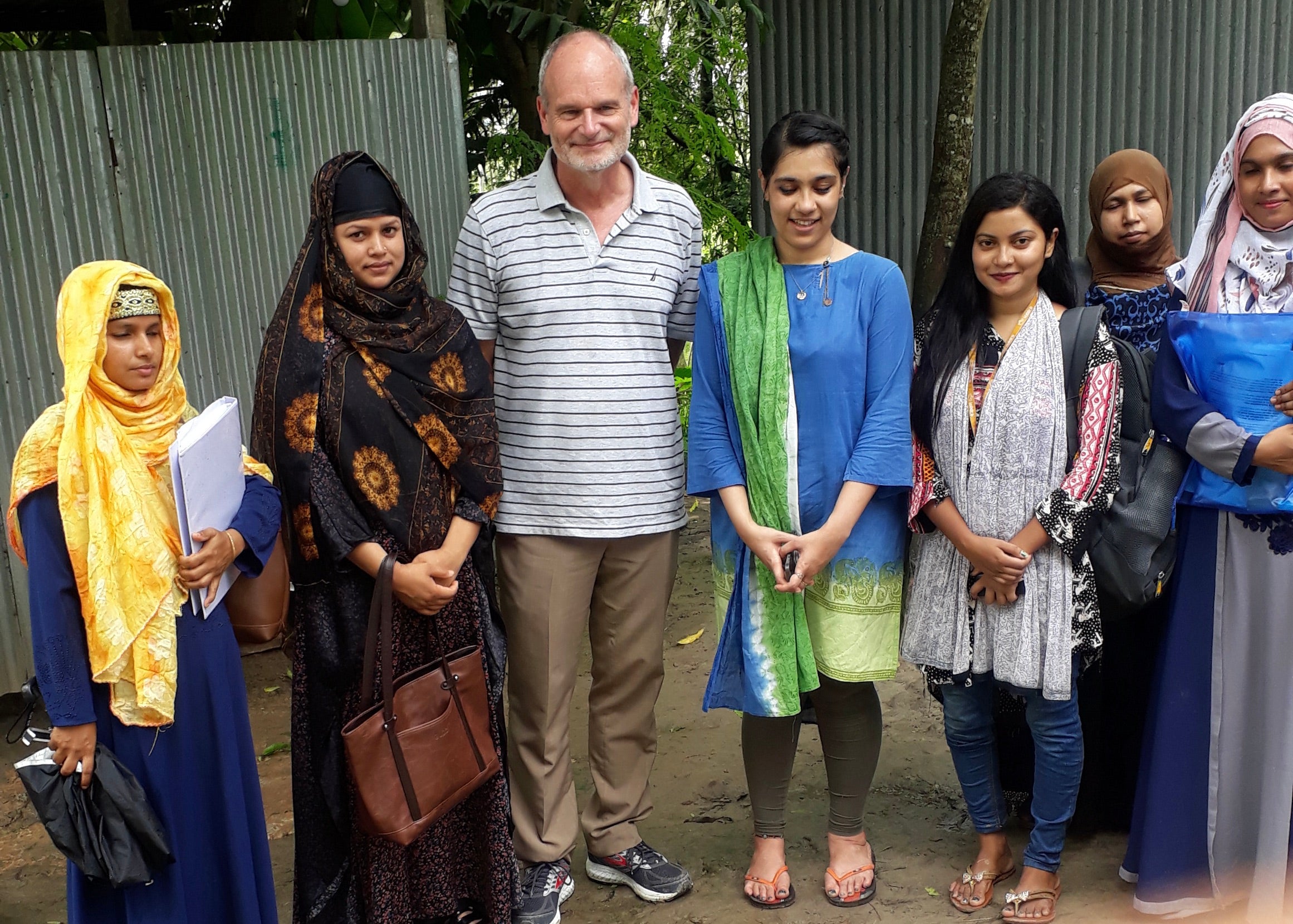 In a related study, Heysell, Houpt, Tania Thomas, Margaret Kosek, and ID Fellow Dan Van Aartsen found that among a malnourished population in a tuberculosis-endemic setting in Tanzania, enteric pathogen burden is negatively associated with pharmacokinetics (Van Aartsen et al., Lancet Microbe, 2022). Malnutrition is the leading determinant of tuberculosis, but this study revealed that enteric pathogens predisposing to malnutrition make tuberculosis more challenging to treat when it develops. This finding may point to a new intervention to target enteric pathogen carriage at points along the tuberculosis disease cascade.
Bill Petri ID fellow Jen Sasson, along with other collaborators, conducted a phase 2a, randomized, double-blind trial on COVID-19 patients at the University of Virginia to assess the safety and efficacy of dupilumab, anti-IL-4R monoclonal antibody that blocks IL-13 and IL-4 signaling and a standard treatment for asthma and atopic dermatitis (Sasson et al. Open Forum Infect Dis, 2022). This study had no adverse events, and by day 60, survival was higher in the dupilumab group. In support of this therapy, they have analyzed electronic health record databases to show that patients on dupilumab at the time of COVID-19 infection had improved survival compared to case-matched controls (Donlan et al., Clin Infect Dis, 2022).
In the international arena, Bill Petri is participating on behalf of the University of Virginia with the icddr,b in Dhaka Banlgladesh as one of 7 participating sites in the Eunice Kennedy Shriver National Institute of Child Health and Human Development (NICHD) Global Network for Maternal Child Health (Billah et al, Reprod Health. 2020). They have just completed a multi-center RCT that demonstrated that administering a single dose of the antibiotic azithromycin to women in labor prevented maternal deaths.
---
EDUCATION HIGHLIGHTS
Program Director Dr. Chris Moore and Associate Program Directors Dr. Kate McManus and Dr. Patrick Jackson lead University of Virginia's Infectious Diseases Fellowship. The Infectious Diseases fellowship is a three-year training program that aims to produce excellent clinicians, researchers, and educators. The program has been supported by NIH T-32 training grants for more than four decades and emphasizes rigorous clinical medicine and research training. The program has a unique structure in which first-year fellows dedicate their time exclusively to research. The second and third training years are divided between clinical and research time. During the clinical years, fellows see patients on separate general and immune-compromised/transplant inpatient consult services. There are also opportunities to participate in outpatient HIV, general, transplant, mycobacterial, Clostridium difficile, travelers, and musculoskeletal infectious diseases clinics.
Fellows and their faculty mentors work one-on-one in a wide array of scientific projects encompassing basic, translational, clinical, and epidemiologic research at UVA and around the globe. Current fellows' areas of interest include sepsis and febrile illness in sub-Saharan Africa and South America, Clostridioides difficile infections, antibiotic resistance, HIV medicine, mobile health interventions, COVID-19 immunology and therapy, and tuberculosis. Fellows frequently present at national and international scientific meetings and publish in peer-reviewed journals, including AIDS Patient Care and STDs, Anti-Infective Therapy, Antimicrobial Agents and Chemotherapy, Clinical Infectious Diseases, Clinical Microbiology, and Infection, Infection Control and Hospital Epidemiology, Lancet Infectious Diseases, mBio, Open Forum Infectious Diseases, and PLoS Medicine.
This year, we had another very successful match, and we look forward to welcoming Peter Oakes (LSU), Idu Meadows (Baptist Health/University of Arkansas), and Addison Hicks (UVA) to the fellowship program in 2023. After seven successful years as Program Director, Dr. Chris Moore will transition to an associate role, and Dr. Patrick Jackson will take his place as director.
We welcome hearing from residents and students interested in working on research projects in the Division. Please get in touch with Patrick Jackson (pej9j) or Kate McManus (km8jr) if you would like to be connected to a project, and follow our Twitter feed (@UVA_ID) to stay up to date with our news and activities!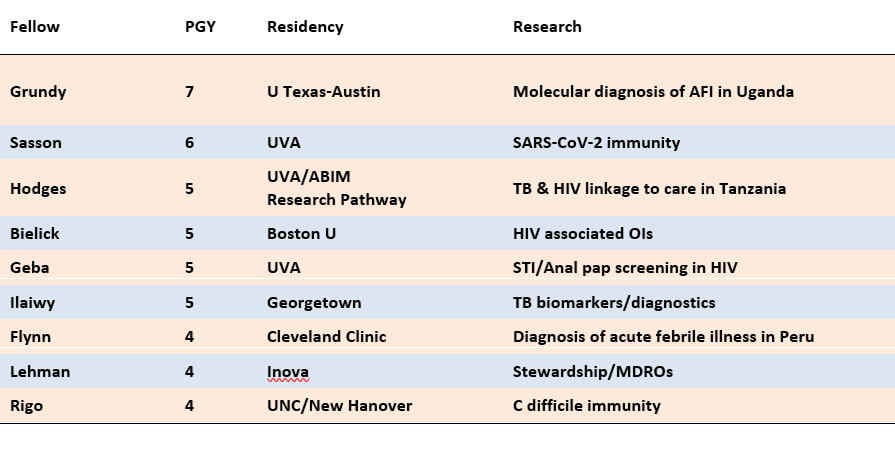 ---
Dick Guerrant – 50 Years as a Pioneer
After 50 years as a University of Virginia faculty member, Dr. Richard 'Dick' Guerrant retired in September 2022. He was the Division Head of Geographic Medicine for many years, is a member of the National Academy of Medicine, and has been the worldwide leader of diarrheal disease research and its lasting effects on children worldwide. His discovery of Environmental Enteric Dysfunction (EED) as the cause of malnutrition, cholera's life-threatening impact on the body's fluid retention ability, and the detrimental long-term cognitive effects on children with persistent diarrheal diseases are just a few examples of the ways his work has helped us better understand the vicious cycle of enteric infections on those living in low-resource areas around the globe. He also has inspired countless other researchers and clinicians worldwide with his visionary selflessness, enthusiastic passion, and creative drive. He has received awards from the American Society of Tropical Medicine and Hygiene, the Sociedade Brasileira de Infectologia (Brazilian Society of Infectious Diseases), and the Infectious Diseases Society of America, to name a few, along with many from various entities at the University of Virginia.
The Division of Infectious Diseases and International Health celebrated Dr. Guerrant first with presentations by former fellows Dr. Sean Moore (UVA Division of Pediatric Gastroenterology, Hepatology, & Nutrition), Dr. Margaret Kosek, (UVA Division of Infectious Diseases and International Health), Dr. Luther Bartelt (UNC School of Medicine), and Dr. Liz Rogawski McQuade (Emory University, Rollins School of Public Health). We then continued the celebration with a dinner at the Rotunda, where many current and former colleagues recalled their experiences with Dr. Guerrant and his impact on their personal and professional journeys.
Thank you, Dr. Guerrant, for your dedication and tireless effort to international health and for helping those around you look beyond themselves to help others.
---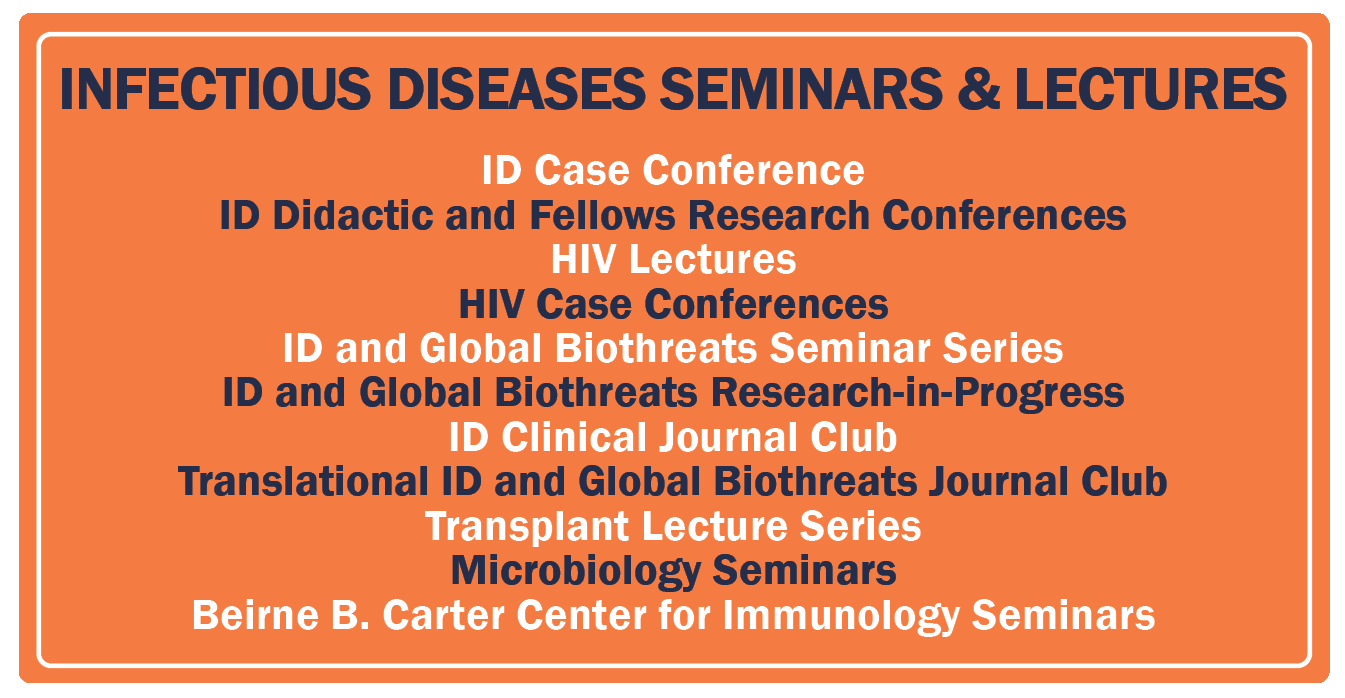 Filed Under: Basic Research, Clinical Research, Education, In the Know, New Faces, New Places, Publications, Research, Top News
Tags: DOM, Education, faculty, fellows, ID, Infectious Diseases & International Health, january 2023, January Medicine Matters, medicine matters, newsletter, profile, Publications, Research, staff