Message from Mohan Nadkarni, MD, Division Chief, General, Geriatric, Palliative & Hospital Medicine
The Division of General Medicine, Geriatrics, Palliative, and Hospital Medicine is diverse and active in many vital aspects of the department and the entire health system.
From ambulatory doctors serving as the Core clinicians providing comprehensive, coordinated care to complex patients, to geriatricians providing care in the clinic and at home to our neediest elderly population, to our palliative team caring for so many patients at the end of life in multiple venues, and hospitalists tending to the inpatient fort, stepping up for covid care, The clinical reach of the division is astonishing. The division also provides the backbone of ambulatory GME teaching at the UMA resident faculty continuity clinic and our other multiple clinics( UPC, Orange), where residents frequently rotate.
Division members are also highly involved in medical school educational leadership roles such as FCM, PACLAC, Social Issues in Medicine, Patient Student Partnership, IM clerkship, Geriatrics Clerkship, Palliative rotations, and IM sub-internships, and we have the most significant number of FCM coaches providing four-year longitudinal coaching to undergraduates. As highlighted in this issue, it is inspiring to lead over 75 faculty active in all aspects of academic medicine. Many thanks to our faculty and staff for all they do. ~Mohan Nadkarni, MD
---
General, Geriatric, Palliative & Hospital Medicine Awards
Andy Wolf, MD
November 2021
Dean's Faculty award Harry T Peters
Sr. Endowed Chair in Medicine
Karen Starr, MD
May 2022
Excellence in Performance Assessment Award

John MacKnight, MD
December 2021
Dean's award for Clinical Excellence
Rachel Kon, MD
June 2022
Outpatient Attending of the Year
Brian Uthlaut, MD
December 2021
Dean's Award for Teaching Excellence

Joel Schectman, MD
June 2022
Outpatient Attending of the Year
Brian Uthlaut, MD
December 2021
Dean's award for Mentoring Excellence
Karen Starr, MD
July 2022
DOM Excellence in Clinical Medicine
Meg Barclay, APP
December 2021
Daisy Award 21/2022

Debra Adams, APP
July 2022
DOM Excellence in Clinical Medicine
Brian Uthlaut, MD
May 2022
Excellence in Performance Assessment Award
Julia den Hartog, MD
July 2022
DOM Excellence in Clinical Medicine
---
Harvard Visiting Professor Is Full- Despite Not Being Served a Single Meal All Week
Dr. Russell Phillips of the Harvard Medical School Center for Primary Care is the 2022 Brodie Medical Education Scholar. He visited the University of Virginia from February 28 – March 4, 2022, for a wide variety of events, including three named dinners and multiple breakfast and lunch meetings. He was never served a morsel since his visit was entirely virtual due to Covid restrictions.
The Annual Anne L Brodie Medical Education Scholar Award recognizes an international scholar in medical education. The scholar's visit to UVA facilitates interinstitutional collaboration and allows UVA to reflect on our medical education programs. The visiting scholars are chosen with the hope that they will "stir" us to continue to innovate despite our pride in existing programs at UVA's School of Medicine.
Mrs. Brodie was a grateful patient who valued her relationship with her trusted personal physician (Eugene Corbett MD, MACP, Professor of Medicine Emeritus) and committed her resources to him with instructions that he assures there would be doctors in the future with the skills and heart to care for patients as he cared for her.
Dr. Phillips is Director of the Center for Primary Care and the William Applebaum Professor of Medicine and Professor of Global Health and Social Medicine at Harvard Medical School. He is a general internist at Beth Israel Deaconess Medical Center, providing primary care in Healthcare Associates, an extensive teaching practice. He has been a leader in innovation in training and payment in primary care, implementing new care models for patients with chronic illness, and, using micro-simulation, testing the impact of a global price on value. He has served on a Massachusetts Health Quality Partners Advisory Group on the future of primary care. In Massachusetts, he advocates for access to primary care, global payment for primary care, and financial support for small, independent practices threatened by the financial strain imposed by COVID-19. He is a leader in oral health integration into primary care, served on a Patient-Centered Collaborative Advisory Committee on Oral Health Integration, and is Co-Principal Investigator on a related HRSA-funded Academic Unit. Dr. Phillips has expertise in evaluating innovations in care, systems improvement, patient safety, and quality of care and is a member of the Center's care integration study team.
During his virtual visit, Dr. Phillips "dined" with representatives of the Brodie Committee, Center for Health Humanities and Ethics, and the School of Medicine leadership, including EVP for Health Affairs K. Craig Kent, Dean Melina Kibbe, and Sr Associate Dean for Education Meg Keeley. He attended six lunch-hour medical education research presentations and addressed the Academy of Excellence in Education Poster Symposium with Deans Kibbe and Keeley. He led conversations with SoM Education Deans, University Physician's Group Primary Care Leadership, and Primary Care residents. He led a collaboration between the Harvard Medical School Student Leadership Committee, UVA Mulholland Society, and other students interested in Primary Care Education Leadership. Dr. Phillips presided over the Nameless Field (foodless) Dinner: "Mobilizing Institutional Resources around Community & Learner Exigencies." He delivered the Brodie Lecture for The UVA Medical Center Hour/ Medical Grand Rounds: "Medical Education: Students Leading and Co-Creating Change" and a second Medical Grand Rounds: "Improving Health through Primary Care Investment and Value-Based Payment." He also met with individual faculty members.
In 1803, Thomas Jefferson described his pick to lead the Corps of Discovery, Meriwether Lewis, in this way. "Of courage undaunted, possessing a firmness and perseverance of purpose which nothing but impossibilities could divert from its direction, … honest, disinterested, liberal, of sound understanding and a fidelity to truth …., with all these qualifications as if selected and implanted by nature in one body for this express purpose, I could have no hesitation in confiding the enterprise to him."
The UVA School of Medicine feels the same about Dr. Phillips. As previously stated, Dr. Phillips received no food during his visit. However, he commented that he thought nourished by his virtual visit to UVA and indicated he was "full" when offered additional speaking opportunities. At the March 3 "Brodie Award Dinner," Dr. Phillips was presented (via USPS) the traditional Brodie Medical Education Spoon for advocacy and innovation throughout his career, stirring us to higher achievement in Medical Education. This particular Brodie Award Spoon is carved from a fallen branch from a poplar tree believed to have been planted by the Meriwether Lewis Family in the 1700s. We know Dr. Phillips will continue to innovate with "courage undaunted" and are grateful for the week he spent with us at UVA.
---
PALLIATIVE CARE HIGHLIGHTS
By Leslie Blackhall, MD
Palliative care clinical services continued to expand this year. We are working with John Voss and others in the medical center to facilitate the inpatient hospice conversion process and are now converting approximately 150 patients annually. Bethany Payne NP worked with Karen Ballen of hematology to develop an early palliative care intervention for patients undergoing allogeneic stem cell transplants. All of these patients are now referred to palliative care for supportive care needs at the time of diagnosis. In addition, in conjunction with Nick Teman, director of the adult ECMO program, we are participating in a process where all patients placed on ECMO have an automatic palliative care consult as part of the ECMO order set. Finally, we have expanded our work with end-stage renal disease patients in partnership with Emaad Abdel-Rahman, and are starting a new palliative care curriculum for nephrology fellows.
Our educational mission includes the education of medical students, residents, and fellows. Nat Timmins took over as fellowship director this year, and we welcomed two new fellows: Paul Donegan and Naimish Mehta. Josh Barclay is now a coach for Foundations in Clinical Medicine. Owais Akmal developed a new palliative care workshop for 3rd-year students in their medicine clerkship. Leslie Blackhall, working with Jon Bartels and Amy Salerno, developed an intercession workshop to address the emotional reactions of medical students to involvement with end-of-life care. This workshop led to discussions with fellows and residents and an M&M presentation aimed at developing better processes to help students and trainees at all levels debrief after emotionally challenging situations. Meg Barclay continues to lead in providing training and mentoring to our palliative NPs. The UVA PCLC program provided training to St. Mary's Medical Center in Colorado. David Ling is completing his Masters in Data Science and continues to provide support and education around medical informatics.
Our section's research projects in palliative care include using smart health technology to characterize complex cancer pain situations, tools to help trainees improve end-of-life communication skills, and early interventions in lung cancer and high-risk leukemia patients.
---
EDUCATION HIGHLIGHTS
By Andy Wolf, MD
Recent Advances in Clinical Medicine Conference
This year marks the 49th annual Edward W. Hook, Jr., MD Recent Advances in Clinical Medicine conference, occurring Wednesday, October 26 through Friday, October 28, downtown at the Omni Hotel. RACM is a multidisciplinary, interprofessional, continuing education conference designed to provide a broad spectrum of clinicians with the knowledge and skills needed to practice state-of-the-art generalist medicine. It is the largest CME conference offered by the Department of Medicine. Through an eclectic array of presentations by representatives of general internal medicine, internal medicine subspecialties, and selected other specialties, the program will highlight new or emerging conditions or treatments with key "take-home" messages and provide updates on the diagnosis and management of well-recognized conditions. The educational design of the program will encompass formal presentations, question & answer panels, and meet-the-professor sessions, which allow close interaction with content experts. The conference will be available in both live and virtual (Zoom) format, and recordings of all main session talks will be available to course registrants after the conference. The electronic syllabus, including all main session talks, will be available to all course registrants during and after the course.
This year's content areas will include Cardiology, Endocrinology, Gastroenterology, General Medicine, Geriatrics, Palliative Care, Hematology-Oncology, Infectious Diseases, Nephrology, Pulmonary-Critical Care, and Psychiatry, as well as multidisciplinary panels addressing Travel Medicine, Otolaryngology, Ophthalmology, Orthopedics, and Sports Medicine. There will be two Meet-the-Professor sessions. The conference will also include 2.0 AMA PRA Category 1 Credits TM of opioid-focused content, which may be applied toward the biennial required 2.0 hours by the Virginia Department of Health Professions. In addition, participants can earn up to 24 Maintenance of Certification points for conference attendance and participation in the evaluation component. Faculty may register for one or more days according to availability and apply their Education Benefit toward the RACM conference registration fee. More details and registration information are available at www.cmevillage.com.
---
EDUCATION HIGHLIGHTS
By Rachel Kon, MD
Patient Student Partnership Program Grows
Since Fall 2018, all UVA medical students are paired with a chronic illness patient when they start medical school to follow longitudinally through the Patient Student Partnership (PSP course). Over the first few years, we built out the curriculum for each new year of students we had in the program. Until 2021/2022, we completed the first year of all four medical school classes simultaneously engaging in their developmentally appropriate skill development and participation in the care team for about 480 patient-student pairs. PSP students are mentored in their professional identity formation around their first student-doctor-patient relationship by their Foundations of Clinical Medicine (FCM) faculty coach. During the pre-clinical phase, students practice their developing history-taking skills, nutrition counseling, motivational interviewing, and medicine reconciliation with their PSP patients. During the clerkship year, students choose chronic illness care topics to research related to their patient's care that emphasizes the patient's big picture and incorporates the patient's situation and values. New last year, the fourth-year medical students learned handoff communication and mentoring skills by transitioning their PSP patient to a new first-year student and serving as that student's mentor for the rest of the semester.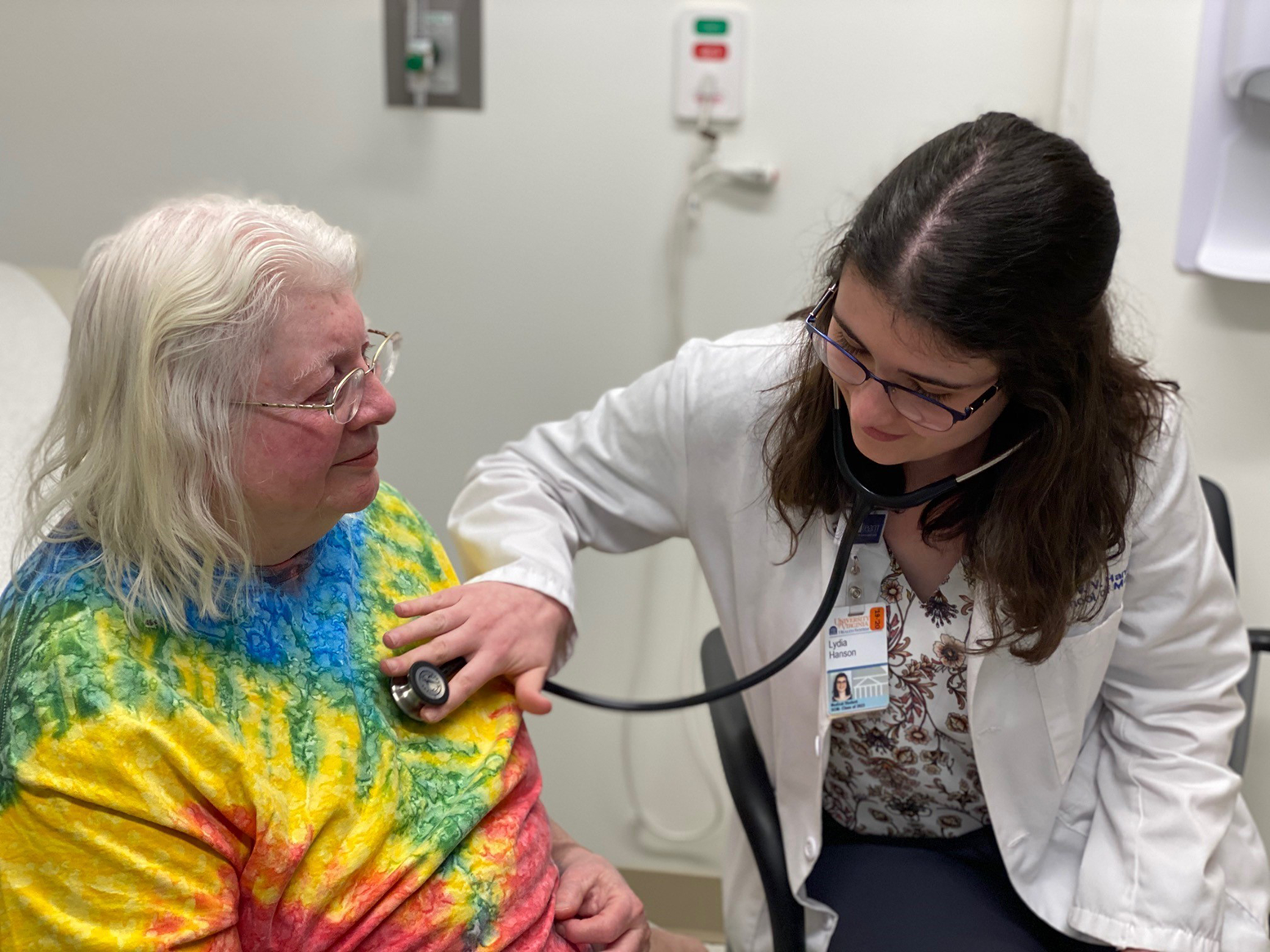 The success of this experiential learning program for our medical students has been the participation of many DOM divisions in sharing their patients with us. Each year, we recruit 160 patients from clinics across the health system. Patients are volunteers and participate to give back to UVA and the doctors that have protected their health. Others want to teach the next generation of doctors about their medical condition or how to be patient-centered communicators. This past May, we honored the PSP patient teachers and celebrated their students graduating at a PSP Gratitude Celebration over graduation weekend. We got to hear from many patients how important they find the program to train future doctors who truly listen to their patients. There were also heartfelt speeches from graduating students about their PSP relationship's impact on their medical education. Since the last time we reported an update on the program in this newsletter, we have adapted to the pandemic, introduced special populations into the PSP patient pairing options to match student career goals, and were recognized for our utilization of interprofessional education and integration of mentoring. The PSP program has been highlighted in several UVA publications as patients and students find great value in the program.
This summer, Dr. Simon Lehtinen from general internal medicine joined the PSP leadership team as the Assistant Director. Dr. Lehtinen has been an FCM coach for seven years and was involved in the original pilot for the PSP program. Dr. Lehtinen will assist the director with program improvement and prepare for leadership transition as I move on to leadership in the IM residency program as the Ambulatory APD and PC Track director.
Thank you to the many DOM members who have helped us build and grow this important educational program. If you have interested patients, please connect them with our coordinator, Rachel Smith (patientstudentpartnership@virginia.edu, 434-924-8100). More information on PSP.
---
By Christina Tieu, MD
UVA Geriatric Fellowship Re-Design
Our section is excited to highlight the UVA Geriatric Medicine fellowship, which features a re-designed curriculum this year. Through this program, we expect fellows to develop a comprehensive, person-centered approach to caring for the aged patient. They will have in-depth training across care environments, including ambulatory clinic, residential living facilities, and home-based primary care. In addition, our fellows will partner with individuals across a range of sub-specialties to garner the diverse skill set needed to care for our complex elderly adults.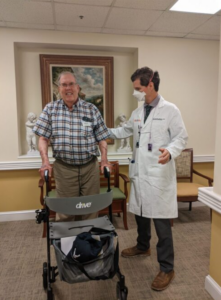 Our section looks forward to working with all Internal Medicine subspecialty faculty to build these education opportunities. We would welcome any interested faculty members to reach out to our program director at CT7QF@uvahealth.org if they would like to be involved in teaching lectures or incorporate geriatric fellows into their clinical environments.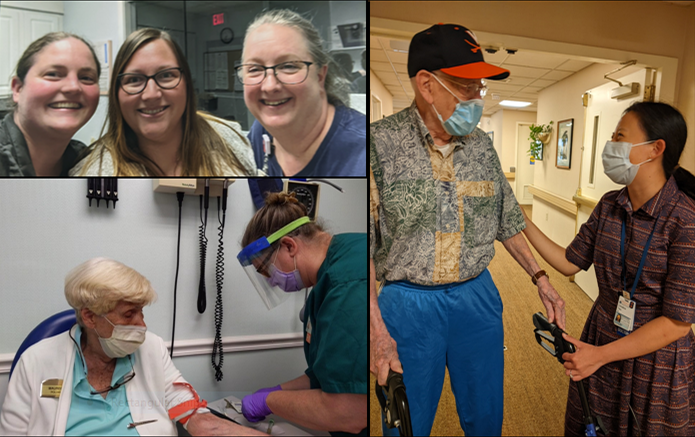 Aside from teaching clinical knowledge and skills, our fellowship program has directed a new focus on career counseling and leadership. Our program challenges fellows to think critically about the role of geriatricians within community care models and national health systems so that they can effectively navigate challenges and be an advocate for change. Not only will fellows develop into thoughtful clinical geriatricians, but they will also have opportunities to explore ways to become leaders in geriatric medicine. Opportunities for geriatric leadership include: pursuing a certified medical directorship (CMD), medical education, or quality improvement research.
VOLUNTEERS NEEDED
Health and Medical Sciences Academy (HMSA)
Could you mentor an 11th or 12th grader in HMSA? The Health and Medical Sciences Academy (HMSA) is designed to explore and prepare students for careers in healthcare. HMSA students need to connect with local clinicians to shadow – any role in healthcare would be relevant.
If you are interested in potentially participating, contact Laurie Archbald-Pannone for more information.
---
RESEARCH HIGHLIGHTS
By Laurie Archbald-Pannone, MD, MPH, AGSF, FACP
The COVID-19 pandemic elevated telehealth as a more widely used tool for delivering care to older adults (RHI Hub). As with any tool- we need to know when it is the best tool for the job and when it's not. In an effort to determine the best use for this tool- we are collaborating with West Health Institute to build the Collaborative for Telehealth for Aging and the online Center of Excellence for Telehealth and Aging (CE4TA) to develop recommendations for optimizing the use of telehealth in the care of older adults. The assembled Collaborative is a group of national experts in the care of older adults and telehealth from over 30 different institutions and organizations across the country.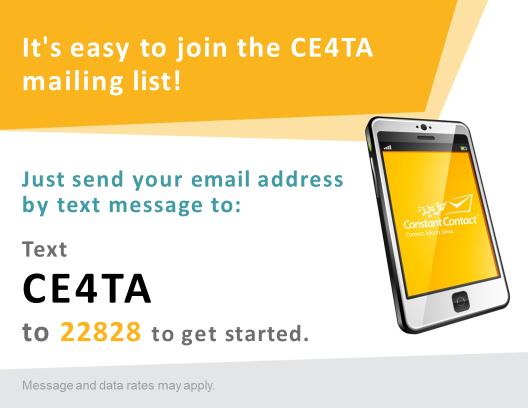 With the Collaborative, we have authored core principles and guidelines for age-friendly telehealth practices, as presented at the National Telehealth Resource Center's recent meeting (NTRC). We are in the second year of our grant to finalize the online center of excellence as a resource to provide clinicians and health systems with pragmatic tools for optimizing telehealth for older adults. For anyone interested in updates from the CE4TA- you can text your email address to 22828 to join the mailing list.
RESEARCH GRANTS
Matthew Allen MD
PI, Community Health projects. Homeless consult service's cellphone project.
Laurie Archbald-Pannone,MD,MPH,AGSF, FACP
Geriatric Telehealth Resource Development, Gary and Mary West Health Institute
Virginia Infection Control Center of Excellence website (VIcCE LTC), VDH
Leslie Blackhall, MD
A comparative Effectiveness trial of early integrated telemedicine versus In-Person Palliative Care for Patients with Advanced Lung Cancer, MGH/PCORI
Tabor Flickinger, MD
Center for Engineering in Medicine Grant: Exploring the Use of Wearable Sensors and Natural Language Processing Technology to Improve Provider-Patient Communication (co-PI)
R01 MH122375 NIMH (Castel, Ingersoll): Pragmatic Efficacy Trial of mHealth to Improve HIV Outcomes in the DC Cohort. (co-investigator)
Virginia Department of Health (Dillingham): Positive Links Innovations (co-investigator)
Justin Mutter, MD
Virginia at Home: An Interprofessional Home-Based Medical Care and Education Program Serving Rural Older Adults Living with Dementia and Multimorbidity, HRSA
Margaret Plews-Ogan, MD
Plews-Ogan is co-PI (Richard Westphal RN PhD is PI) on a 2.1 million HRSA training grant to support healthcare workforce wellbeing.
Paul Targonski, MD
RURAL: Risk Underlying Rural Areas Longitudinal Cohort Study YR04, Boston University/NIH-NHLBI
---
WELL DONE
CREATIVE CONTRIBUTION
Our Hands
By Tabor Flickinger, MD
Braid a child's hair in precise beaded rows
And shave a scalp just enough to access
Skin flap, skull, brain, tumor
Fold over a learner's fingers to guide a needle
This angle here with this much pressure
Slide together into a hidden space
Sew on lost buttons, fix torn seams
And shut a jagged wound with neat stitches
Wishing the unseen harms could be repaired
Feel gently for an absent pulse
To confirm what silence already knows
And drag new humans wailing into brightness
Tabor Flickinger is a poet and primary-care physician who lives in Charlottesville, VA. Her works have appeared in Pulse as well as in The Yale Journal for Humanities in Medicine, Hospital Drive and The Healing Muse.
About the Poem
"This poem honors the many tasks performed by healthcare workers, both at home and at work, both mundane and life-changing. We can impart care for others in every action through mindful presence."
ACP Internist Weekly has tallied the voting from its latest cartoon contest, where readers are invited to match wits against their peers to provide the most original and amusing caption. Matthew J. Goodman, MD, FACP submitted this issue's winning cartoon caption.
Filed Under: Basic Research, Clinical Research, Education, In the Know, News and Notes
Tags: DOM, Education, faculty, fellows, GENERAL MEDICINE, GMGPC, medicine matters, October 2022, October Medicine Matters, October Medicine Matters Newsletter, profile, Publications, Research, Residents, staff