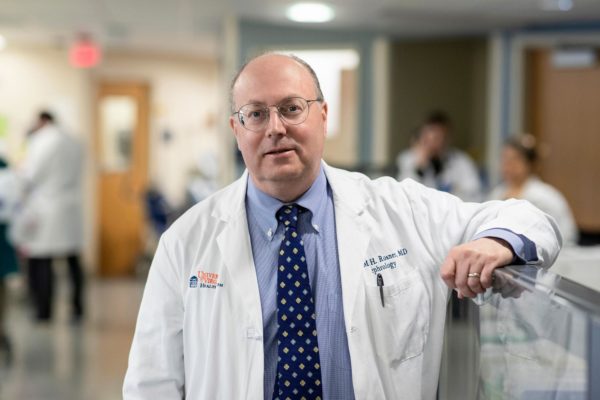 This month the Department celebrated the fantastic work and achievements of our faculty and staff with the annual Department of Medicine Awards in Education, Research, Clinical Care, Staff, and Administrative Support. I am so honored to get a chance to read the amazing nomination letters and see the highly impactful work that every one of you does each day! In addition, I want to highlight several special award winners.
This year, we awarded the Diane Snustad Women in Medicine Award to Dr. Monica Lawrence for her exemplary work during her career at UVA. Dr. Lawrence is a world expert in immunodeficiencies and has been instrumental in developing a regional clinic to care for these complex patients. In addition, she has emerged as a national leader in the field of fellow education in Allergy and Immunology. Dr. Lawrence has also served as a mentor and role model for many trainees and faculty members. Her excellence is notable in many areas, and it was a great honor to award her this distinction.
We also awarded two special contributor awards to recognize individuals whose contributions were so notable and impactful over the past year. Dr. Alex Kadl was recognized for her work leading critical care efforts in Culpeper, her tireless efforts in clinical care, and her crucial role in the UVA COVID-19 response. Russ Manley was recognized for his stewardship, passion, and leadership as the DOM's Chief Operating Officer. Russ has been instrumental in so many critical initiatives, and his tireless leadership is critical to our success.
Please congratulate all of our award winners. We have an amazing department and a tremendous community of caring, kind, talented people, and together we have achieved great success.
Lastly, enjoy reading about the Division of Rheumatology under the leadership of Dr. Janet Lewis. We are pleased to welcome several new faculty members to the group this year, and you can read about them in this issue. In addition, Dr. Shu Man Fu will retire from clinical practice, and we thank him for his service of over 30+ years. You will also read about the Division's unique clinical offerings and education and research programs. Please congratulate the Division on its many accomplishments.
With best wishes,
Mitchell H. Rosner, MD, MACP
Henry B. Mulholland Professor of Medicine
Chair, Department of Medicine
Filed Under: Basic Research, Clinical Research, DOM in the News, Education, Message from the Chair, News and Notes, Notable Achievements, Research, Top News
Tags: August 2022, August 2022 Medicine Matters, August Medicine Matters, August Newsletter, Awards, DOM, Education, faculty, fellows, medicine matters, profile, profiles, Research, Rheumatology, staff