By Brian Uthlaut MD
Every year, May brings a flurry of education activities and honors as one class of residents and chief residents close out the academic year.
Mulholland Department Teaching Award
Each year, the outgoing medical students select a clinical department to recognize for providing the best educational experience. For the seventh straight year, the Department of Medicine was honored by our students with this award. This is the first time in the 35-year history of the Mulholland Department Award that a department has won this many consecutive awards. It is a testament to the daily commitment to education and inclusion of our students in the variety of experiences they rotate through in our Department. It is truly an award that takes all of us–staff, residents, fellows, and faculty. Thank you, and congratulations!
MAY 20- Chief Resident Grand Rounds and Residency Program Awards
Outgoing chief residents—Dr. Jamey Cutts, Dr. Athidi Earasi, Dr. Rebecca Clemo, and Dr. Izzy Budnick — did a phenomenal job teaching and leading the program through the second year of the pandemic. Their Grand Rounds encapsulated the year in residency program curriculum and clinical care with remarkable achievements despite the constant pivots and distractions of the pandemic.
We honored many residents, faculty, and staff in our year-end awards:
Outpatient Nurse of the Year: Melissa Warren, UMA
Inpatient Nurse of the Year: Jessica Dix, 3Central
Case Manager of the Year: Becky Monteith, 3West
Emergency Medicine Resident of the Year: Tatum Lemly MD
Most Outstanding Fellow: Patrick Stafford MD, Cardiology
Most Outstanding Inpatient Attending: Firas El Chaer MD, Hematology-Oncology
Most Outstanding Outpatient Attending: (tie) Rachel Kon MD and Joel Schectman MD
John Dunn Award: H. Reed Davis MD
Leadership Service and Advocacy Award: Zach Boggs MD
Intern Professionalism Award: Daniel Patterson MD
Resident Teaching and Mentorship Award: John Popovich MD
Esprit de Corps Award: Kara Harrison MD
Mulholland Teaching Award: Laura Mitchell MD
Brodie Resident Clinician Award: Erin Baldwin MD and Sean Dougherty MD
MAY 24 and 27: Carey, Marshall, and Thorner Scholars' Week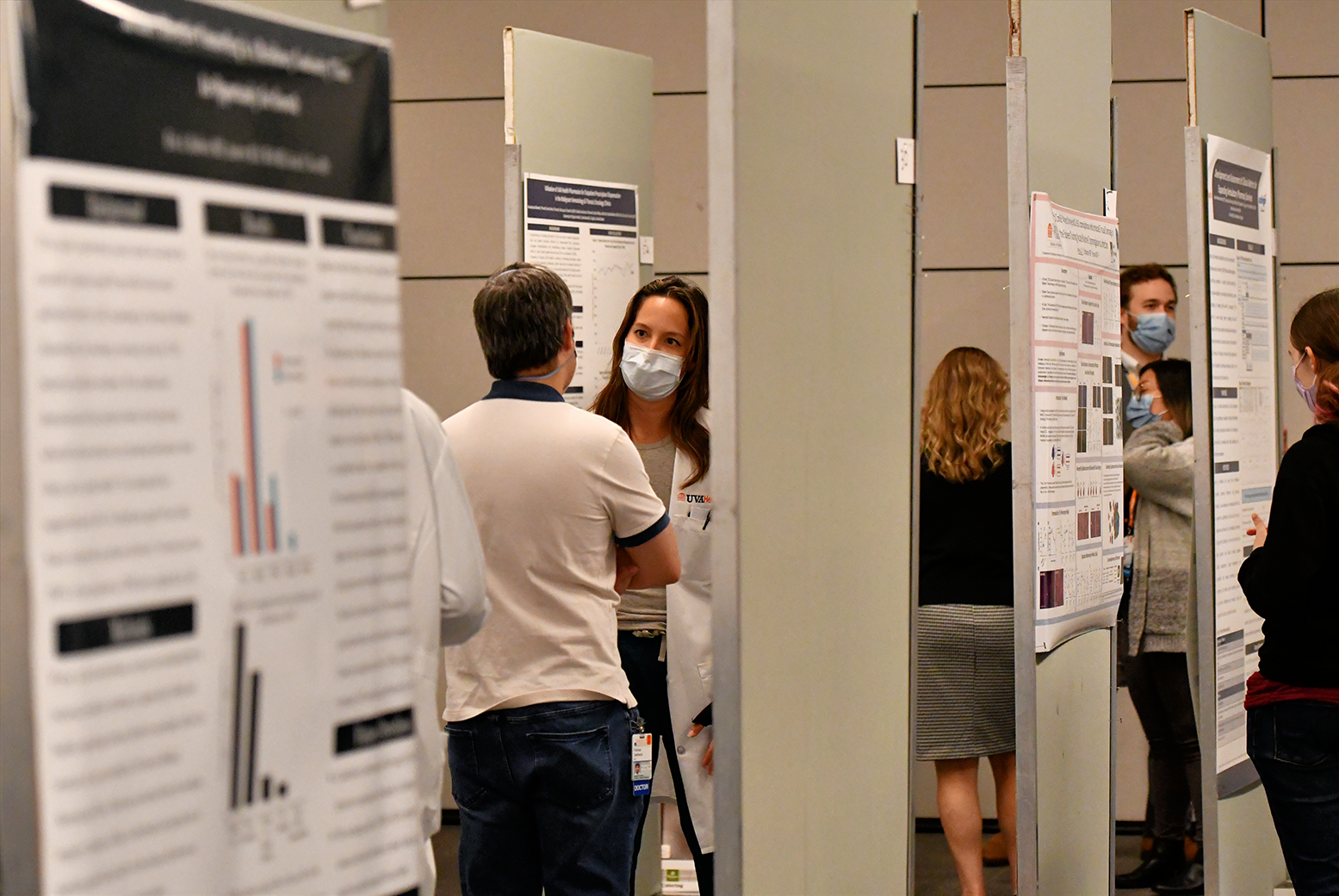 The Department of Medicine's Carey, Marshall, and Thorner Research & Scholar's Day was held in the Education Resource Center on May 24 and 27, 2022. This annual research celebration of the Department of Medicine included more than 60 presentations as well as 60 publications by trainees. Discoveries spanned all of the disciplines of Medicine, including allergy, immunology, endocrinology, nephrology, pulmonology, general medicine, gastroenterology, cardiology, infectious diseases, hematology and oncology, and rheumatology. Presenters included residents and interns, subspecialty fellows, graduate students, postdoctoral fellows, and undergraduates. The titles of the presentations by the 12 award winners are given below, as a sample of the exciting science that is being conducted by members of the Department of Medicine.
Shyr-Te Ju Award
Glenda Canderan –"Survivors of Severe COVID-19 with Long-Haul Respiratory Symptoms Display Enhanced Activation of Circulating T Cells."
Oral Presentation Awards
Christian Widere –"Single-cell transcriptomic landscape of Leukotriene A4 Hydrolase modulation in Klebsiella pneumoniae infection."
Brian Peterson – "A tool for formative assessment of clinical reasoning during urgent clinical care."
Poster Presentation Awards:
Fabian Bolte – "Association of Sarcopenia with Survival in Advanced NSCLC Patients Receiving Concurrent Immunotherapy and Chemotherapy."
Shipra Maheshwari – "Comparison of overall survival in patients with HPV+ Oropharyngeal carcinoma with Urban or Rural residence."
Joe Mort – "Real-world analysis of the risks of thrombotic and bleeding events in patients receiving pegylated asparaginase for treatment of acute lymphoblastic leukemia."
Aspen Robinson – "A Secretory Phenotype Associated with Engulfment and Cell Motility Protein, ELMO1."
Jessica Annis – "Cmv5s induces splenic tissue damage and myeloid population changes during acute murine cytomegalovirus infection."
Patricia Rodriguez-Lozano – "Enhanced Cardiovascular Risk Assessment in United States Subjects for Deployment to Antarctica."
Publication Awards
Sean Dougherty – "IgA Nephropathy secondary to Ipilimumab Use. Case Reports in Nephrology and Dialysis."
Toral Patel – "Assessing Cardiac Remodeling in Aortic Regurgitation Using Indexed Extracellular Volume: More Than Meets the "i"?" ∗ J Am Coll Cardiol Img. 2021 Nov, 14 (11) 2183–2185.
Sayo McCowin – "Protein Kinase C-α is a gatekeeper of Cryptosporidium sporozoite adherence and invasion." Infect Immun. 2022 Jan 31:iai0067921.
JUNE/JULY Transitions
Our PGY3 graduates finish up in June 2022 and are heading to places near and far for jobs in general medicine or continuing in subspecialty fellowships. This has been a great class that throughout the pandemic has stepped up time and time again into the challenges of residency training during the pandemic. We held a wonderful graduation celebration in the Dome Room of the Rotunda on May 27, honoring our graduates and having a time of fellowship with them and many of their families. To our class of 2022, congratulations and thank you!
Filed Under: Education, In the Know, News and Notes
Tags: DOM, Education, faculty, fellows, fellowships, Residents