Message from Cardiovascular Medicine Division Chief Christopher Kramer, MD
The University of Virginia's Division of Cardiovascular Medicine is nationally recognized for excellence in clinical care, research, and teaching. Faculty members provide expert, comprehensive care for all forms of cardiovascular disease through the UVA Heart and Vascular Center, which serves 4,000 inpatients at University Hospital and an additional 52,000 in outpatient clinics each year. The division's clinical practice covers a wide range of disciplines, including general cardiovascular disease and prevention, cardiac imaging, electrophysiology, diagnostic and interventional cardiac catheterization, valvular heart disease, basic and advanced heart failure, mechanical support, adult congenital heart disease, sports cardiology, and vascular diseases. The division's collaborative approach to patient care brings together specialists from cardiovascular medicine, pediatric cardiology, cardiac surgery, adult cardiac and vascular surgery, and diagnostic and interventional radiology to optimize treatment for each patient. In the last year, the division achieved Gold Plus Get with the Guidelines from the AHA for its heart failure care and the Mission: Lifeline Bronze Award for the care of post-MI patients. Its faculty and professional research staff excel in the research arena, with over 100 grants and total annual grant funding of approximately $8 million (directs). The division's research activities range from basic biomedical research to physiologic and device-related clinical studies to large international clinical registries.
2021-22 was a banner year for recruitment with eight new faculty hires, including Amit Patel, MD, and Patricia Rodriguez, MD, highlighted in this edition of Medicine Matters. Chad Hoyt, MD, began in March and will spend 20% of his time in noninvasive Cardiology and 80% in his role as Executive Director of Clinical Growth and Outreach for UVA. New physician-scientist faculty joining this summer include Jonathan Lindner, MD, as the Frances Ball Chair and Vice-Chair for Research in the CV Division, bringing his basic and translational molecular imaging laboratory, and 2) Antonio Abbate, MD, PhD, as the Ruth C. Heede Chair and Director of Clinical Research, bringing his translational and clinical research laboratory in cardiovascular inflammation and immunology. Also joining the faculty are Thomas Gehrig, MD (husband of the new Chair of Ob-Gyn, Paola Gehrig, MD) as a general and interventional cardiologist, Kelly Wingerter, MD, as a general and women's heart specialist, and Merry Ellen Barnett, MD as our 3rd Vascular Medicine specialist.
Highlights of the past year include:
1. Zhen Yan, PhD, won the UVA Distinguished Researcher Award.
2. Coleen McNamara, MD, garnered both a UVA Prominence to Preeminence (P2PE) grant award, dubbed iPRIME, highlighted in Medicine Matters, and the COVID Team Science Award.
3. Aditya Sharma, MD, was named to the Board of Trustees of the Society for Vascular Medicine.
4. Sula Mazimba, MD, was selected to the inaugural AHA Equity, Diversity, and Inclusion Editorial Board.
5. Michael Valentine, MD, was appointed co-chair of the UVA Clinical Strategic Planning group.
6. Randall Moorman, MD's company AMP3D, a medical data analytics company, was acquired by Nihon Kohden, a large Japanese medical monitoring company.
~ Christopher Kramer, MD
---
The Women's Heart Program
by Patricia Rodriguez Lozano, MD
Heart disease is the leading cause of death for women. Of the 1 million deaths of women in the United States, over 400 thousand were related to cardiovascular disease. Cardiovascular disease (CVD) currently claims more women's lives each year than cancer and chronic lung disease combined.
For a long time, cardiac care was focused on men, which was thought of as a predominantly male issue. And while heart disease treatment was the same for women and men, women had the worst outcomes. Studies have proven the difference in results is related to women presenting with different symptoms and a lack of awareness related to cardiovascular risk in women. The most recent American Heart Association (AHA) survey to evaluate trends in females' awareness, knowledge, and perceptions associated with CVD indicated that although heart disease was the most frequently identified leading cause of death among women, recognition was far lower in 2019 compared with 2009 (43.7% versus 64.8%. In 2019, significantly greater proportions of women than in 2009 identified cancer and breast cancer as the leading cause of death. Notably, women are less likely to attribute ischemic symptoms to heart disease, and this will lead them most likely to delay seeking treatment.
Cardiovascular disease is not the same in women and men. Women can have different risk factors and symptoms. Evidence suggests that traditional and novel CV risk factors are often underrecognized in women. Several female-specific risk factors have been identified as increasing the risk of CV disease in women, including pre-term delivery, pre-eclampsia, gestational diabetes, polycystic ovary syndrome, autoimmune disease, breast cancer, and depression. We know that women have a less obstructive disease. It does not necessarily mean that the symptoms are not real or that they are not related to any form of atherosclerosis. This might be because women tend to have blockages in their main arteries and the smaller ones that supply blood to the heart. This condition is called coronary microvascular disease.
In the last couple of decades, substantial efforts have been made toward awareness, education, advocacy, and research specific to women. Private practice groups and academic institutions created focused CVD care delivery models for women, including Heart Centers for Women, in response to the increasing attention on CVD in women.
The Women's Heart Program at the University of Virginia is an initiative from the Division of Cardiology to increase awareness in the community, improve education for women and their healthcare providers, expand research, and reduce social barriers to cardiovascular care for women. Our vision is to create a collaboration among the many healthcare disciplines that provide care for women. Our Program aims for a unique personalized, integrated model utilizing existing guidelines for best practices, a multidisciplinary approach with expertise in diseases unique to women or seen more often in women, such as spontaneous artery dissection, Takotsubo cardiomyopathy, fibromuscular dysplasia, and coronary microvascular dysfunction. Our Program aspires to have a leading role in identifying female-pattern heart disease, developing new diagnostic tools, and advancing specialized care for women with and at risk of heart disease. Our current research includes studies to advance the understanding of cardiovascular and coronary heart disease in women and the role of novel medical and lifestyle interventions in treating heart conditions specifically for women.
---
---
CARDIOVASCULAR RESEARCH UPDATE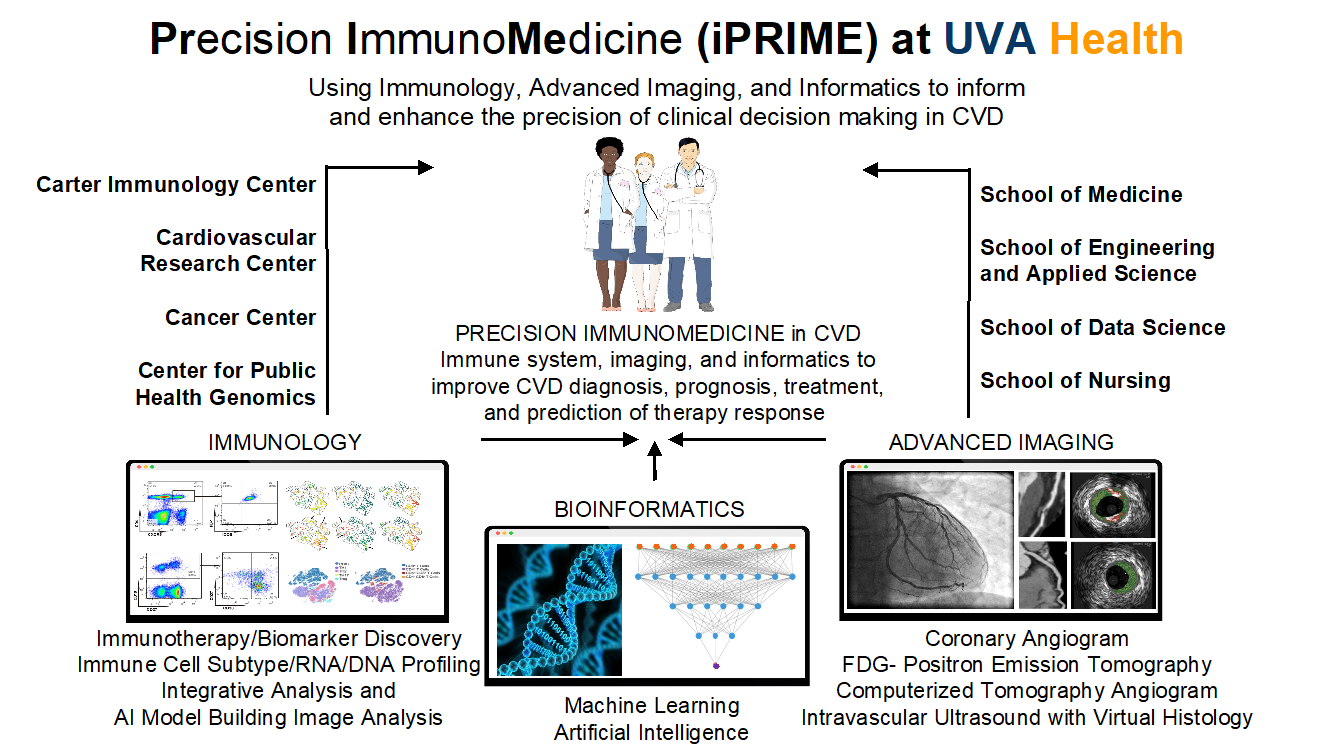 Basic, Clinical, and Translational Researchers in the Cardiovascular Division are members of a team that was recently awarded one of UVA's Prominence-to-Preeminence (P2PE) awards. The funded proposal seeks to build a research ecosystem in precision ImmunoMedicine for Cardiovascular Disease (CVD). Precision medicine has the potential to transform how medicine is practiced, but it is currently challenging to implement it in the clinic and establish a translational research-precision medicine virtuous cycle. Insufficient technologies, limited knowledge, and research gaps are significant obstacles to adding precision medicine to clinical care. The program entitled Immunology, Imaging, and Informatics for PrecisionImmunoMedicine (iPRIME) in CVD will officially launch this fall.
This iPRIME initiative, under the leadership of Drs. Coleen McNamara, Angela Taylor, Stefan Bekiranov, and several other outstanding faculty members from the Cardiovascular Division and other UVA schools and centers seek to enhance CVD research and clinical care. Drs. Hema Kothari (CV Division and CIC) and Mike Davis (CIC) will serve as Program Manager and Administrator, respectively. The iPRIME initiative focuses on the immune system as it plays a crucial role in the progression, severity, and outcomes of CVD. While immunomodulatory therapies have emerged as potential therapeutics for CVD, a complete understanding of mechanisms, biomarkers, and effective and tailored therapies in humans is lacking. We propose to integrate cutting-edge single-cell technologies for an in-depth functional analysis of circulating immune cells of CVD patients, advanced cardiovascular imaging, and state-of-the-art bioinformatics and artificial intelligence to discover and implement advanced precision immunomedicine approaches.
UVA has cutting-edge technology for single-cell analytics and high dimensional data needed to realize this vision, yet these resources are underutilized for human precision medicine studies. The iPRIME overarching goal is to create a collaborative research infrastructure that fosters multi-disciplinary collaborations to generate large human immune cells, imaging, and clinical datasets to discover potential biomarkers of risk, disease progression, and response to specific therapies. This will allow UVA faculty to develop precision approaches to CVD based on immunology, imaging, and informatics, from prior, ongoing, and future studies to advance precision immunomedicine. With the iPRIME initiative, we will generate knowledge that can inform and enhance the precision of clinical decision-making in CVD and train the next generation of researchers and clinicians. New website with more details coming soon!
---
CARDIOVASCULAR CLINICAL UPDATE
Cardiovascular Medicine Advanced Practice Professionals
By Suzanne Waters, MS, FNP, APRN, B-C (Lead Cardiovascular Medicine Nurse Practitioner)
The Cardiovascular Medicine Advanced Practice Providers (APPs) provide support to various sub-specialties within the division of cardiology, including Inpatient Acute Care, Ambulatory Clinics (hospital-based and satellite), and peri-procedural care (UH and F500). The team has grown over the last decade, in response to program development, centers of excellence, and expansion to various satellite locations (F500, Fishersville, Zions, and Culpepper). All APP team members are cross-trained to a minimum of 2 sub-specialties to optimize staffing coverage. Patients who are scheduled for cardiac studies/procedures will be seen by an APP before and after the diagnostic study &/or procedure. Interventional cardiology encompasses Cardiac catheterizations, electrophysiology procedures (ablation/cardiac implants), congenital procedures, heart failure diagnostics/implants, advanced valve procedures, and cardiac transplant (pre/postop diagnostics and surveillance studies). The non-invasive areas include
Stress lab and cardiac PET testing. The APPs participate in sub-specialty process improvement activities and clinical trials. The APP team is actively engaged in the Cardiovascular Advanced Practice Provider (CAPP) Fellowship program in an effort to "grow our own" while obtaining CE credits with learning activities. APPs partner with physician colleagues in all sub-specialties and bill independently, when indicated.
Clinical Highlights:
Inpatient NP Team: The team is composed of acute care APPs
• This team manages admissions, transfers (to/from ACS/CCU/CTU), discharges (weekday/weekend), consults (advanced valve), and those patients who underwent a procedure that required ongoing overnight monitoring. This program has expanded to 7 days/wk and recently went to 12 hr shifts to accept late weekday post-procedure cases and weekend post-procedure discharges.
Peri-procedural team: This team is composed of acute care and outpatient APPs (NPs and PAs) at UH and F500
• Interventional Cardiology Team: This team manages patients at UH, who are scheduled for cardiac catheterization, congenital procedure, diagnostic testing, cardiac electrophysiologic ablations, and cardiac implants (pacemakers, ICDs, and closure devices). The operation runs on weekdays and all APPs from IP and OP are cross-trained.
• Non-invasive Cardiology Team: This team manages those patients who required further cardiac diagnostic testing at UH and F500, and includes: Stress testing and cardiac imaging. There are 2 locations (UH and F500).
• Ambulatory Clinic Team: This team is composed of Family nurse practitioners and Acute Care NPs
• This team is composed of APP sub-specialties including Heart Failure, Electrophysiology, General Cardiology, MI clinic, Prevention, Cardio-metabolic, Advanced Valve, and Pre-procedure clinic.
• The operation runs on weekdays and is supported by APPs who are cross-trained in multiple areas.
---
CARDIOVASCULAR EDUCATION UPDATE
Early Career Leadership Academy
By C. Michael Valentine, MD, MACC
Ten clinicians across the Cardiovascular Service Line recently completed a year-long course in leadership development. The Cardiovascular Early Career Leadership Academy (ECLA) was created in 2020 through a grant from the Ivy Foundation, and senior leaders and Division Chairs choose the participants for their current roles and future potential. Dr. Mike Valentine and Corrin McCloskey led the course, a former cardiovascular administrative leader at Centra in Lynchburg, a former cardiovascular administrative leader, and now an executive at Bon Secours in Richmond. Valentine had created Leadership Courses at the American College of Cardiology, and both had developed a successful Early Career course at Centra together.
The live sessions, detailed case presentations, and team-based solutions, strategies, and problem-solving occurred every two months. The major themes were Leading yourself, Leading Teams, and Leading systems. These required personal testing of leadership styles (DiSC profiles), understanding individual strengths and weaknesses, and learning to assimilate different styles into more effective teams. In between sessions, participants read books and select papers on various leadership topics, frequently met with mentors to learn and gain feedback, and developed a Capstone project involving an area of need and interest within their divisions. They listened to and conversed with book authors, national healthcare leaders, and consultants and worked directly with UVA Professors from the Darden and Batten Schools. The sessions closed with training in public speaking and digital formats so
that their individual Capstone Projects were presented to the group (and judges) with impressive confidence and remarkable skill. A closing celebration dinner allowed for tributes to each participant and the mentors that supported them throughout the year.
We are looking forward to potential mid and senior career offerings and more extensive career and leadership training plans as part of our new Health System Strategic Plan.
---
---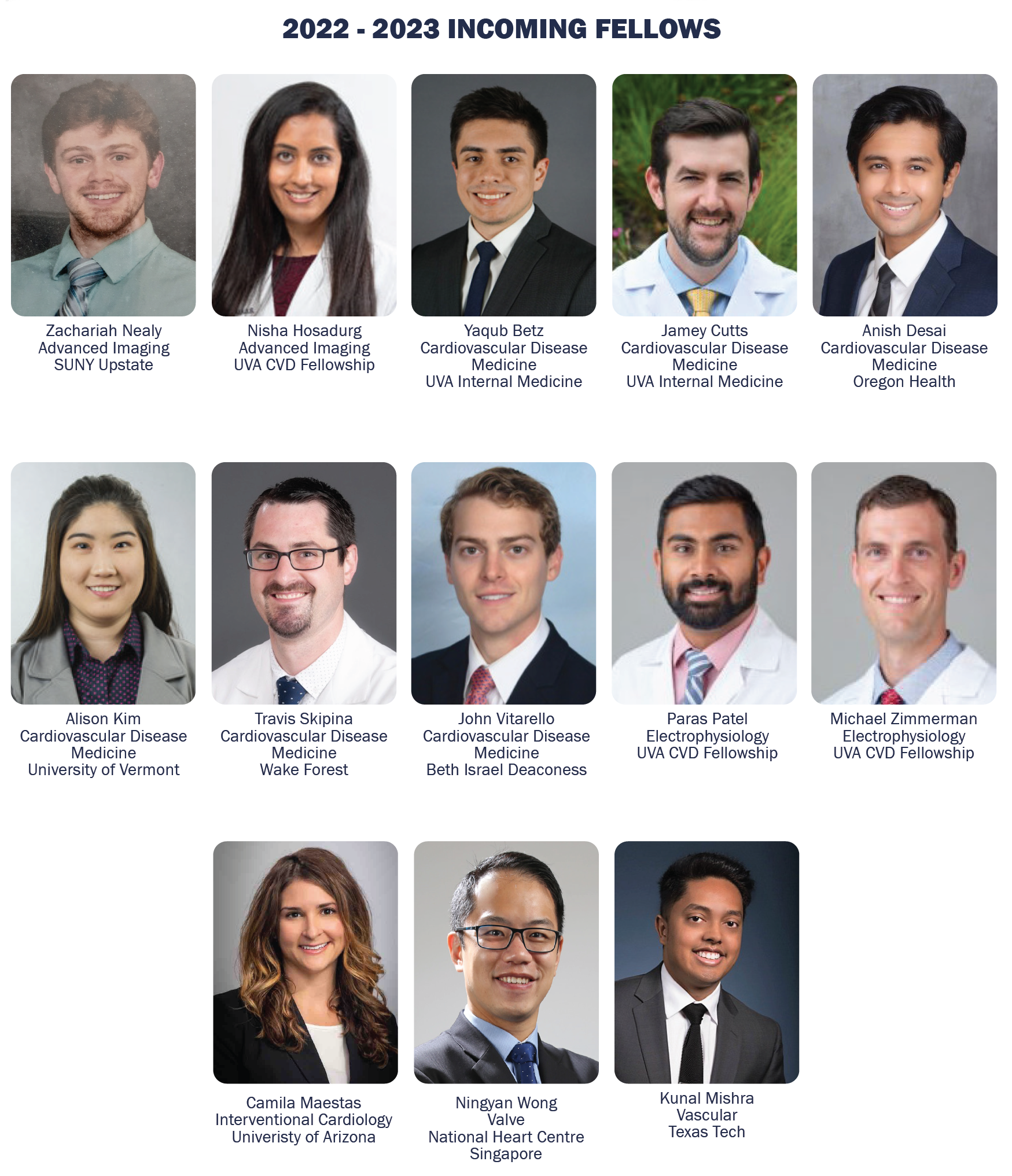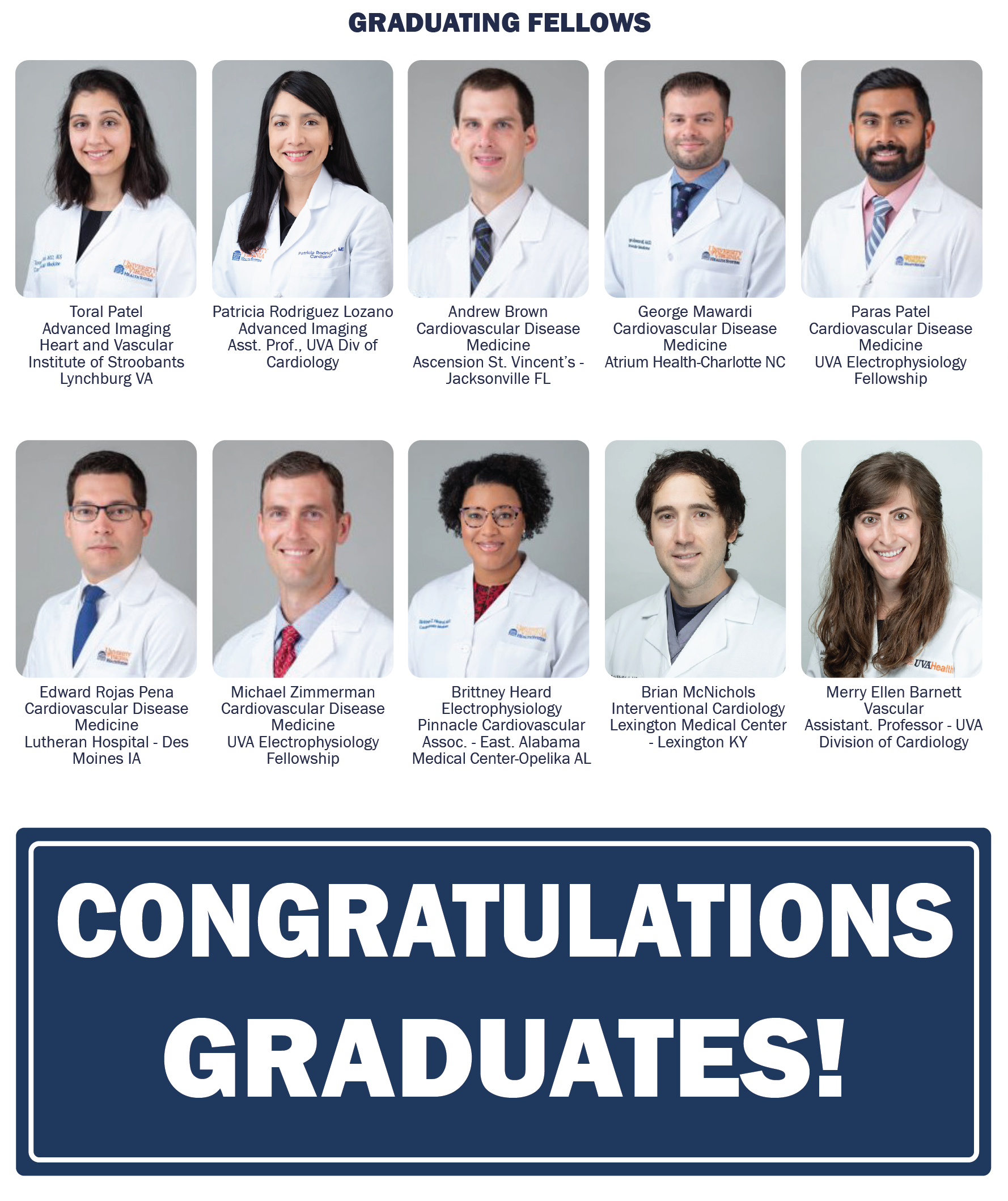 Filed Under: Basic Research, Clinical Research, DOM in the News, Education, In the Know, Publications, Research