Message from Hematology & Oncology Division Chief, Karen Ballen, MD
Despite the pandemic's obvious challenges, the Hematology/Oncology Division has had another fantastic year in clinical care, research, and education. The year's highlight was our UVA Cancer Center's designation as a National Cancer Institute Comprehensive Cancer Center. This is the highest designation of the NCI; we are the only Comprehensive Cancer Center in Virginia and one of 52 in the United States. Under the guidance of our Cancer Center Director, Thomas Loughran, MD, this effort took many years and the hard work and expertise of hundreds of research and clinical team members.
We recruited four new Clinical faculty: Gwen Garcia, MD, in Community Oncology in Augusta joined us this past summer. In May, Dr. Mary Helen Witt will be joining our Augusta Community Oncology practice. We eagerly await the arrival of Drs. Paul Skelton and Paul Viscuse in GU Oncology this summer. We are delighted that Dr. Charles Chalfant has joined our research team.
We are currently interviewing for new faculty in GI Oncology, Stem Cell Transplant, and Lymphoma. We also welcomed Rachel Crespi, Kelli Hughes, Tammy Tedsen, Mary Faith Dudley, and Isabel Burgess to our team as Advanced Practice Professionals. Congratulations to Jessica Kassay-McAllister as our inaugural APP lead. Susie Herndon joins us later this month as our second APP lead.
Our providers continue to provide outstanding care in both inpatient and outpatient settings. For the second year, the Couric 3rd floor West Clinic, where many of our faculty practice, received the highest honor from Press-Ganey: The 2021 Press Ganey Pinnacle of Excellence Award. The award is based on three years of excellent patient experience results and is the only clinic that received this award at UVA. We are proud that nineteen of our providers were recognized for achieving Press-Ganey scores above the 90th percentile in FY 21, including Drs. Richard Hall, Michael Douvas, and Varinder Kaur received perfect scores. Twelve physicians were recognized for three years in a row.
In the area of research, we have 133 open clinical research trials. Partnering with the University of Virginia Cancer Center Community Outreach and Engagement, we work hard to ensure clinical trials are available to all of our patients throughout Virginia. A goal this year is to increase our investigator-initiated studies. Our division boasts over seven million dollars in grant support and Drs. Charles Chalfant, Thomas Loughran, Lawerence Lum, and Owen O'Connor all have RO1 grants. The grants cover leukemia treatment, novel lymphoma strategies, cell therapy, and lipid signaling.
• iPLA2beta mediated alternative splicing and (square) cell death in type 1 diabetes Dr. Charles Chalfant
• Genomic Architecture of LGL Leukemia Dr. Thomas Loughran Jr.
• Neuroblastoma with armed T cells Dr. Lawrence Lum
• A Randomized, Phase IIB, Multicenter, Trial of Oral Azacytidine Plus Romidepsin versus Investigator's Choice in Patients With Relapse or Refractory Peripheral T-cell Lymphoma (PTCL) Dr. Owen O'Connor
In education, our fellowship program, under the leadership of Drs. Richard Hall, Laahn Foster, and Trish Millard, continue to grow in number and national reputation. We had several hundred applications this year for four slots. We are pleased that we have added an additional fellow, which will bring our total to twelve for the three-year combined Hematology/Oncology fellowship. The fellows have been productive in their clinical work and research, with several presentations at national meetings. Under the direction of Dr. John Densmore, our Inova campus opened to UVA medical students for their third and fourth-year rotations in undergraduate medical education.
In administration, Dr. Christiana Brenin assumed the leadership role of Medical Director of the UVA Breast Center. Dr. Firas El Chaer is the new Medical Director of the infusion center at the Couric building. We are delighted to welcome Rachael Boston, as our new Division Administrator.
Although it was a challenging year for celebrations and in-person meetings, we held a socially distant retreat at Darden, focusing on wellness, teamwork, and education. And we enjoyed each other's company at our family events at King's Family Polo and Critzer's Farm.
It is wonderful to see our team's accomplishments. Of course, we are most grateful for the opportunity to work with such fantastic colleagues in other divisions and Departments, nurses, research coordinators, division staff, and other team members. You all contribute to making the University of Virginia Health such an exceptional place.
~Karen Ballen, MD
---
Division Faculty on National and International Committees and Boards
Dr. Karen Ballen
• Chair, Cord Blood Advisory Group, National Marrow Donor Program
• Chair, Scientific Planning Committee, Cord Blood Connect
• Chair, Public and Professional Affairs, Cord Blood Association
• Study Section, American Society of Hematology
• Associate Editor, Bone Marrow Transplantation
Dr. Kelly Davidson
• Member, American Board of Internal Medicine Hematology Exam Committee
Dr. Robert Dreicer
• Chair Elect, ASCO Cancer Communications Committee
• Member, ABIM Medical Oncology Longitudinal Assessment Approval Committee
• Chair, ASCO Conquer Cancer Advanced Clinical Research Award Review Committee
• Member, AUA Advanced Prostate Cancer Guidelines Panel
Dr. Firas El Chaer
• Member, ASTCT Acute Myeloid Leukemia Guidelines Committee
• Member, ETCTN Leukemia Disease Focused Group
Dr. Laahn Foster
• Member, ASH Governmental Affairs Committee
Dr. Ryan Gentzler
• Multiple-Principal Investigator, NCI Experimental Therapeutics Clinical Trials Network (ETCTN) Johns Hopkins LAO
• Member, ASCO Annual Meeting Scientific Program Committee, "Lung Cancer Non-Small Cell Local-regional/Small Cell/Other"
• Member, NCI Investigational Drug Steering Committee (IDSC)
• Co-Chair, Hoosier Cancer Research Network (HCRN), Thoracic Clinical Trials Working Group
• Editorial Board Advisory Panelist, ASCO Cancer.net, Non-Small Cell Lung Cancer
Dr. Varinder Kaur
• Member, ASCO Melanoma Guideline Panel
Dr. Michael Keng
• Chair, ASCO Quality Training Program
• Committee Member, ASH Committee on Quality
Dr. Thomas Loughran
• Board of Directors, AACI
Dr. Matthew Reilley
• Committee Member, North American Neuroendocrine Tumor Society (NANETs)
Dr. Michael E. Williams
• Editorial Board Member, Journal of Clinical Oncology and Annals of Lymphoma Associate Editor for Hematologic Malignancies, NEJM Group Journal Watch Oncology/Hematology
• Associate Editor for Lymphoma, ASCO cancer.net
• Lymphoma Research Foundation Scientific Advisory Board
• Executive Committee, Member, ABIM Hematology Longitudinal Knowledge Assessment Approval Committee
---
Medical Oncology
Update from Robert Dreicer, MD
The past academic year has seen some notable accomplishments highlighted by the University of Virginia Cancer Center achieving NCI Comprehensive status, supported broadly by the efforts of multiple section faculty in support of the clinical research program.
Selected notable faculty achievements include Dr. Christiana Brenin's appointment as the Medical Director of the UVA Breast Center, Dr. Paul Kunk's appointment as the Medical Director of the Cancer Center's Office of Clinical Research, Dr. Ryan Gentzler's appointment as Chair of the UVA Cancer Center's Protocol Review and Monitoring Committee, Dr. Tri Minh Le's appointment as Director of the GI Medical Oncology Program and Dr. Matthew Reilley's appointment as Director of GI Medical Oncology research.
The section will add two new GU medical oncologists at the beginning of the next academic year, Dr. Paul Viscuse from MD Anderson Cancer Center and Dr. Paul Skeleton from the Moffitt Cancer Center.
Melanoma/and related disorders
Drs. Liz Gaughan and Varinder Kaur
APP: Jennifer Eccles
Breast Medical Oncology
Drs. Christiana Brenin, Patrick Dillon, and Trish Millard
APP: Paul "Mike" Marshall
Thoracic Medical Oncology
Drs. Ryan Gentzler and Richard Hall
APP: Marie Thomas
Head and Neck Oncology
Dr. Varinder Kaur
APP: Emily Stubbs
Gastrointestinal Medical Oncology and Unknown Primary Neoplasms
Drs. Tri Le, Paul Kunk, and Matthew Reilley
APP: Jenna Ally
APP: Jenna Campo
Genitourinary Medical Oncology
Drs. Michael Devitt and Robert Dreicer
APP: Jennifer Eccles and Katie McGrail
Sarcoma
Drs. Michael Douvas and Johann Hsu
Infusion/Urgent Care
APP: Rachel Crespi, Kelli Hughes, and Melody Noble
---
Stem Cell Transplant
Update from Karen Ballen, MD
The Stem Cell Transplant and Cellular Therapy Program is ten years old. We have completed over 880 transplants to date and likely will celebrate our 1000th transplant later this year. We receive referrals from all over Virginia, including Virginia Beach, Northern Virginia, and Appalachia / SW Virginia, and have two outreach clinics. We perform transplants for hematologic malignancies, including multiple myeloma, non-Hodgkin's lymphoma, acute leukemia, myelodysplastic syndrome, and myeloproliferative disorders. Our chimeric antigen receptor (CAR) T research program is growing rapidly, and we have both FDA approved and researched CAR T in lymphoma and leukemia. We are a core center with the Blood and Marrow Transplant Clinical Trials Network (BMT CTN) to open cooperative group clinical trials at UVA for our patients. The physicians would like to thank all the team members and consultants who have helped us take amazing care of our patients over the past ten years; we would not be where we are today without them.
Stem Cell Transplant
Drs. Karen Ballen, Indumathy Varadarajan, and Leonid Volodin
APP: Hania Bushnaq-Aloul, Jessica Kassay-McAllister, and Christine Mazimba
APP Inpatient: Isabel Burgess, Mary Faith Dudley, Erin Harr, Joshua Humphrey
---
Hematologic Malignancies
Update from Craig Portell, MD
The Hematologic Malignancy Program continues to grow in both inpatient and outpatient care. The cutaneous lymphoma clinic (Drs. Enrica Marchi, Alejandro Gru, and Thomas Cropley) receives referrals from all over the state. Dr. Emily Ayers received national attention at the American Society of Hematology with her work on COVID in hematologic malignancy. Drs. Craig Portell and Michael Williams continue to lead the field of mantle cell lymphoma, with Dr. Williams receiving a prestigious award from the Lymphoma Research Foundation. Dr. Michael Keng has expanded our quality program and is an international figure in cancer quality. Drs. Firas El Chaer and Michael Douvas have opened several investigator-initiated trials for leukemia. Dr. Francine Garrett-Bakelman is studying epigenetics and older patients with Acute Myeloid Leukemia. In myeloma, Drs. John Densmore and Laahn Foster focus on novel strategies for this population, with many new treatment options for these patients, including cellular therapy.
Lymphoma and CLL
Drs. Emily Ayers, Enrica Marchi, Craig Portell, and Michael E. Williams
APP: Kim Conrad and Tammy Tedsen
Myeloma
Drs. John Densmore and Laahn Foster
Leukemia
Drs. Michael Douvas, Firas El Chaer, Francine Garrett-Bakelman, and Michael Keng
APP: Kim Conrad and Amelia Hodson
---
Hematology
Update from Kelly Davidson, MD
Our classical hematology team has had another productive year, treating patients from around the Commonwealth with a broad spectrum of complex, non-malignant hematologic disorders and collaborating with numerous groups within the medical center to improve education and patient care. Dr. Louise Man continues to lead our Adult Comprehensive Hemophilia Center, a grant-supported collaborative effort with Pediatrics, to serve adult patients with bleeding disorders. She leads a bi-monthly multi-disciplinary Thrombosis Conference with colleagues in Vascular Medicine and Interventional Radiology. She has continued to work on guidelines for UVA Health for VTE prevention and management in hospitalized patients with COVID-19. Dr. Hilary Maitland and the VTE coalition continue to decrease year-over-year peri-procedural thrombotic events; they had zero events in January 2022. She is currently working on a quality initiative to improve patient mobility throughout hospitalization. Dr. Kelly Davidson continues her work to expand our Comprehensive Adult Sickle Cell Disorders Program. She and partners in Nephrology have created a multi-disciplinary conference to discuss complex cases involving hematologic and renal diseases. She is collaborating with Obstetrics and Gynecology to improve the management of iron deficiency anemia and reduce the transfusion burden in pregnant women and those with heavy menstrual bleeding.
Non-Malignant Hematology
Drs. Kelly Davidson, Hillary Maitland, and Louise Man
APP: Julie Armatas and Katie Strickler
---
UVA Community Oncology
Update from Elizabeth Gaughan, MD
The University of Virginia Community Oncology Section includes five physicians and three advanced practice providers serving patients with the spectrum of hematologic and solid tumor diagnoses in Fishersville, Pantops, and Culpeper. Our team oversees the multi-disciplinary infusion centers at each location that have expanded to include 61 active infusion chairs. In the last year, we emphasized patient access and standardization of staffing models throughout all UVA Oncology sites. Our convenient office locations afford all UVA patients the ability to be seen quickly and close to home. When appropriate, our team participates in tumor boards and facilitates referrals to the sub-specialists and clinical trials at the Emily Couric Clinical Cancer Center. In November 2021, we onboarded the IQueue software in Fishersville and Pantops, thus linking UVA infusion services from the main center to our community sites providing enhanced access and flexibility for all patients and teams that utilize our services. Our team is grateful for the support of our Division colleagues who assisted with Infusion Center coverage during periods of low staffing.
We welcomed Dr. Gwen Garcia to our UVA Cancer Center Augusta team in August 2021, and we look forward to the addition of Dr. Mary Helen Witt in May 2022. Along with Dr. Nick Paphitis and Meera Kumar, PA-C, we now have a four-provider team in Augusta to facilitate Hematology and Oncology patient access and care. The UVA Cancer Center Augusta also welcomed Dr. Linda Martin, Thoracic Surgery, and Dr. Tracey Krupski, Urologic Oncology, to expand our cancer services. They joined Dr. David Brenin, Breast Surgery, to offer UVA surgical oncology expertise to our patients in the Shenandoah Valley. In conjunction with the Telemedicine program and Anesthesia, our team set up remote PETC capabilities to facilitate remote anesthesia evaluation from our Augusta clinic.
At the University of Virginia Cancer Center Pantops, Dr. Johann Hsu leads the Division's Adult Sarcoma program and Tumor Board. Susie Herndon, MSN, RN, AGNP-C, CCRC, AOCNP joined our team in March 2022. In addition to her clinical practice, Ms. Herndon will serve as one of the inaugural APP lead positions within the Cancer Service Line. Clinical trials efforts continue at UVA Cancer Center Pantops, which will be the backbone for expanding these services to our other regional sites in the future. Construction completed in 2021 helped expand our infusion chairs, update our infusion pharmacy and create a UVA retail pharmacy in Pantops.
The UVA Cancer Care Culpeper team consists of Dr. Pranav Patel, Dr. Ali Mahjoub, and Michelle Otto, NP. They run a busy practice out of the Culpeper Medical Center, now part of UVA Community Health. In the last Year, PET capabilities were established in Culpeper, with UVA Nuclear Medicine providing study interpretations. Efforts are underway to purchase a new linear accelerator and the construction of a new vault to continue to offer radiation services for UVA patients. In conjunction with the Telemedicine program, our team set up a connection with the UVA Neurosurgery clinic for Gamma Knife Radiosurgery consultations.
Augusta Location
Drs. Gwenalyn Garcia and Nicholas Paphitis
APP: Meera Kumar
Culpeper Location
Drs. Ali Mahjoub and Pranav Patel
APP: Michelle Otto
Charlottesville/Pantops Location
Dr. Johann Hsu
APP: Susie Herndon
---
Clinical Updates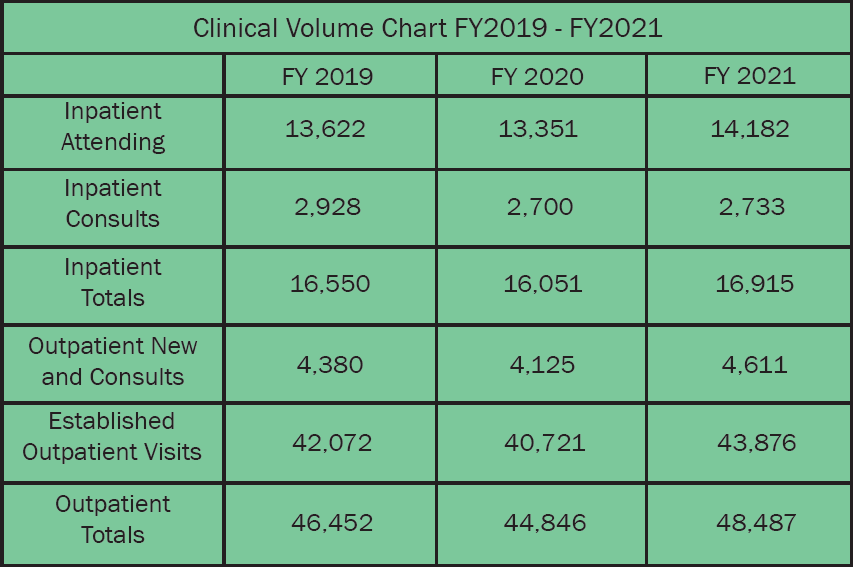 ---
Clinical Volumes for FY 21 continued to grow for both Inpatient and Outpatient areas, despite continued COVID-19 impacts as patients and referring providers continued to choose the University of Virginia for care during the pandemic.
Our providers continue to demonstrate perseverance and patience as we continue to deliver world-class, compassionate care as our operations continue to expand and we maneuver through the challenges of COVID-19.
---
Key Infusion Center Initiatives
• January 2021- Operationalization of transition to biosimilar agents
• February 2021- Integration of Infusion Center DOD to emergency responses
• March 2021- Expansion of weekend and holiday hours of operation
• March 2021- Standardization of falls intervention program across all infusion centers
• March 2021- Trial of Infusion Center Concierge (DHC)
• March 2021- The remaining five chairs opened in the infusion center
• April 2021- Launch of early discharge autotransplant program
• May 2021- Support activities of off-grounds sites through provision of day to day leadership, supplemental
• May 2021- Initiation of transition of aged out pediatric patients for non-oncology infusion treatment (from staffing, and onboarding of new team member Battle Building) to ECCCC
• October- November 2021- Support implementation of iQueue at the off-grounds locations
• December 2021- Hired final APP for infusion center
• Throughout 2021 – Continued to provide care for both oncology and non-oncology COVID positive infusion
---
Educational Updates
Message from the Program Director
I am very fortunate to be the program director of the University of Virginia Hematology/Oncology program. Simply put, we have an outstanding fellowship program built around our exceptional fellows.
This year we welcomed four new fellows into our program – Nate Roberts, MD, who joined us from Wake Forest, Chris Thomas MBBS, who joined us from the University of Kentucky, Will Thomas, MD, who joined us from the University of Alabama Birmingham, and Phil Young, MD who joined us from UVA. All four of our first-year fellows have done an excellent job assimilating into the program and diving into our clinical and research programs.
We successfully matched four new fellows into our program in December 2021. Jenna Schlefman, MD, and Shipra Maheshwari, MD, will join us from our UVA internal medicine program. Jeffrey Lantz, DO, will join us from Wake Forest, and Jack Masur, MD, will join us from the University of Maryland. We were thrilled with our match this year, and I am grateful for our faculty who participated in our 2021 recruitment season.
We have four graduating fellows who will leave our program, having contributed academically and personally to its growth. All four of our graduating fellows entered fellowship before the pandemic. They were uniquely affected by short interruptions in training and global anxiety of providing care for hematology/oncology patients during the past two years. I have been deeply impressed by their resilience in the face of adversity and their commitment to personal growth and each other since joining our program. We look forward to celebrating their accomplishments in May 2022.
Our program is looking forward to warmer months ahead, growing closer as a team, and building on our success in the coming academic year.
~ Richard Hall, MD
---
2022 Graduating Fellows
Christian Barlow, MD
Christian has been a regular consumer of pickle chips throughout fellowship, but more importantly, he has been a leader in our program with his overall positive outlook and exceptional patient care. Christian is joining Shenandoah Oncology in Winchester, VA, later this summer.
Lindsey Shantzer, MD
Since joining our program, Lindsey has been a constant source of humor and optimism with a penchant for encouraging others. She has worked on multiple academic projects during her fellowship. She will be returning to the Philadelphia region to practice at Fox Chase Cancer Center, focusing on breast oncology this summer.
Dave Riley, MD
Dave has been our chief fellow this year. He became our resident expert in Qualtrics survey development his first year (and in all seriousness, has helped lead multiple academic projects throughout his fellowship). Dave is joining Sentara Martha Jefferson in Charlottesville, VA, upon graduation.
Melissa Yacur, MD
Melissa transferred into our program in January 2021, mid pandemic, and she assimilated so quickly it was almost as if she had been with us from the beginning. Melissa is a new mom, and she will be joining INOVA in Fairfax, VA, with a focus in thoracic oncology upon graduation.
---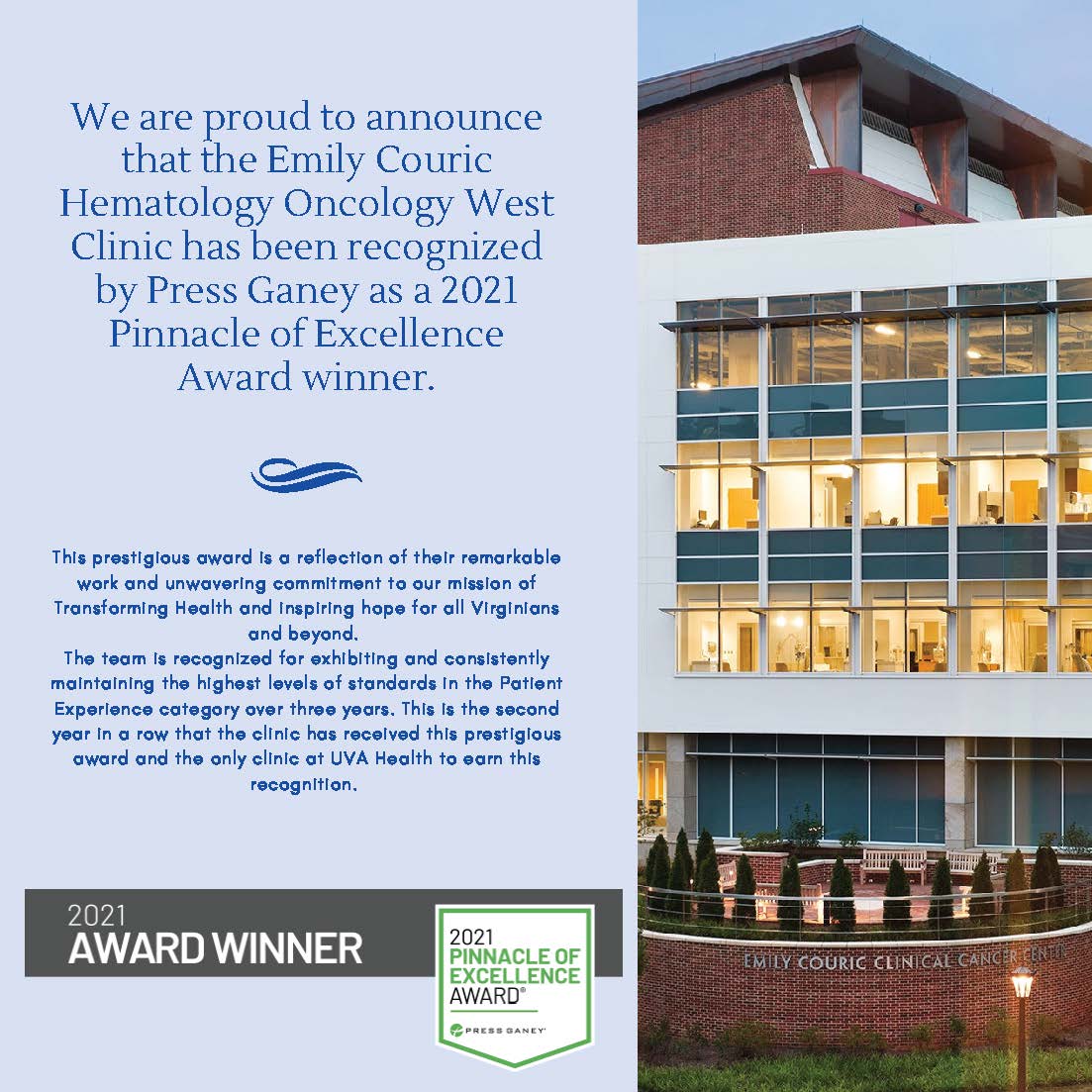 Filed Under: Basic Research, Clinical Research, Education, In the Know, News and Notes, Research, Top News
Tags: April 2022, April 2022 Medicine Matters, April 2022 Newsletter, DOM, Education, faculty, Hematology, medicine matters, newsletter, oncology, Research