Research Updates
We are pleased to announce that Jie Sun, PhD, will join the Division of Infectious Diseases and International Health as a Professor in January 2022. In addition to his primary appointment in Infectious Diseases, he will have a secondary appointment in Microbiology and Immunology Cancer Biology and be an integral member of the Carter Immunology Center. Dr. Sun did his graduate work at the University of Pennsylvania in the laboratory of Ed Pearce, who is well-known to the ID Division for his work on helminth immunology, and then did his post-doctoral training at UVA under the guidance of Dr. Tom Braciale. We recruited him back to UVA from Mayo Clinic in Rochester, Minnesota.
Dr. Sun conducts both basic and clinical research in cellular lung immunity and immunopathology, notably in the context of viral infections such as influenza, respiratory syncytial virus, and SARS-CoV2. He also has interests in the impact of aging, tissue repair, and chronic sequelae following respiratory infections. Dr. Sun's laboratory has recently discovered key cell types and pathways that promote chronic lung inflammation and fibrosis after severe viral pneumonia (Science Immunology 2020, 2021 and Immunity 2021). Dr. Sun is a highly collaborative scientist, and we look forward to his expertise and insights that will cross many disciplines.
Under the guidance of Dr. Bill Petri, our NIH T32 Infectious Diseases Training Grant received a perfect score! This training grant, which has been continuously funded for 45 years, supports our Infectious Disease fellows' research training and uniquely graduate student training. This allows for collaborative training opportunities between these two groups of trainees. Dr. Alison Criss, Microbiology, Immunology, and Cancer Biology, has taken on the role of Co-PI, and Dr. Scott Heysell, has also assumed a leadership role as Associate Director.
During this pandemic year, many of our faculty expanded their research activities to include COVID-19 research (see publications below). A few of these efforts are highlighted. Early on, Dr. Amy Mathers met this challenge head-on by creating one of the first in-house PCR testing kits in the state and then went on to develop wastewater testing for the University of Virginia, which enabled students to return to grounds. For these efforts, Dr. Mathers received the University of Virginia Licensing & Ventures Group's Edlich-Henderson Innovator of the Year. Dr. Eric Houpt led a state-wide seroprevalence study for SARS CoV-2 and identified associated risk factors. Dr. Patrick Jackson led clinical trials at UVA Health System to test the efficacy of remdesivir for hospitalized adults with Covid-19. Dr. Bill Petri has tackled COVID-19 by gathering together impressive collaborative teams that include multiple institutions both here and abroad and industrial partners. His efforts involve identifying IL-13 as a driver of COVID-19 severity, which has led to a clinical trial of dupilumab, which targets the IL4 receptor alpha and results in inhibiting both IL-4 and IL-13 signaling. The Division's COVID-19 activities also extend internationally. Dr. Mami Taniuchi received an award for COVID-19 surveillance in environmental samples in Bangladesh. Dr. Margaret Kosek was awarded a CARES Supplement on her CDC U01 on acute febrile illness to study transmission dynamics of COVID-19 in Peru.
In addition to COVID-19-related research, the Division has an active and diverse research portfolio. Our early-stage investigators are thriving, receiving funding and publishing data. Dr. Greg Madden's research interests include hospital epidemiology, diagnostic stewardship, and translating advances in basic sciences and immunology to improve the management of healthcare-associated infections, particularly Clostridioides difficile infection. He was recently awarded a K23 proposal entitled "Immune profiling to stratify C. difficile infection outcomes." Dr. Kate McManus is an emerging national leader in studying healthcare delivery models that improve outcomes for people with HIV. Dr. McManus expanded her work to assess the impact of the Affordable Care Act (ACA) in multiple states and received a contract with NASTAD to update and conduct the 2021 National Ryan White HIV/AIDS Program Part B and AIDS Drug Assistance Program Survey. Dr. Stacey Burgess has an R01 to study how gut microbiome communication with the bone marrow regulates intestinal inflammation, exploring how mucosal immunology and the fundamental process of hematopoiesis by commensal bacteria can be altered influence the systemic immune response and secondary challenge with pathogens via innate immunity. Dr. Chelsea Marie received an R01 to examine the role of host Protein Kinase C in cryptosporidiosis. Dr. Marie has also expanded her research to identify other genetic factors that influence susceptibility to enteric pathogens and immune markers for C. difficile infections. Dr. Matt Crawford investigates mechanisms of antimicrobial action and microbial strategies of resistance. Over the past year, working with Dr. Molly Hughes, their collaborative group has focused on optimizing a lead-series of chemokine-derived peptides that directly kill multidrug-resistant bacterial pathogens, setting the stage for evaluating therapeutic efficacy in pre-clinical models of infection.
Educational Update
Led by Program Director Dr. Chris Moore and Associate Program Director Dr. Kate McManus, University of Virginia's Infectious Disease Fellowship for MDs is a three-year program supported by two NIH T-32 training grants to produce world-class physicians dedicated to a career in academic infectious diseases. Our program offers rigorous training and supervised experience with faculty members with broad clinical and research expertise. The first year of training is dedicated to research, and the second and third years of training are divided between clinical training and research. Clinical training takes place through separate inpatient consultative services in general and transplant/immunocompromised infectious diseases. There are also opportunities to participate in outpatient HIV, general, transplant, mycobacterial, Clostridium difficile, travelers, and musculoskeletal infectious diseases clinics.
Opportunities abound for rich interdisciplinary experiences in cutting-edge fundamental science, translational, clinical, and epidemiologic infectious diseases research. Research takes place in state-of-the-art laboratories, clinics, hospitals at UVA, and worldwide facilities. Research themes include care for patients with HIV; modeling and outcomes related to critical care and severe sepsis; epidemiology of multi-drug resistant organisms; global health; diagnostics; immunology; host susceptibility to infection; host-pathogen interactions; and pathogenesis of infectious diseases. Our fellows have presented work nationally and internationally at IDWeek, the American Society of Tropical Medicine and Hygiene, and the TB Union Meeting in the last year. They have published their research in the following journals: AIDS Patient Care and STDs, Anti-Infective Therapy, Antimicrobial Agents and Chemotherapy, Clinical Infectious Diseases, Clinical Microbiology and Infection, Infection Control and Hospital Epidemiology, Lancet Infectious Diseases, mBio, Open Forum Infectious Diseases, and PLoS Medicine, among others.
After a successful recent match, we look forward to welcoming Tom Flynn from Cleveland Clinic, David Lehman from Inova Fairfax, and Isaura Rigo from New Hanover Medical Center to our fellowship program in 2022. We welcome hearing from residents and students interested in working on research projects in the Division. Please contact Dr. Chris Moore (ccm5u@hscmail.mcc.virginia.edu) or Dr. Kate McManus (km8jr@hscmail.mcc.virginia.edu) if you would like to be connected to a project and follow our Twitter feed (@UVA_ID) to stay up to date with our news and activities!
Current Infectious Diseases Fellows – Year One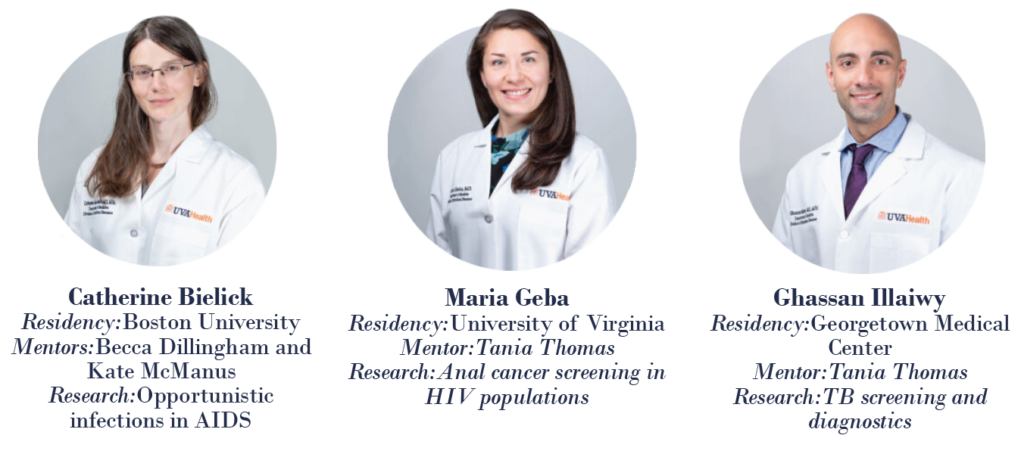 Current Infectious Diseases Fellows – Year Two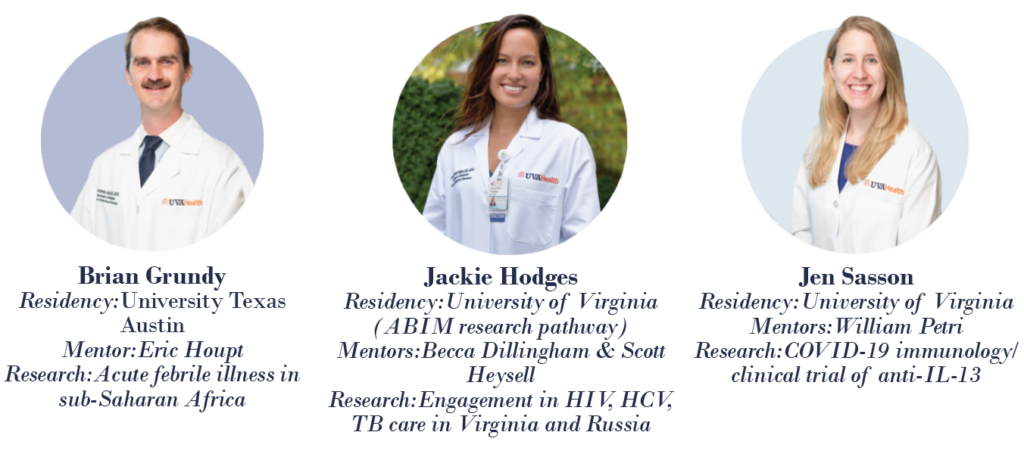 Current Infectious Diseases Fellows – Year Three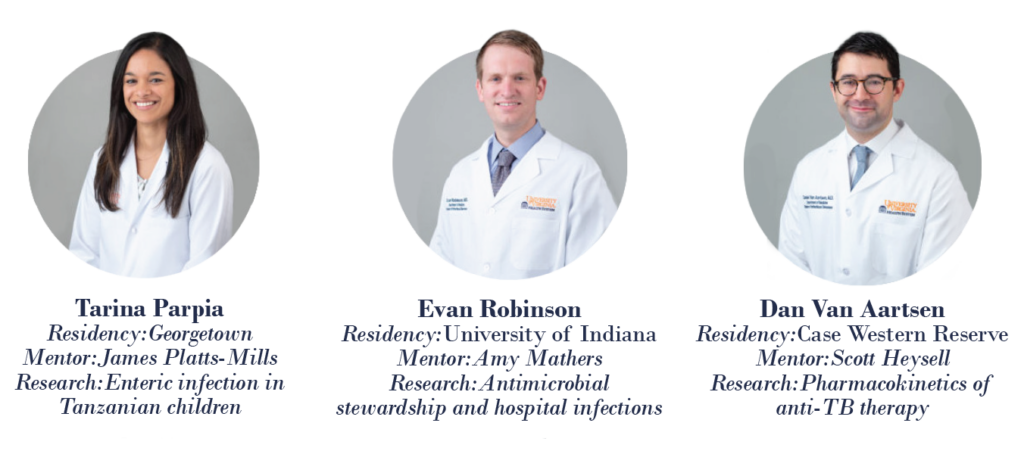 Current Infectious Diseases Fellows – Year Four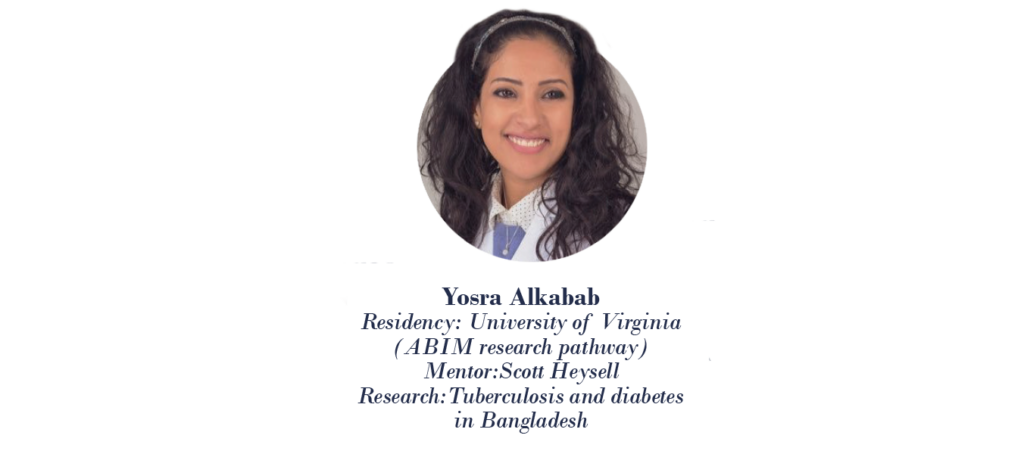 Filed Under: Basic Research, Clinical Research, Education
Tags: ID, Infectious Diseases & International Health, January 2022, January Medicine Matters, medicine matters