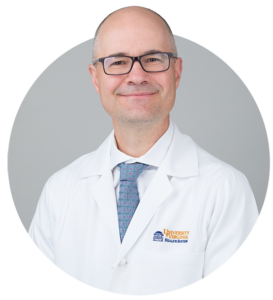 If 2020 was the first year of the pandemic, 2021 was the year of promise, and 2022 will be the year of perseverance. On the plus side, we're still standing because of the tremendous gains that the medical and scientific community has produced, such as vaccines, drug regimens, public health measures, and an enormous amount of hard work and grit. On the other hand, there remains considerable resistance to these measures in society, taking us to a world of endemic COVID and bringing burnout and disengagement.
Despite this half-empty half-full new normal, the Division of Infectious Diseases and International Health has a lot to be proud of. Nearly every faculty member has been involved in COVID in some way – be it leading local and regional efforts of infection control, COVID testing, clinical research of new therapies and vaccines, implementation of practice guidelines, laboratory research on pathogenesis, global COVID, surveillance, discussions of health equity, and more.
And it's not just COVID. The Division's clinical workload continues to increase, providing inpatient consults for the most complex patients in the hospital and the most immunocompromised. Our clinic is being reorganized (Dr. Christopher Arnold and others), and we provide superb care in our Ryan White clinic (Dr. Rebecca Dillingham and others). Our research runs from basic and clinical research to trials to epidemiology, implementation science, and policy, and our funding exceeded $17M in 2021, topping the past several years.
For 2022 we have some well-deserved retirements (Dr. Gerald Donowitz) and are excited about our new hires (Dr. Jie Sun, Dr. Tarina Parpia). Many more details on the Division follow below. So with a clear-eyed attitude of perseverance, we wish for a Happy New Year in 2022.
~ Eric R. Houpt, MD
Filed Under: Basic Research, Clinical Research, Education, News and Notes