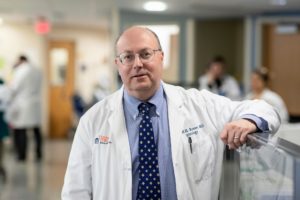 Welcome to the fall edition of Medicine Matters. To me, fall in Virginia is the best time of year. The evenings are cool, the sky is clear, and the colors of the leaves are just beginning to change. I hope all of you get a chance for a hike or some time outdoors. Take advantage of all the excellent opportunities for recreation in our area.
For the past several weeks, we have been facing another wave of COVID-19 infections, and it does look like the case numbers are beginning to fall. We have learned a lesson with this last wave of infections that vaccination is clearly our best weapon; please consider getting a booster if eligible or get a shot if you have not yet been vaccinated. I would also urge you to educate community members who may be reluctant to get vaccinated. Data has shown that the majority of unvaccinated individuals are scared and have unanswered questions. Education of our community is key to ensuring vaccination uptake.
This month we also mourn the passing of two faculty members, Drs. Charles Brooks and Stacey Anderson. Both of these individuals had distinguished careers and left profound impacts on our Department. They will be missed, and please see the tributes to them in this edition of the newsletter.
Lastly, this month we feature the largest Division in the Department, the Division of General Medicine, Geriatrics, Palliative Care, and Hospital Medicine, led by Dr. Mohan Nadkarni. This diverse Division includes numerous world-class programs that provide care for our community and often is the first entry point for patients into our health system. They are the "front-line" for our patients. In addition, the Division is the leader in education, and faculty members hold key positions in the School of Medicine. The Division is also building its research platform with interests in health care delivery, quality of care, and many other areas. I think you will be impressed by the depth and breadth of their activities and, most notably, by the incredible faculty and staff that make up this Division. Please thank them for all of their contributions.
With best wishes,
Mitchell H. Rosner, MD, MACP
Henry B. Mulholland Professor of Medicine
Chair, Department of Medicine
Filed Under: Message from the Chair
Tags: DOM, Education, Endocrinology, faculty, fellows, GENERAL MEDICINE, GMGPC, Nephrology, October 2021, October 2021 Medicine Matters, October Medicine Matters, October Medicine Matters Newsletter, profile, staff