Despite the many challenges that we faced in the past year I am proud to say that the division of Nephrology never wavered, and our faculty, fellows, and staff were extraordinary throughout. Our clinicians worked tirelessly in providing excellent patient care. They saw opportunities to vaccinate our vulnerable patient population onsite and cared for them with great success. We collaborated with other institutions around the US on COVID-19 research. The Center for Immunity, Inflammation, and Regenerative Medicine, continued their ongoing research unabated. New Grants were successfully awarded. The indefatigable work of every faculty and staff member allowed the division to thrive and continue to pursue our clinical and academic mission unabated.
Clinical:
We expanded our reach into other areas of Virginia, opening a new UVA Nephrology Chronic Kidney Disease clinic in Lynchburg. We added two new physicians as part of our UVA Nephrology Lynchburg practice, Dr. Hanna Zaraket, Assistant Professor of Medicine, and Dr. Waqas Memon, Assistant Professor of Medicine. They will expand our clinical research into the Lynchburg area, and provide their patients with an alternative to current nephrology care.
The transplant program under the leadership of Dr. Alden Doyle is expanding at a rapid pace. In all indicators, it continues to grow in numbers of evaluations, and transplants. Furthermore, graft and patient survival are excellent. We welcomed a new faculty member, Dr. Joe Leeds, Assistant Professor of Medicine to the transplant team, he started on July 1st as well as a transplant fellow Sarah Mouawad, MD.
Our nationally recognized Apheresis Program under the leadership of Rasheed Balogun provides a vital function at UVA. Dr. Balogun is a nationally recognized expert in the field. UVA will host the Therapeutic Apheresis Academy, now in its 13th year, it attracts participants nationwide.
We continue to expand our specialty programs including:
• Glomerulonephritis: Corey Cavanaugh, DO, Assistant Professor is the lead in this area and oversees a glomerulonephritis clinic as well as a combined lupus nephritis clinic with Rheumatology
• Onconephrology: Amanda Renaghan, MD, Assistant Professor is the lead in this area and oversees an Onconephrology clinic which is embedded in Emily Couric Cancer Center
• Point of Care Ultrasound (POCUS): Anubhav Kumar, MD, Assistant Professor in the lead. He is actively training fellows and other trainees in POCUS.
Our clinical program at Augusta Hospital has seen considerable growth and maintains a high quality of care under the leadership of Adam Campbell, MD, Associate Professor and Section Chief at Augusta Hospital. We have moved our dialysis unit from the Augusta Hospital footprint to a new location; a state-of-the-art facility in Waynesboro. Daphne Knicely, Associate Professor, contributes to the clinical care at Augusta Hospital. Before her arrival in December, she was on the faculty at Johns Hopkins University and served as a member of the National Kidney Foundation Medical Advisory Board serving Maryland and Delaware. She has a special interest in patient-centered nephrology care. In addition, we are pleased that Nina Stewart, RN, MSN, APRN, FNP-C, and Karen Sumner, MSN, RN, AGACNP-BC, joined the team recently to deliver nephrology care.
Karen Sumner is an acute care nurse practitioner at UVA Staunton Dialysis. An Indiana native, she earned her nursing degree from Indiana University Bloomington and spent most of her nursing career working in the cardiac surgery ICU. In 2014 she earned a master's degree from Ball State University as a clinical nurse specialist (CNS) and worked as a CNS for UVA's inpatient acute renal and apheresis unit. She later returned to school at UVA and became a nurse practitioner in UVA's cardiac surgery ICU. She joined the UVA Staunton Dialysis team in June 2021.
Diane Burns holds a master's degree as a family nurse practitioner and practices at the UVA dialysis clinic in Waynesboro and the UVA Nephrology clinic in Fishersville. She earned a nursing degree from Dabney Lancaster Community college. After graduation, she worked in various areas of nursing from medical, dialysis, home care as well as in the field of nephrology working in the UVA Nephrology CKD clinic. In this position, her focus was on education in preventative care. She has a special interest in Nephrology by caring for a family member with a history of kidney disease requiring dialysis. During this time, the experience taught her the importance of being a strong patient advocate and providing patient-centered care. Diane is a native of the Shenandoah Valley, she enjoys traveling, working out, and spending time with her husband, friends, and family.
Value-Based Care. We continue our effort in the delivery of value-based care, in step with the Advancing American Kidney Health (AAKH). With the signing of the Executive Order on July 10, 2019, alternative payment models through the Centers for Medicare and Medicaid Innovation (CMMI) were created, aimed at managing early stages of chronic kidney disease and increasing the number of patients on home dialysis, and those receiving preemptive transplants. Through the leadership of Dr. Brendan Bowman, we applied and received a letter of acceptance from CMMI into the alternative payment model, Kidney Care First which will be implemented at the beginning of 2022. This is a brilliant opportunity to align incentives with patient care outcomes. We aim to leverage AAKH to drive further integration of advanced CKD and dialysis patient care with transplant preparation and living donation promotion.
COVID-19. At the height of the Covid-19 pandemic, Brendan Bowman, MD worked tirelessly advocating on behalf of our dialysis patients, who are at a higher risk of a serious reaction to the disease. Working with Debbie Cote, Administrator of the UVA Health Dialysis program, and the Virginia Department of Health and the Blue Ridge Health District Bowman and his team vaccinated 85% of UVA Health dialysis patients, a vulnerable patient population, at 12 centers. Plans are underway to provide COVID-19 booster vaccinations in each of the dialysis units.
Fellowship Program. Our fellowship program is under the stewardship of a new Program Director, Tushar Chopra, and Associate Program Director, Dr. Corey Cavanaugh. They will take over the helm from Dr. Kambiz Kalantari who has been the program director since 2012. Dr. Chopra is well-trained for the position as he has been the associate program director for the past two years.
Tushar Chopra, MD, Associate Professor of Medicine, Nephrology Program Director. Tushar joined as clinical faculty in 2015 after completion of his fellowship training at Vanderbilt University. He is an expert in peritoneal dialysis. He directed a new UVA dialysis unit in 2016 and started the first peritoneal dialysis (PD) program in Staunton, Virginia. However, Tushar is known for his outstanding skills as a dedicated educator. He is the recipient of the highly competitive William and Sandra Bennett Clinical Scholars Program by the American Society of Nephrology (ASN) to develop an innovative tool for "Peritoneal Dialysis curriculum development to improve PD prescription writing amongst nephrology trainees." We are confident that he will take our fellowship program to the next level.
Tushar has implemented a comprehensive educational curriculum with innovative conferences such as combined nephrology-hematology case conference, nephrology-rheumatology case conference, CJASN physiology series, NephMadness national nephrology educational initiative, and Critical Care Nephrology Transatlantic Teach-ins with University of Virginia and Guy's and St Thomas' in London.
Anubhav Kumar, MD, Assistant Professor has initiated a training program in Point of Care Ultrasound (POCUS). Point of Care Ultrasonography (POCUS) is the use of diagnostic ultrasound to rapidly assess patients' clinical statuses at the bedside. It is used as an augmentation or adjunct to the traditional physical exam. Anubhav's early experience with POCUS in residency led him to continue utilizing this skill in his nephrology fellowship, culminating in the subsequent completion of an ultrasound fellowship at the University of Pennsylvania. We apply POCUS in multiple ways at UVA Nephrology, utilizing it for intravascular volume assessment, evaluation of dyspnea, and examining vascular access dysfunction. This tool allows us to gain a better understanding of our patients' pathophysiology, which engenders more informative consult recommendations. As we train fellows and faculty via didactic lectures, and hands-on experiences in workshops, and at the bedside, we hope to integrate this important resource into our practice to promote demonstrable improvements in patient outcomes and care. This summer he also provided hands-on experience with POCUS to R25 biomedical engineering students participating in the NIH R25 VA K Tutor program, as well as to high school students.
Research
We had another strong extramural research year with an increase in research funding from $3,766,933 (2015) to $5,745,338 (2021), about 90% is from NIH. Funding comes from NIH R01, K01, R25, T32, U2C/TL1. We have nationally recognized research programs in acute kidney injury and CKD progression (Okusa, Lobo, Sharma, Morioka), lupus nephritis (Fu), extracellular vesicles (Erdbruegger), complement (Portilla), efferocytosis/phagocytosis (Arandjelovic and Morioka), purinergic receptors (Linden), and mineral metabolism in dialysis patients and acidemia in patients with CKD (Scialla).
Clinical Research
The Nephrology Clinical Research Center (NCRC) has continued to make outstanding progress, supporting research activities for the faculty, trainees, and our patients with kidney diseases. Led by Julia Scialla, Igor Shumilin, Elizabeth Kurland, Tracey Blount, and Binu Sharma the team has assisted the Division with several new studies including Assessment of COVID-19 and vaccine responses within UVA Dialysis, facilitating participation in multi-site COVID-19 and other kidney registries, clinical trials of new therapeutics for polycystic kidney disease and devices for home hemodialysis, analyses in national health datasets such as the NHANES and SRTR, among others. We continue to support UVA participation in national consortia such as the TRIDENT Study and OPPUS/PDOPPS.
We have recently won two awards to train the next generation of kidney researchers. 1) Integrated Virginia Research Training Centers in Kidney Urology and Hematology (IGNITE KUH; 1 U2C DK129500). 2) The University Of Virginia Kidney Technology Development Research Education Program (VA K-TUTOR; (1R25DK124918-01)

IGNITE KUH. We are excited to share with you that we will be the recipient of a new 5 year NIH training grant: NIH U2C/TL1 titled Integrated Virginia Research Training Centers in Kidney Urology and Hematology (IGNITE KUH). This is a state-wide pre-and post-doctoral training grant. IGNITE KUH is based on a collaborative partnership involving three main research training centers in the Commonwealth of Virginia. It is committed to developing future generations of KUH researchers. The three IGNITE KUH institutions are the University of Virginia (UVA), Virginia Commonwealth University (VCU), and Virginia Polytechnic Institute and State University (Va Tech). Integral to IGNITE KUH is our outreach networking program to undergraduate students throughout the Commonwealth to include historically Black Colleges and Universities (Virginia Union, Virginia State U., Hampton University., and Norfolk State U.) and rural universities (UVA-Wise). The program with its 65 mentors provides basic/fundamental training and didactic instruction in multiple disciplines, including molecular, cellular, transgenic technologies, immunology, functional genomics, and novel imaging technologies, with a focus in kidney, urology, and hematology. The patient-oriented clinical research program provides training in clinical investigation, epidemiology, biostatistics, and data sciences.
A K-TUTOR. Is aimed at engaging technically oriented undergraduate students to pursue kidney research. This program consists of a 10-week summer program of clinical immersion and didactics followed by a 6-12 months research program. This summer we hosted our first group of students. Three students from UVA and two from Virginia Tech divided their time between online and in-person classes, basic research, and clinical immersion. They brought a fresh and youthful perspective to every area of nephrology; it was greatly valued by both mentors and mentees. We look forward to their ongoing participation, as they explore their chosen areas of interest. Dr. Rahul Sharma (Co-PI) was instrumental in organizing and overseeing this successful inaugural summer program.
Two more students (high school) joined our ranks this summer. Seventeen-year-old Dylan Haber came from Westchester, NY, and spent two weeks in the Okusa Lab, in Pinn Hall. Our division chief, Dr. Mark Okusa has spent the last two years mentoring him via zoom, it was time for a visit. He is studying electrical and optogenetic vagus stimulation to abate inflammation. He spent long hours in the lab enthusiastically learning, and observing techniques to further his study. In addition, he was able to participate in POCUS.
Chloe Walker joined the research team as part of the SOAR program supported by iTHRIV. She too was a mentee of Dr. Okusa.
Congratulations to division faculty and staff members, who received DOM Excellence awards:
Adam Campbell, recipient of the Excellence in Clinical Care Award
Julie Scialla, recipient of the Excellence in Mentorship Award
Corey Cavanaugh, recipient of the Excellence in Teaching Award
Rahul Sharma, recipient of the Excellence in Research Award
Igor Shumlin, recipient of Outstanding Staff Contributor Award
Kambiz Kalantari received the Mulholland Award for Teaching Excellence in Foundation of Medicine, SOM Class of 2022
Congratulations to:
Jeanne Kamal on winning the Young Investigator Award at the American Transplant Congress (ATC) 2021Virtual Connect June 4 –June 9, 2021, for her presentation on "Comparison Of Outcomes Of Hepatitis C Virus (hcv) Nucleic Acid (nat) Positive Donor Between Hcv-naïve and Hcv + Recipients–ADonor Mate Analysis."
Nabin Poudel, PhD, a postdoctoral fellow on winning second place in the basic science competition at the 16th Annual 2021 Mid-Atlantic Nephrology Young Investigator's Forum March 24-25, 2021, New Orleans, LA, for his presentation entitled "Pannexin 1 Channel Regulates Mitochondrial Function and Ferroptosis During Acute Kidney Injury"
At the Carey, Marshall, Thorner DOM Research Day the Shyr Te Ju Immunology Award was presented to Rajkumar Venkatadri, PhD (best immunology abstract) -Rajkumar Venkatadri, Vikram Sabapathy, Murat Dogan, Saleh Mohammad, Scott Harvey, Fred W. Perrino, and Rahul Sharma. "Targeting interferon stimulatory DNA (ISD) pathways and Bcl6 transcription factor rescues TREX1 D18N animals from autoimmunity"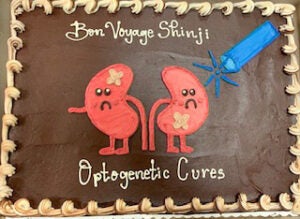 Shinji Tanaka, MD, PhD received two awards, the Publication, and Poster Presentation Award Tanaka, S., A. Chikara, S.B.G. Abbott, S.Zheng, Y.Yamaoka, J.E. Lipsey, N.I. Skrypnyk, J.Yao, T. Inoue, W.T. Nash, D.S. Stornetta, D.L. Rosin, R.L. Stornetta, P.G. Guyenet, M. D. Okusa. Vagus nerve stimulation activates two distinct neuro-immune circuits converging in the spleen to protect mice from kidney injury. Proc Natl Acad Sci U S A, Mar23;118(12):e2021758118, 2021. Shinji returned to Japan after spending 5 years at UVA, in the Okusa Lab. To celebrate his new position as an Assistant Professor at the University of Tokyo Hospital, we had the perfect cake.
Dr. Kambiz Kalantari. It is a bittersweet moment that we announce that Dr. Kambiz Kalantari has accepted a faculty position at the Mayo Clinic, Rochester, MN. He will become a Senior Associate Consultant overseeing inpatient and outpatient clinical and teaching activities. We recruited Kambiz to join UVA as a clinical fellow in 2000, and he has been here for almost 21 years. He has contributed immensely to the institution as one of the premier educators, winning nearly every teaching award possible.
As he leaves UVA, Kambiz is one of the most decorated current educators at the University of Virginia, he will be greatly missed. I am personally sad to see him go, he has been a friend and colleague for so many years. However, I am extremely proud that he will continue his career at the Mayo Clinic as a great ambassador of the UVA Nephrology Division, I wish Kambiz and his family the very best of luck in the future.
We also said goodbye to Negiin Pourafshar who joined Georgetown University School of Medicine. She joined our division in 2017 and had a strong interest in cardiorenal syndrome. She was a welcome addition to our team at Augusta Hospital but often attending on the University consult service. Her teaching was greatly appreciated by the fellows and students.
Filed Under: Clinical Research, Education, News and Notes
Tags: Awards, Nephrology, newsletter, Publications, Research, September 2021, september medicine matters, september medicine matters newsletter