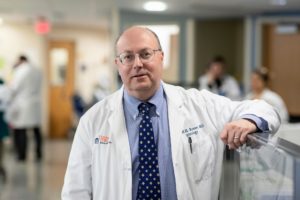 Welcome to this month's edition of Medicine Matters. Many of you may not remember the history of the newsletter but this is our 10th anniversary highlighting the wonderful Department community. The original name came from Dr. Bill Petri who won a naming competition. His prize was an iPod mp3 player! Ten years later, the Department has grown by more than 80 faculty, our total patient encounters have nearly doubled and our research and education enterprises have grown and thrived. Most importantly, we have built a community of engaged, supportive, and diverse individuals who work every day to improve the lives of others. Thank you for an amazing ten years of hearing about your accomplishments, learning more about you, sharing your families and pets, and seeing a lot of babies!
This month we highlight the best specialty in all of medicine, nephrology. Of course, I am kidding and completely biased but I do think you will be impressed by the depth and breadth of the activities in the Division and the vibrant staff and faculty that make up a world-class group. Dr. Mark Okusa has led the Division for over a decade and in that time has significantly grown the research and clinical footprint and developed specialty programs that provide differentiating care to patients with all forms of kidney disease. The academic output of the Division in terms of publications is simply amazing and many members of the Division have international reputations as leaders in their field. Just one example is Dr. Rasheed Balogun who leads our apheresis program and is widely considered a world leader in extracorporeal treatments. Please take some time and read about the many accomplishments of your colleagues.
Lastly, please welcome our new Dean, Dr. Melina Kibbe who arrives this month. We are so excited that she will be leading the School of Medicine and those who have met her have all been impressed with her energy, enthusiasm, friendliness, and passion. We are fortunate to have her as our next Dean.
With best wishes,
Mitchell H. Rosner, MD, MACP
Henry B. Mulholland Professor of Medicine
Chair, Department of Medicine
Filed Under: Message from the Chair
Tags: DOM, medicine matters, Nephrology, newsletter, profile, profiles, Publications, Research, September 2021, september medicine matters, september medicine matters newsletter