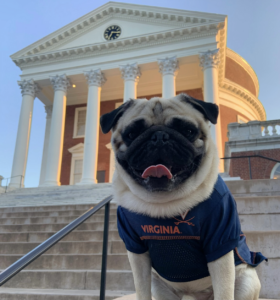 Tell us a little about yourself.
I'm a four-and-a-half-year-old Instagram-famous pug, just living an ordinary life. I'm technically a "learned dog-ter", by association. Both of my parents are in medicine. My mom, Dr. Leslie Hilding, is a hospitalist at Sentara Martha Jefferson while my Dad, Dr. Elijah Mitcham, is in his last year of Rheumatology fellowship here at UVA. I'm a true southern gentleman, born and raised in Georgia. I'm from a line of AKC show pugs but never pursued that, opting instead for a life of leisure and pampering. I'd rather spend time with pups and people and have never met a stranger!
Proudest / greatest achievement?
My greatest achievement would be my Instagram page – @winstogrampug. I have over 50,000 followers!!!!! Initially, my page was a way my Mom could justify the number of photos she took of me. We had no idea along the way what it would amount to. We love our Instagram community. Check out my page!
My proudest moment was being the ring bearer at my parents' wedding. My parents got married at Keswick Vineyards in May of this year. Charlottesville is a special place to us, so we can now commemorate it forever. I had a custom tuxedo and flower collar specially made because of course as the pup I said, "I do, too!"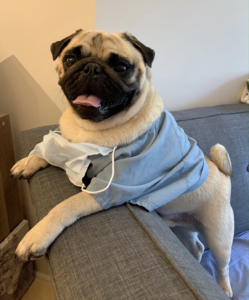 What is your favorite activity?
My favorite activities include snoozing, snacking, zooming, and being loved on. I am one of the friendliest, most outgoing, and joyful pups around. We hope that I can be a therapy dog one day in the hospital to comfort all of the families and patients in need of some brightness in their day.
What's is your favorite food?
I would call myself a connoisseur of cheese. You name, it… cheddar cheese, swiss cheese, cream cheese, string cheese, goat cheese, hard cheese, soft cheese, stinky cheese, I could go on and on.
If you could learn to do anything, what would it be?
Opening the fridge door……to get more cheese! Have I mentioned I like cheese???
Words to live by?
"I didn't choose the pug life, the pug life chose me."
Thanks for taking the time to get to know me! I sincerely thank all of you for what you do for our community and the world! Go Hoos!!!!
Filed Under: DOM in the News, Education, New Faces, New Places, News and Notes
Tags: August 2021, August Medicine Matters, August Newsletter, DOM, Education, Rheumatology