WHAT BECAME OF AIM?
By Evan Heald
We have all seen how COVID 19 has impacted our clinical care and research. It has affected our teaching missions as well. The Ambulatory Internal Medicine Clerkship (AIM) was started by Dr. Gene Corbett in the 1980s as a way for students to see internal and family medicine physicians as the primary care "quarterback." The four-week rotation was called PCAM (Primary Care Ambulatory Medicine) and drew on internists and family medicine PCPs as faculty. Based on early success (and a growing recognition that most care is delivered in outpatient settings), Dr. Ed Hook expanded the experience by creating space for a separate four-week Ambulatory Internal Medicine Clerkship.
Both clerkships have enjoyed the praise of students and a position consistently at the top of the Mulholland rankings. This distinction came partly from highly effective small group clinical skills workshops coordinated between AIM and FMC and interdigitated with clinical practice settings where the skills could be consolidated. More importantly, students appreciated four weeks of uninterrupted immersion in the practice of both an internist and (separately) a family medicine practitioner where they would develop relationships with patients, faculty, and a medical home. Some were welcomed in communities as far away as Big Stone Gap or Onancock, where faculty had been honing their teaching skills for 20-30 years! The longitudinal focus allowed students to gain the trust of the team and take increasing responsibility. Four weeks allowed faculty to learn the weaknesses and strengths of the students and to hone the student's classical clinical skills.
When COVID 19 struck in March, the new third-year students were three weeks into the clerkship year. They were recalled to protect not just the students, but also the patients and practices and to conserve acutely limited PPE. The students did not return for four months. When they did return, it was an uncertain and financially constrained environment in which practices were struggling to socially distance and learn/deploy telemedicine. The SoM had just eight months to deliver a year's worth of clerkships. To limit travel risk and expense, the SoM decided to accelerate a plan to deliver all clerkships locally. Historically, about an eighth of the class has rotated in local practices.
In 2020, it would need to be close to 100% and with very little time to recruit. The overarching principle was to maximize the remaining invaluable window for the learning triad (student, patient, physician). In an effort to retain enough sites, FMC and AIM were collapsed back into a single four-week rotation called PACLAC (Preventive, Acute, and Chronic- Longitudinal Ambulatory Care). Primary care physicians (already overwhelmed with the care that did not pause and dramatic changes to their practices) somehow found ways to insinuate a student. Alternative clinical learning opportunities had to be identified for gaps in the PCP's clinical schedules. The Medicine subspecialties clinics came to the rescue. These subspecialty opportunities had to be then woven together for 21 students every month. New faculty had to learn the Entrustable Professional Activities Assessment (EPA) and Oasis and Yapp and iCAN. The small group workshops grew to accommodate 21 students or were split into sections. New faculty had to learn to lead these new sections. Many needed to reinvent their hands-on workshops so they could be delivered hands-off (virtually).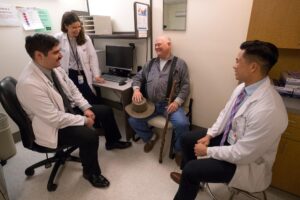 All this is to say that without heroic engagement on top of heroic engagement, we could not have pulled it off. I still cannot believe we did. Our students were desperate to return to clinical work, partly because their careers depended on it, but mostly because that is why we are all here. The DoM deserves to be proud of its historical role in medical education, and even more so for stepping up yet again amid the COVID 19 Pandemic, and I thank you for your incredible generosity.
Next year will bring a new clerkship that combines Ambulatory Internal Medicine, Geriatrics, and Family Medicine in a six-week local clerkship. It will run nine months of the year. It will have a sister clerkship at INOVA. There is much uncertainty, even as to what we should call it, but I am confident that there is no other DoM with which I would rather collaborate than ours here at UVA.
THE AIM PROGRAM WISHES TO THANK THE FOLLOWING:
WORKSHOP FACULTY
Leslie Blackhall
Simon Lehtinen
John MacKnight
PRECEPTORS
University Physicians of Charlottesville
Kenneth Ballew, Kimberly Dowdell, Matthew Goodman, Simon Lehtinen, John MacKnight, Maria Badaracco, and Katherine Jaffe
University Physicians of Orange
Lien Dame, Brittany Cavanaugh, Anthony Marino, Julia den Hartog, and Tabor Flickinger
University Physicians JABA
Justin Mutter
Colonnades Medical Associates
Christina Tieu
UVA Palliative Care Clinic
Leslie Blackhall, Williams Timmins, and Ausia Iqbal
UVA Nephrology
Amanda Renaghan, Julia Scialla, Rasheed Balogun, Sana Khan, Corey Cavanaugh,
and Mark Okusa
UVA Transplant Center
Angie Nishio Lucar, Alden Doyle, Karen Warburton, Jeanne Kamal, and Rao Swati
UVA Pulmonary Clinic
Dana Albon, Jeff Sturek, and colleagues
UVA Sleep Clinic
Eric Davis
UVA General Infectious Disease and HIV Clinic
Brain Wispelwey and colleagues
UVA Hematology/Oncology
Richard Hall and colleagues
---
DON'T MISS RECENT ADVANCES IN CLINICAL MEDICINE – REGISTER TODAY!
By Andy Wolf
In its 47th year, the Edward W. Hook, Jr., MD Recent Advances in Clinical Medicine (RACM) Conference will be held Wednesday, October 28 through Friday, October 30, downtown at the Omni Hotel. The conference is featuring 28 Department of Medicine faculty, as well as faculty from many other disciplines.
RACM has traditionally been the largest CME conference offered by the School of Medicine. The course features short lectures followed by interactive Q&A panels, as well as breakfast & lunch Meet-the-Professor interactive sessions. It attracts physicians, nurse practitioners, and physician assistants from across the Commonwealth, the mid-Atlantic, and southeastern U.S. with a smattering of attendees from as far as American Samoa and Iceland.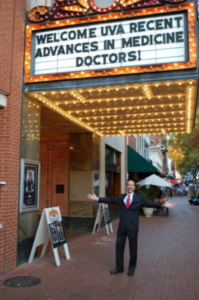 The goal of the conference is to provide its predominantly primary care audience with contemporary updates in the evaluation and management of the clinical conditions they are likely to encounter in practice and is a significant source of their continuing education. As such, topic selection is critical: much of the content derives from requests from the prior year's audience, combined with crucial input from the conference's Planning Committee, including Jamie Bourque (Cardiology), Sue Brown (Endocrine), Eva Casola (CME Program Manager), Rick Hall (Heme-Onc), Patrick Jackson (I.D.), Beth Jaeger-Landis (General Medicine), Kambiz Kalantari (Nephrology), Hannah Mannem (Pulmonary), Donna Landen (Family Medicine), Kathryn Reid (School of Nursing), and Bryan Sauer (G.I.). Dr. Andy Wolf has served as Course Director since taking over from Michael Rein in 2000.
Along with the rest of the world, Recent Advances have been forced to adapt by the Covid-19 pandemic. For the first time, it will be offered both live (limited to 50 due to social distancing constraints) and on-line via Zoom, both in real-time and available for viewing for up to a month after the live conference. Recent Advances is a great way to get both CME (up to 24.75 Category 1 credits) and ABIM MOC (up to 24 points). Moreover, faculty attendees can use their UVA Education Benefit toward the course tuition. Questions? Feel free to contact Andy Wolf (aw6a@virginia.edu) or Eva Casola (EvaC@virginia.edu). Hope to see you there, virtually or in person!
REGISTRATION: www.cmevillage.com.
---
PALLIATIVE MEDICINE FELLOWSHIP
By Joshua Barclay
The Palliative Medicine Fellowship program has expanded this year. We are happy to announce that Dr. Nat Timmins has agreed to come on as the Associate Fellowship Director, with plans to transition to Program Director next year. Additionally, through the support of Hospice of the Piedmont, we have expanded to two fellows per year. This year is the first with two fellows- Dr. Michael Dobson and Dr. Amy Salerno. Dr. Dobson comes to us from a Family Medicine Residency at the University of Nebraska. Dr. Salerno is familiar to all through her work in health equity, community, and population health, and working with vulnerable populations here at UVA.
---
GERIATRIC FELLOWSHIP
By Seki Balogun
The Geriatric Medicine fellowship program, under the leadership of Dr. Seki Balogun, continues in its tradition of excellence in geriatric education. With a focus on clinical geriatric care across the care continuum, we've been able to thrive even with the current pandemic through incorporating telemedicine in our clinical teaching rotations. Joseph Saabiye, MD, our current geriatric fellow, is a competent clinician and a valuable member of our outstanding team. He previously completed an internal medicine residency and infectious disease fellowship at Hofstra/Northwell at Staten Island University Hospital, NY, and Mount Sinai St. Luke's Hospital, NY, respectively.
---
GERIATRIC CLERKSHIP
By Christina Tieu
Despite COVID-19-related interruptions, the section of Geriatric Medicine remains dedicated to directing and teaching the geriatric clerkship within the UVA School of Medicine. This year, the clerkship was re-designed as an entirely virtual one-week course, which was required for all fourth-year medical students. The clerkship combined elements of case-based simulations and "flipped classroom" learning to teach students how to care for medically complex, vulnerable elderly adults.
Student feedback has been overwhelmingly positive thus far, and the clerkship has generated substantial interest in a new elective – Ambulatory Geriatric Medicine and Memory Care. This elective was designed to provide hands-on clinical experiences in geriatric medicine to build upon knowledge and skills learned during the virtual clerkship. There are plans to continue offering this elective in the years to come. Also, the virtual clerkship will be extended to one additional medical school class before transitioning to a new curriculum in partnership with Inova medical center.
The UVA SOM intends to partner with the Inova Medical Center in the Spring of 2021, and all clerkships have been tasked with developing new clerkship curricula. The section of Geriatric Medicine is partnering with Family Medicine and Ambulatory Internal Medicine to develop an innovative clerkship that will cover the breadth of all specialties while distinguishing unique aspects of each. This clerkship will be offered to third-year medical students starting in March 2021. We anticipate that this opportunity will foster new learning opportunities and improve educational concepts for our students.
Filed Under: Education
Tags: Education, fellows, fellowships, GENERAL MEDICINE, medicine matters, newsletter, October 2020, October 2020 Newsletter, October Medicine Matters Newsletter, Residents