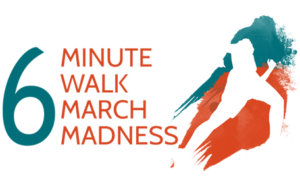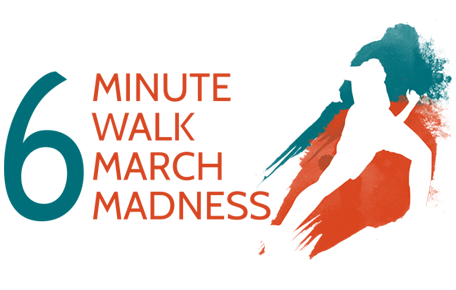 In the first week of March, back when our social interactions occurred in person, the UVA's Department of Medicine held the first annual March Madness 6-minute Free Clinic Tournament. This tournament is a fundraiser to support the Charlottesville Free Clinic: a non-profit which provides free medical and dental care and free prescriptions for working uninsured and under-insured adults in the greater Charlottesville community.
16 athletes competed in head to head 6 minute walking tests, with the longest 6-minute walk distances advancing to the final round. Highlights included Dr Volodin walking the longest distance (961m) in an Elvis costume, Dr Sturek walking in rainbow tights and an original Michael Jordan basketball Jersey, Dr Scialla wearing 3 inch long (short) shorts, and Dr Nadkarni carrying a rolling walker.
Over 50 faculty, admin and staff completed March Madness-Style brackets (and donated!) raising $1,500 to support the clinic. Thank you to all who donated/participated/walked/refereed! Stay tuned for the finals, hopefully in early summer, once the 'Rona is just a terrible memory. Winning bracket receives an autographed Tony Bennett Basketball, the coach of the UVA Men's Basketball team: the REIGNING NCAA MEN'S BASKETBALL CHAMPIONS (which being reigning champs for another year really is the only good thing the coronavirus brought to our town).
1st Round Results:
Zhen Yan (874m) v. Andrew Mihalek (725m)
Sumner Abraham (808m) v. Russ Manley (717m)
Leonid Volodin (961m) v. Jeff Hetmanski (702m)
Bennett Milner (897m) v. Will Eschenbacher (814m)
Adam Carlson (934m) v. Laura Farr (736m)
Ross Buerlein (947m) v. Brian Uthlaut (934m)
Mo Nadkarni (900m) v. Jeff Sturek (815)
Sana Khan (876m) v. Tim Scialla (813m)
VIEW CHARLOTTESVILLE FREE CLINIC THANK YOU LETTER
Filed Under: In the Know, News and Notes, Pay It Forward: Community Service
Tags: April Medicine Matters Newsletter, DOM, Hematology, Volunteering