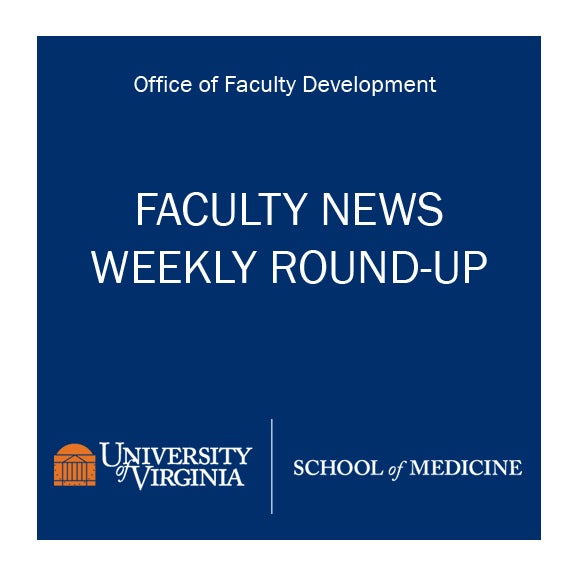 UVA SOM Faculty News Weekly Round-Up
June 28, 2019
• A Sweet Way to Make Everyday Things Almost Indestructible
The secret to making clothing practically indestructible could be the same thing that makes us grow out of it: sugar.
A new discovery from the University of Virginia School of Medicine reveals how sugars could be used to make almost indestructible cloth and other materials. Nature figured it out long ago, but the answer has been hidden away in bubbling baths of acid.
The discovery is a result of research led by Edward Egelman, PhD, Professor of Biochemistry and Molecular Genetics. The findings have been published in Nature Microbiology. In addition to Egelman, the research team include Fengbin Wang, Virginija Cvirkaite-Krupovic, Mark A.B. Kreutzberger, Zhangli Su, Guilherme A.P. de Oliveira, Tomasz Osinski, Nicholas Sherman, Frank DiMaio, Joseph S. Wall, David Prangishvili, and Mart Krupovic.
Read more: https://newsroom.uvahealth.com/…/found-a-sweet-way-to-make…/
• UVA Researchers Identify Approaches to Reduce Repetitive Laboratory Testing
Andrew Parsons, MD, MPH, Assistant Professor of Medicine, and Joesph Wiencek, PhD, Assistant Professor of Pathology, published "The ABCs of Reducing Repetitive Laboratory Testing" in Clinical Lab Manager.
Read the article: https://www.clinicallabmanager.com/…/the-abcs-of-reducing-r…
• UVA Transplant Center's Jose Oberholzer Earns Healthcare Service Award
For working to make transplants more accessible for Virginians and develop a cure for diabetes, University of Virginia Health System surgeon Jose Oberholzer, MD, has received a 2019 Meritorious Service Award from the Virginia Hospital & Healthcare Association.
The director of the Charles O. Strickler Transplant Center at UVA since 2017, Oberholzer was presented his award earlier this year at the VHHA's annual meeting.
"Until 2017, 40% of Virginiauva ns in need of an organ transplant were seeking care outside the commonwealth," said Oberholzer, who has performed more than 1,000 transplant-related surgeries. "UVA's leadership decided that this could not be the best way of receiving care, and in a great team effort, within two years, we almost doubled the number of organ transplants performed per year. We will continue on this growth and quality path until all Virginians in need can get a successful transplant at UVA."
Read more: https://newsroom.uvahealth.com/…/uvas-jose-oberholzer-earn…/
• UVA House Call: Dr. Bill Brady on Drowning, Emergency
Bill Brady, MD, Professor of Emergency Medicine, discusses safety tips to prevent drowning.
Watch the interview: https://www.nbc29.com/UVA-House-Call
—
Did we miss something? If you have UVA SOM faculty news to share, please email christa@virginia.edu.
Filed Under: Uncategorized