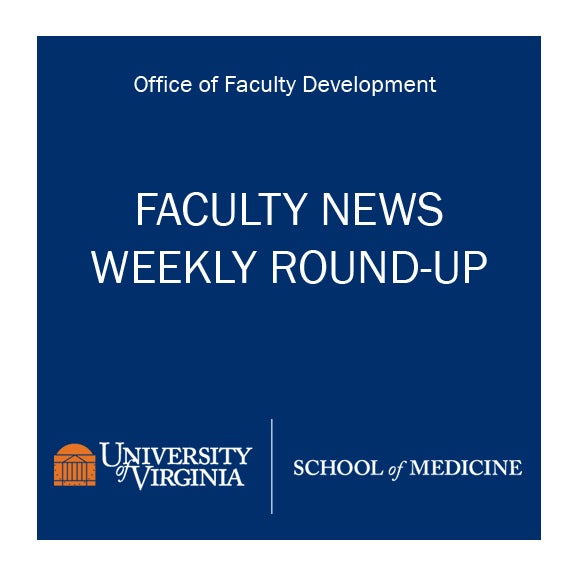 UVA SOM Faculty News Weekly Round-Up
June 21, 2019
• UVA Scientists Use Machine Learning to Improve Gut Disease Diagnosis
A study published June 14 in JAMA Network Open by scientists at the University of Virginia Schools of Engineering and Medicine and the Data Science Institute says machine learning algorithms applied to biopsy images can shorten the time for diagnosing and treating a gut disease that often causes permanent physical and cognitive damage in children from impoverished areas.
For Dr. Sana Syed, an assistant professor of pediatrics in the UVA School of Medicine, this project is an example of why she got into medicine. "You're talking about a disease that affects hundreds of thousands of children, and that is entirely preventable," she said.
Read more: https://engineering.virginia.edu/…/uva-scientists-use-machi…
• Eight UVA Children's Hospital Specialties Nationally Ranked by US News & World Report
Eight University of Virginia Children's Hospital specialties earned a top-50 national ranking in U.S. News & World Report's 2019-2020 "Best Children's Hospitals" guide.
The eight ranked specialties are:
Pediatric Diabetes & Endocrinology: 27th
Pediatric Neurology & Neurosurgery: 33rd
Pediatric Cardiology & Heart Surgery: 37th
Neonatology: 40th
Pediatric Gastroenterology & GI Surgery: 47th
Pediatric Nephrology: 47th
Pediatric Urology: 47th
Pediatric Pulmonology: 49th
"Over the past two years, we have doubled our number of nationally ranked specialties and are ranked in eight of the 10 specialties rated by U.S. News, which reflects the range of specialized care available to patients across Virginia and beyond through our team at UVA," said James Nataro, MD, PhD, MBA, chair of the Department of Pediatrics at UVA. "I am so thankful for our team's dedication to providing excellent care for our patients."
Read more: https://newsroom.uvahealth.com/…/eight-uva-childrens-hospi…/
• UVA Circle Back Program Supports Patients After Heart Procedures
Robin Shiflett, RN, discussed UVA Heart and Vascular Center's Circle Back program, which helps provide continuity of care for patients.
Watch the interview: https://www.nbc29.com/UVA-House-Call
—
Did we miss something? If you have UVA SOM faculty news to share, please email christa@virginia.edu.
Filed Under: Uncategorized