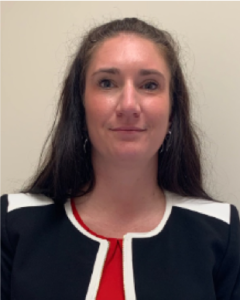 Meet Morgan Salmon, PhD, Assistant Professor of Research in Surgery at the UVA School of Medicine.
This post is part of a series of interviews with new and junior faculty. Stay tuned for more interviews with your colleagues!
Q: How long have you been at UVA and where were you before you came to UVA?
A: I first came to UVA to begin a postdoc in 2008 in the Cardiovascular Research Center with Dr. Gary Owens. After spending 3 years in his laboratory, I came to work in the Aneurysm Laboratory with Drs. Gorav Ailawadi and Gilbert Upchurch. I started my first faculty position in June 2015 after I received an American Heart Association National Scientist Development Grant to study the role of KLF2 in aortic aneurysm formation. Before coming to UVA, I received a Ph.D. in Biochemistry from Virginia Commonwealth University Medical Center under Dr. Zendra Zehner.
Q: Is there something that you've worked on or accomplished in your career that you're particularly proud of or glad you were able to experience?
A: I would have to say there are two things that I was particularly proud of accomplishing so far in my career. The first would be receiving the American Heart National Scientist Development Grant. I was very proud because I got this grant on my first try. The second accomplishment I am proud of was that I completed an online MBA program while working the the aortic aneurysm laboratory from 2014-2016. I am very interested in translational science and in trying to find a medical treatment therapy to treat aortic aneurysms, so it was really exciting to see the business side of innovation during my MBA program.
Q: When you were a kid, what did you want to be when you grew up?
A: Well, I definitely did not think I would be a scientist! I had always wanted to be a medical doctor growing up. I guess I kinda ended up falling into pursuing science as a career during college and realized it was for me! I definitely enjoy the challenges it brings everyday and how each day is never the same!
Q: A favorite spot to grab lunch during the day?
A: I mostly eat lunch at my desk but, when I am out and about a favorite spot is Basil on the corner. It's my favorite place for faculty lunches.
Q: Do you have any children or fur babies at home that you would like to tell us about?
A: I am actually active in rescue in Charlottesville and work with a rescue known as K Kids Dachshund Rescue, which works to find dachshund and dachshund mixes good veterinary care and permanent homes in Virginia. I currently have three dachshunds that I have adopted from rescues: a shaded cream named Sophie who is seven, a dachshund-beagle mix named Jax who is 2 and a long-haired puppy named Loki. I have definitely grown to love the breed and have had at least one dachshund in my house for the past 20 years.
Q: Do you have a favorite local restaurant or hangout spot?
A: I'd have to say that I really enjoy eating at Junction over in Belmont for a nice dinner out with friends ,while two great hang out spots I enjoy with friends are Champion Brewery Downtown and Reason Beer off Greenbriar. It's hard to choose though because we have such great places to eat and hang out in Charlottesville!
Filed Under: Faculty Interviews, Interviews, Junior Faculty Interviews