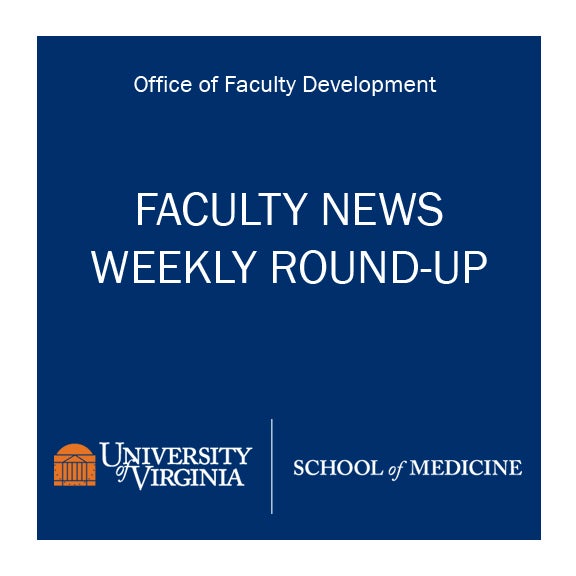 UVA SOM Faculty News Weekly Round-Up
• UVA Partnering to Improve HPV Vaccination Rates in Western Virginia
University of Virginia Health System is joining a coalition of healthcare organizations to improve vaccination rates in western Virginia for human papillomavirus (HPV), a leading cause of cancer.
Virginia Center for Health Innovation is partnering with 40 pediatric and family medicine sites from UVA, Ballad Health and Carilion Clinic to boost HPV vaccinations with the support of a $225,000 grant from Merck.
All UVA Children's Hospital primary care clinics will participate in the partnership, said James P. Nataro, MD, PhD, MBA, Benjamin Armistead Shepherd Professor and Chair of the Department of Pediatrics.
"UVA has joined this initiative because HPV vaccination rates in Virginia are lower than they should be, and only a concerted effort of the healthcare community will increase vaccine uptake, and thereby save lives," he said. "We will launch a multipronged campaign to educate healthcare workers and the public on the importance of HPV vaccination. Studies show that people trust their pediatricians to deliver information vital to their children's health, so we want to ensure that the providers are equipped to educate the families for whom they care."
Read more: https://newsroom.uvahealth.com/2019/05/24/uva-partnering-to-improve-hpv-vaccination-rates-in-western-virginia/
• $12.5 Million Grant Funds Ambitious Health Research Collaboration
A groundbreaking research collaboration at the School of Medicine that is shedding light on everything from cancer to diabetes to cardiovascular disease has received $12.5 million from the National Institutes of Health.
The grant funding from the National Heart, Lung and Blood Institute will support the next five years of research for an initiative that is unusual both in its focus and its approach. Rather than studying a particular disease, the initiative seeks to understand how cells communicate via "pannexin channels" in their membranes. By discovering exactly how that communication occurs, the researchers aim to manipulate the channels to better treat a host of today's greatest health threats. For example, blocking pannexin channel-mediated communication can help reduce high blood pressure.
"Most [newly developed] drugs either fail or do not work properly, because we do not have a very good mechanistic handle on how the targets of the drugs work or the associated complications," said researcher Kodi Ravichandran, PhD, chairman of UVA's Department of Microbiology, Immunology and Cancer Biology. "The approach taken by this team allows us to understand exactly how the pannexin channels function, as well as perform drug screens that give us very specific tools to tackle this channel, both to activate it and inhibit it as needed. [That will let us] address it in the context of hypertension, atherosclerosis, fatty liver disease, inflammation and related diseases."
For this ambitious mission, UVA has assembled an interesting mix of scientists who each provide a very particular set of skills. The project includes teams led by Ravichandran (an expert on how cells die in the body); Douglas A. Bayliss, PhD, chairman of UVA's Department of Pharmacology (an expert on channel mechanisms); Brant Isakson, PhD, of the Department of Molecular Physiology and Biological Physics (an expert on hypertension and vascular diseases); and Norbert Leitinger, PhD, of UVA's Department of Pharmacology (an expert on metabolic syndromes). In addition, their work is supported by research cores at the School of Medicine led by Ulrike Lorenz, PhD, of the Carter Immunology Center and the Department of Microbiology, Immunology and Cancer Biology (an expert on animal models of human diseases), and Bimal Desai, PhD, of the Department of Pharmacology (an expert on cell membrane channels and cellular communication).
Read more: https://newsroom.uvahealth.com/2019/05/23/12-5-million-grant-funds-ambitious-health-research-collaboration/
• Researchers Examine Health Disparities in Rural Populations
A researcher from the School of Medicine is helping to lead a new study to understand why people born in rural communities in the South live shorter and less healthy lives than their counterparts elsewhere in the country.
The Risk Underlying Rural Areas Longitudinal Study (RURAL) will allow researchers to learn what causes the burden of heart, lung, blood and sleep (HLBS) disorders in select rural areas in Kentucky, Alabama, Mississippi and Louisiana and offer clues regarding how to alleviate them.
To better understand why certain factors amplify risk in some rural counties and what renders some communities more resilient, researchers will be recruiting and studying 4,000 multi-ethnic participants from 10 of the most economically disadvantaged rural counties in southern Appalachia and Mississippi Delta and parts of the rural South.
UVA's Paul V. Targonski, MD, PhD, is a co-principal investigator on the sweeping project.
"I'm humbled to be a part of such an expert and experienced investigative team coming from across the country to help address health disparities in rural populations," he said. "We bring unique skills to the team – for instance, in community collaboration, capacity building and the design and conduct of field studies like this. Many of our communities in Virginia and the communities we serve here at UVA are very much like the communities with whom we are partnering in this study, so this is directly relevant to communities at large, but also to us here in Virginia."
Read more: https://shar.es/a0sa2b
• Successful HIV Effort Prompts Call for Clinics to Expand Mental Health Services on Site
Increasing access to mental health services improves HIV outcomes among vulnerable patients, a new study from UVA School of Medicine suggests. Based on their findings, the researchers are urging HIV clinics to expand their co-located mental health services.
"With the president's 'Ending the HIV Epidemic,' we need to be identifying evidence-based programs and policies that help improve HIV outcomes. This study adds to the evidence that co-located mental health services, which includes psychiatry, psychology and substance-use counseling, can contribute to improved HIV viral suppression, which is a key health metric for HIV care," said researcher Kathleen McManus, MD, of UVA's Division of Infectious Diseases and International Health. "We hope that this work will encourage more Ryan White HIV/AIDS clinics to seek support for co-located mental health and substance use counseling services."
The study's findings have been published in the journal Open Forum Infectious Diseases. In addition to McManus, the research team included Raina Aggarwal, Michael Pham, and Rebecca Dillingham.
Read more: https://newsroom.uvahealth.com/2019/05/20/successful-hiv-effort-prompts-call-for-clinics-to-expand-mental-health-services-on-site/
Did we miss something? If you have UVA SOM faculty news to share, please email christa@virginia.edu.
Filed Under: Faculty News Weekly Round-Up, News