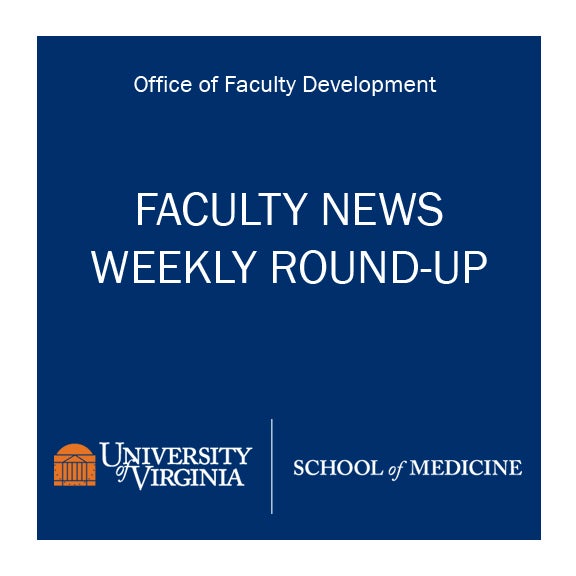 UVA SOM Faculty News Weekly Round-Up
May 17, 2019
• Rutkowski Lab Demonstrates an Effect of Gut Microbiome on Breast Cancer
Congratulations to Melanie Rutkowski, PhD, Assistant Professor of Microbiology, Immunology, and Cancer Biology, on publishing her first paper as an independent investigator!
Melanie says of the paper, published in the journal Cancer Research by American Association for Cancer Research (AACR), "It took a little over three years for this to manifest, as I joined the MIC department in 2015. This paper demonstrates that having an unhealthy or imbalanced gut microbiome makes hormone receptor positive breast cancer (the most common breast cancer) more invasive or likely to metastasize."
In addition to Rutkowski, the research team included Claire Buchta Rosean, Raegan R Bostic, Joshua C. M. Ferey, Tzu-Yu Feng, Francesca N Azar, Kenneth S Tung, Mikhail G Dozmorov, Ekaterina Smirnova, and Paula D. Bos.
Read the paper, "Pre-existing commensal dysbiosis is a host-intrinsic regulator of tissue inflammation and tumor cell dissemination in hormone receptor-positive breast cancer": http://cancerres.aacrjournals.org/…/07/0008-5472.CAN-18-3464
• Innovative Approach: Kids Teach Students the Basics of Pediatrics
Posting on the Dean's Blog, Randolph Canterbury, MD, MS, DLFAPA, writes about a new method being used to teach first-year medical students:
Every year for one instruction period, children are the teachers to our first-year medical students.
Newborns, infants, toddlers, children, tweens, and teens visit the class. They teach students about gross- and fine-motor skills, and about language, cognitive, and social-emotional development. While the youngest children demonstrate how to turn their head or push up off the floor and crawl, the older ones speak, draw, skip, and do complex tasks with varying degrees of accomplishment. The children bring liveliness, fun, and sometimes a bit of chaos to the classroom, which creates a great learning atmosphere.
The class is a smash hit with our first-year medical students. What could be dry, rote memorization ("X skill should be developed by Y age."), has been turned into a memorable, vivid way to learn typical child development.
Read the full blog post: https://news.med.virginia.edu/…/innovative-approach-kids-t…/
• UVA Medical Center Earns A on Leapfrog Hospital Safety Grade
University of Virginia Medical Center has earned an A on the Leapfrog Hospital Safety Grade, a national patient safety rating of all general hospitals in the U.S.
The rating is based on 28 publicly available safety measures, which include patient outcomes as well as the processes and structures hospitals have in place to provide quality care for their patients. The Leapfrog Group, a nonprofit focused on hospital transparency and patient safety, compiles the ratings.
"I am thrilled to see the hard work of our physicians and our entire team over the past several years to enhance patient safety recognized with an 'A' from Leapfrog," said Pamela M. Sutton-Wallace, acting executive vice president for health affairs at UVA and chief executive officer of UVA Medical Center. "This is a tremendous honor for UVA, and I thank every member of our team for their contribution to this award for their focused, diligent work each day to provide the highest-quality, safest care for our patients."
Read more: https://newsroom.uvahealth.com/…/uva-earns-a-from-national…/
—
Did we miss something? If you have UVA SOM faculty news to share, please email christa@virginia.edu.
Filed Under: Faculty News Weekly Round-Up, News