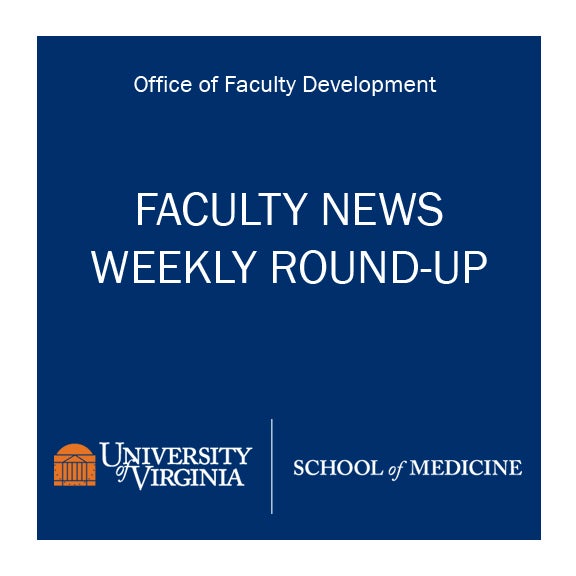 UVA SOM Faculty News Weekly Round-Up
April 26, 2019
• Worden Presented with All-University Teaching Award
Mary Kate Worden, PhD, Associate Professor of Medical Education, Director of Curriculum Integration and Development, has received this year's All-University Teaching Award.
Mary Kate commented, "Whatever teaching approach I use with a student, or group of students, I am daily hoping for a 'light bulb' moment that brightens their faces(s), signifying that they suddenly do understand, do make the connection, do see the bigger picture."
Vice Provost for Academic Affairs Archie Holmes, Jr., surprised Worden with the award during a March 20 classroom visit where students, colleagues, and family were present.
Read more about Dr. Worden: https://news.med.virginia.edu/…/worden-presented-with-all-…/
Read about other faculty from across Grounds who have been presented with University awards this year: https://news.virginia.edu/…/award-winning-professors-how-we…
• Soft Bedding Poses Grave Danger to Sleeping Babies, Study Shows
Almost 70% of babies who died from sleep-related suffocation between 2011 and 2014 did so because of soft bedding, a new study reveals. The finding underscores physicians' urgent message to new parents that babies should sleep only in cribs or bassinets free of blankets, toys and other potential hazards.
Unintentional suffocation is the No. 1 cause of injury death in babies less than a year old in the United States, with more than 80% of cases occurring in bed. The new study, from a University of Virginia Health System physician and her colleagues, sheds light on how that is happening, revealing that soft bedding is responsible for the vast majority of sleep-related infant deaths (69%).
The second most common cause was due to overlay by another person (19%), with 71% of these occurring while sleeping in the same bed with a parent and/or sibling. The third most common was "wedging," in which babies become trapped between two objects, such as a mattress and wall (12%).
"These results are very significant, because these deaths – clearly due to suffocation – were all preventable" said UVA's Fern Hauck, MD. "It is also important to note that the causes of suffocation differed by infant age. So, overlaying is a bigger problem for the youngest infants, soft bedding affects infants most commonly under 4 months, and wedging more a problem when infants are older and can move around in bed."
Findings from the study have been published in the journal Pediatrics. In addition to Hauck, the research team consisted of Alexa B. Erck Lambert, Sharyn E. Parks, Carri Cottengim, Meghan Faulkner, and Carrie K. Shapiro-Mendoza.
Read more: https://newsroom.uvahealth.com/…/soft-bedding-poses-grave-…/
• Researchers Examine the Influence of Gender on Surgical Residency Applicants' Recommendation Letters
UVA surgeon Anneke Schroen, MD, MPH, FACS, and colleagues have published their findings from a study that showed gendered differences exist in surgical residents' recommendation letters.
The researchers concluded, "Implementing tools to help faculty write recommendation letters with meaningful content, and edit letters for reflections of gender schema, may improve the resident selection process and reduce the impact of bias at the start of a surgical career."
The findings have been published by the Journal of the American College of Surgeons.
Read the publication: https://www.journalacs.org/a…/S1072-7515(19)30017-1/abstract
• Revealed: The Secret Superpower That Makes C. Difficile So Deadly
A new discovery about dangerous C. difficile diarrhea has identified a new way that the bacteria – and possibly others like it – cause severe disease. C. diff is the most common hospital-acquired infection and estimated to result in 453,000 cases per year, with 29,300 associated deaths.
The new finding from the School of Medicine explains why certain patients are highly susceptible to C. diff infections, provides doctors with a way to predict disease severity and points to a new way to treat the often-deadly condition.
The UVA researchers found that the immune response to C. diff causes tissue damage and even death through a type of immune cell called Th17. This solves a longstanding mystery about why disease severity does not correlate with the amount of bacteria in the body but, instead, to the magnitude of the immune response. It also explains why patients with inflammatory bowel disease (IBD) are more likely to suffer severe C. diff infections and more likely to die from them.
The researchers have published their findings in the journal Cell Host & Microbe. The research team consisted of Mahmoud Saleh, Alyse L. Frisbee, Jhansi L. Leslie, Erica L. Buonomo, Carrie A Cowardin, Jennie Z. Ma, Morgan E. Simpson, Kenneth W. Scully, Mayuresh M. Abhyankar and William A. Petri, Jr.
Read more: https://newsroom.uvahealth.com/…/revealed-the-secret-super…/
—
Did we miss something? If you have UVA SOM faculty news to share, please email christa@virginia.edu.
Filed Under: Faculty News Weekly Round-Up, News