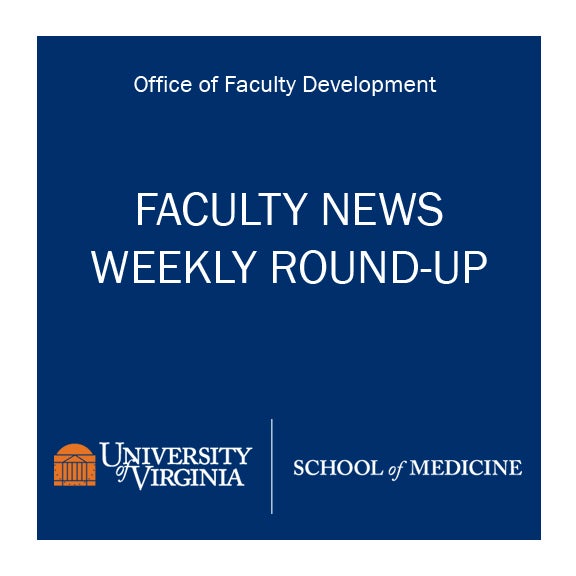 UVA SOM Faculty News Weekly Round-Up
• Bryant Cameron Webb Examines the Confluence of Medicine and Social Justice
Listen to Bryant Cameron Webb, MD, JD, talk with Boise State Public Radio about the relationship between medical policy and social justice: https://www.boisestatepublicradio.org/post/bryant-cameron-webb-examines-confluence-medicine-and-social-justice
Webb is Assistant Professor of Medicine in the Division of General, Geriatric, Palliative and Hospital Medicine at UVA School of Medicine.
• Mete Civelek Is Named Outstanding Undergraduate Research Mentor of the Year
Wow! The School of Medicine's own Mete Civelek, PhD, Assistant Professor of Biomedical Engineering, has been chosen from across UVA as the Outstanding Undergraduate Research Mentor of the Year.
The selection process was held by the UVA Office of Undergraduate Research. Three undergraduates – Ngozi Damilola Akingbesote, Rita Anane-Wae, and Lisa Chen – in Civelek's lab nominated him for the award.
Read more: https://engineering.virginia.edu/news/2019/04/mete-civelek-named-outstanding-undergraduate-research-mentor
• Living with Tuberous Sclerosis: A Doctor's Rare Disease Experience
Derek Bauer, MD, Assistant Professor of Neurology, treats tuberous sclerosis – and he became a doctor because of his experience with his own tuberous sclerosis diagnosis.
Read Dr. Bauer's story: https://blog.uvahealth.com/2019/04/15/rare-disease-tuberous-sclerosis/
• Leadership in Academic Matters Spring 2019 Cohort Completes Program
Participants in the Leadership in Academic Matters (LAM) Spring 2019 cohort completed the program this past week. LAM is a faculty development opportunity focused on supporting, inspiring, and rewarding those who, in these myriad roles, have demonstrated leadership characteristics and future potential.
Generally, the LAM program is held twice a year, once in the fall and once in the spring. Individuals wishing to participate must be nominated.
Read more: https://faculty.med.virginia.edu/facultyaffairs/faculty-life-cycle/leadership-development/
Did we miss something? If you have UVA SOM faculty news to share, please email christa@virginia.edu.
Filed Under: Faculty News Weekly Round-Up, News