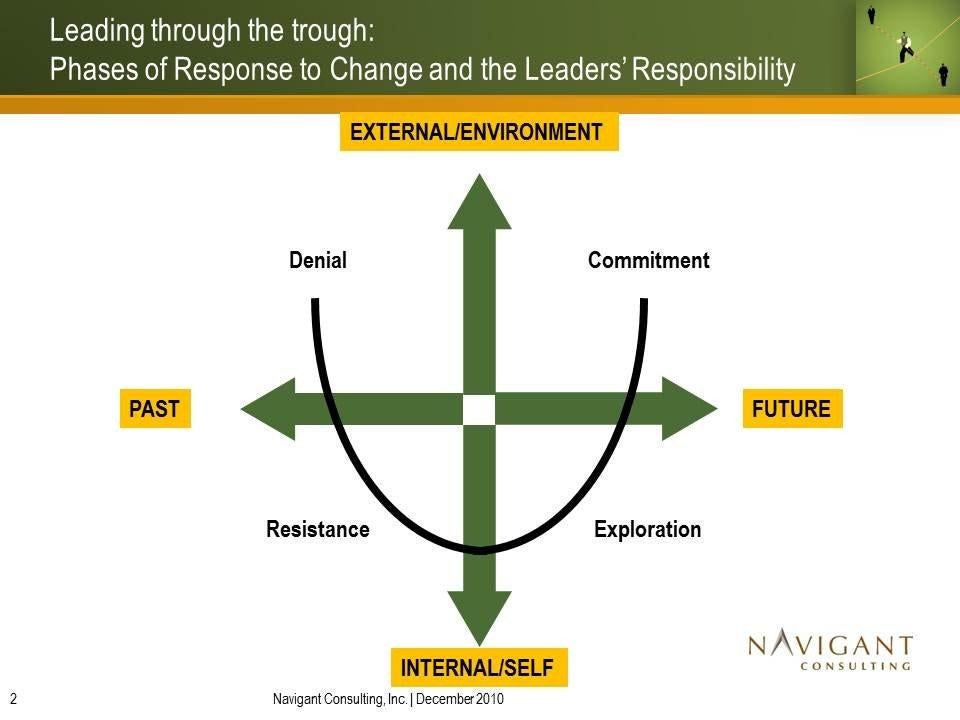 We are engaged in a strategic planning process that is as much about change as it is strategy. A diagram that I particularly like depicts change along a "U"-shaped curve on a temporal and internal/external perspective axes. (See image above)
Before change begins we are operating at the status quo and using automatic ways of thinking, acting, interacting, and behaving. On this diagram, this state is depicted as Denial. Organizationally, this is our current culture.
The next stage in the process of change is Resistance. Everyone's natural reaction is to resist change. Resistance manifests with feelings of anxiety, debate, bargaining and wishful thinking. Even individuals who have been longing for change can find this period unsettling.
Many of you have told me that you are feeling a little uncomfortable with the conversations and activity that our strategic planning is generating. My interpretation is that we are moving out of the status quo to the resistance phase of the "U" curve.
This is a critical time to push forward rather than to pull back. To use my flywheel analogy again, we have started to move the wheel and our concentrated effort to keep pushing now will get us more quickly into a the comfortable phases of exploration and commitment.
I appreciate the time and effort that so many of you are contributing to the various work groups. Thank you for helping to make us better.
Sincerely,
Nancy E. Dunlap, MD, PhD, MBA
Dean, UVA School of Medicine
James Carroll Flippin Professor of Medical Science
Filed Under: General