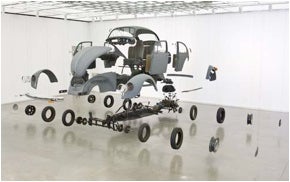 Last week we officially kicked off the Academic Strategic Planning process when the steering committee met for the first time. This is an exciting time as we look to the future and plot a course for the School of Medicine.
However, with finite resources, efforts must be focused. Our planning cannot merely be adding more work to the same number of people. You, I, and those throughout the School are all very busy — adding "more" is not the solution. We have to be smart about the workload and have a solid rationale in its purpose.
To that end, I'd like to ask you: What can you stop doing? What tasks are you occupied with which offer little return or value to our institution or customers and our goals?
An example from the Dean's Office: We found that the Dean's Matrix — a holistic snapshot of the School of Medicine in a single Excel file — was not adding proportional value to the time spent creating it. The picture it painted was valuable, certainly; but we, as a school, spent approximately 1/3 FTE cumulative effort in the Dean's office and other central offices to collect the data — possibly several times more than that. There was even more energy spent in the 29 departments and centers that would provide the information, as well as time dedicated to reviewing and verifying the report. For this reason, we are no longer going to create the Dean's Matrix.
In the next week I would like you to take some time and think about your daily tasks and consider the value of those activities. Deconstruct your daily activities (like in the great photo of the Volkswagen above) and really examine the parts of your job and ask yourself, "What can I stop doing?"
The simple fact is we do not have extra resources to create and implement a strategic plan. We need to prioritize existing resources to move forward. The best way to do that is to identify non-value-added activities and figure out if they can be cut or put on hold.
Can you think of other processes that do not return value to the School of Medicine or UVA? If so, please tell your administrator or Chair, or send me a note at somofficedean@virginia.edu.
In last week's State of the School address, we spent time discussing the Academic Strategic Plan. If you could not attend, I encourage you to watch the video, which can be found here:
https://administration.imedicine.virginia.edu/state-of-the-school/
Keep an eye on your inbox for regular, weekly updates, such as this one. I know you are all working very hard, so I will keep them short, informative and consistent. Look for an update every Monday until the final report is delivered to the Provost this summer.
Sincerely,
Nancy E. Dunlap, MD, PhD, MBA
Dean, UVA School of Medicine
James Carroll Flippin Professor of Medical Science
For further information please visit the Dean's Office Messenger Website: https://news.med.virginia.edu/deansoffice/
Filed Under: General