Dear Colleagues: Cruising through the mountains on my bicycle is a great way to clear my head, slow my thinking, and contemplate how much there is to appreciate — such as the beauty of the forest and the valleys, the serenity of being in nature, and the joy that comes from doing what I am passionate about.
Something else that I'm passionate about is serving you in my role of dean. I am so proud of what our faculty and staff do each day to ensure that our patients and our learners have the best experience possible. As I begin my fourth year as dean, I am grateful for what we have accomplished together. Below are some of the highlights that come to my mind. Please remember these are some of the highlights, and is not all inclusive of the many great things that have occurred. So, I will welcome you to comment and let me know what you and your colleagues have done that's missing from the list!
Education
We had a wildly successful Match Day, with 99% of our students matching. Students are going to Yale, Emory, Penn, Vanderbilt, Wake Forest, Johns Hopkins, Mass General, and other high-quality institutions. The most popular programs were internal medicine, emergency medicine, ob/gyn, pediatrics, and anesthesiology.
Thanks to the support of our alumni and donors, we are able to provide scholarships that allow our students to graduate with an average debt level that is lower than the national average. And thanks to sound fiscal stewardship, the School is entering its fourthyear of a tuition freeze. Our goal is no tuition increase through 2021.
The McIntire School of Commerce is collaborating with us on a leadership track in the medical school curriculum and has partnered with us to develop a leadership program for graduate students and faculty. These programs will differentiate us from other medical schools while helping our students and faculty learn the skills and qualities needed to flourish as leaders in the field of healthcare.
The education partnership with Inova reached another milestone when all three of the state and national oversight agencies granted formal approval to establish the UVA School of Medicine Inova Campus in Fairfax. The entering class of 2019 will be the first to have the option to complete their third and fourth years at the Inova Campus.
Our medical school class continues to be among the most diverse in the nation. For the sixth year in a row, the SOM received the Higher Education Excellence in Diversity Award from INSIGHT Into Diversitymagazine. And again, our entering class ranks in the 96th percentile academically of all medical students in the United States.
Since the inception of the graduate programs, the School of Medicine has been training the majority of PhD and Masters students in the biomedical sciences across grounds. However, this year is the first that these PhD and Masters degrees were conferred by the School of Medicine! Twenty students received their PhD, eight received their MS-Clinical Research, and 23 received their MPH.
Research
I was thrilled that our own Richard Baylis, an MD-PhD student, was selected to attend the 68th Lindau Nobel Laureate Meeting in Lindau, Germany, in late June. He joined 600 young, international scientists who were able to talk with 43 Nobel Laureates and present current research for advice and feedback. He works in Gary Owens' lab in the Cardiovascular Research Center investigating the influence of inflammation on key cell types thought to regulate the stability of high-risk atherosclerotic lesions.
The Hartwell Foundation again designated the University of Virginia as one of the Top Ten Centers of Biomedical Research. This allows us to nominate researchers for a Hartwell Individual Biomedical Research Award for early-stage, cutting-edge biomedical research with the potential to benefit children. Sanchita Bhatnagar, Assistant Professor of Biochemistry & Molecular Genetics, was selected by the foundation as a Hartwell Investigator for 2018-2021.
This year's U.S. News & World Reportrankings brought us good news, too. On the "2019 Best Medical Schools" list, the School of Medicine moved up one spot to #26 in Research. The rankings reflect the growing strength of our research funding as well as the continued impact of our innovative curriculum. In Primary Care, we went from #24 to #21, making us the top-ranked academic medical center in Virginia for Primary Care based on factors such as assessments by peers and residency directors and the percentage of graduates entering primary care fields.
Our research portfolio grew from $202 million in FY17 to $223 million in FY18! This increase represents hard work by all our faculty, including new recruits and strategic hires who both transferred and brought in new grants. I note that we have a record number of research proposals that include federal agencies and sources other than the NIH, and that concerted efforts are being made to submit collaborative and center proposals in addition to our historically strong individual proposals. I anticipate these will pay off in the near future.
The home of the new Global Genomics and Bioinformatics Institute, our partnership with Inova in northern Virginia, is in its final design phase. We expect to be able to occupy it in the early months of 2020. The mission of the research partnership is to improve the health and quality of life through the application of genomics and associated molecular science. To do this, we will be focusing on the thematic areas of genetics and genomics; structural and systems biology; developmental biology; computational biology, computational engineering and bioinformatics; and biomedically directed engineering.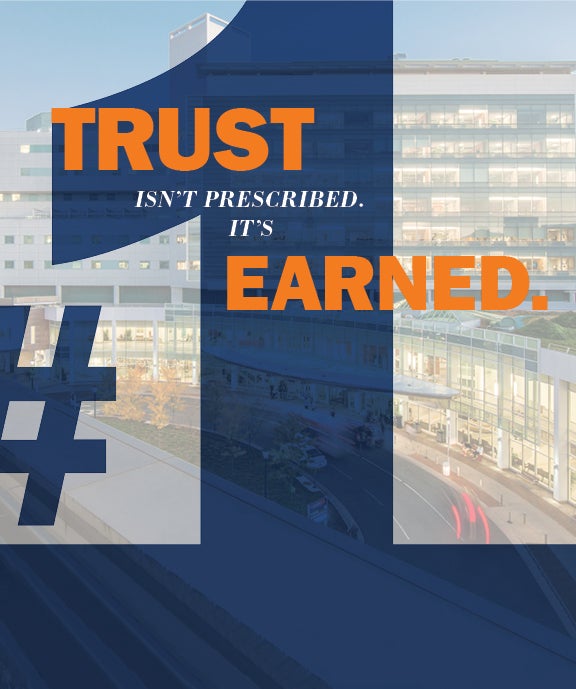 Clinical
There are so many accolades that I can't list all of the recognition our hospital, physicians, and specialty programs received this past year! U.S. News & World Reportdesignated UVA as the #1 Hospital in Virginia for the third year in a row, and identified five specialties in the Top 50, four High-Performing Specialties, and eight High-Performing Common Adult Procedures and Conditions. BlackDoctor.org also named the Medical Center one the 60 "Top Hospitals for Diversity."
We were recognized with Comprehensive Stroke Center status, received Comprehensive Care Designation for the Pulmonary Hypertension Center, and 193 faculty members — almost 25% of our physicians — are on the Best Doctors in America list! Becker's Hospital Review recognized UVA on many of its "100 Great Programs" list, including Oncology, Heart, Orthopedics, Neurosurgery and Spine, and Great Hospitals in America.
Seeing all of this recognition summarized — and remember, this is not a comprehensive list — really underscores that the work you are doing is being celebrated nationally for its excellence and quality. It's exhilarating to be part of an organization that is doing such outstanding work and knowing that our teams are consistently recognized in the national arena. I'm proud of every individual who contributes!
Going forward
The members of my cabinet see their primary role as serving you. To that end, we work to create a work environment that enables excellence, improves organizational structures and processes, enhances the educational experience, and builds external relationships and strengthens development. We strive to ensure a working and learning setting where all are included, welcomed, and provided the opportunity to be their best.
The dean's office will continue to put effort into the following priorities:
Operationalize the UVA Inova Genomics Institute and the regional medical school campus for UVA 3rd- and 4th-year medical students at Inova.
Continue an aggressive investment in research and faculty recruitment.
Increase our NIH portfolio to $150 million by 2020.
Thank you for pausing and reflecting with me on what we accomplished together during this past year. I also want to recognize that many of these accomplishments were made possible by the strong partnership and support from the Medical Center. I am honored to work for you — a group of capable, imaginative, inspiring, and passionate individuals who make up our faculty, staff, and students. Given your talents and drive, I know that the future of the University of Virginia School of Medicine is incredibly bright.
Sincerely,
David S. Wilkes, MD
Dean, UVA School of Medicine
James Carroll Flippin Professor of Medical Science
Filed Under: Clinical, Education, Faculty, Operations, Research