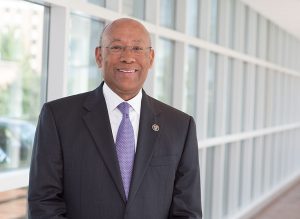 I'll let you in on a secret: I was quite happy at my old job in Indiana and had no intention of leaving.
When I heard about the Dean position here at UVA, I thought, "That's interesting, but I'll pass."
And then I heard about what Dr. Richard Shannon, Executive Vice President of Health Affairs, was doing here. And then I heard Pamela Sutton-Wallace, CEO of the Medical Center, was here, too. And then I looked at the research. And then the students and the educators.
And then … you could not keep me away from Virginia. I knew I had to be here.
I am celebrating my first anniversary in Charlottesville this month. (Tempus fugit, right?) Every day I am thrilled with my decision to come to UVA and even more thrilled that UVA has embraced me so warmly. I thoroughly enjoy my job and feel blessed to work with such talented faculty and staff. Whether I'm having pizza with students, visiting a lab, meeting with colleagues to plan a new initiative, browsing graduate students' poster session, or conferring with a candidate to discuss the opportunities here … there is nowhere else I'd rather be.
We have much to celebrate this year. Just think:
We ended the year with NIH funding of $127M and total grant funding of $207.4M, representing double-digit increases.
U.S. News & World Report ranked the UVA Medical Center as the #1 hospital in Virginia and recognized eight specialties for excellence.
We have implemented a new leadership curriculum in undergraduate medical education and in the graduate program.
We implemented that Strategic Hiring Initiative to infuse $60M into the research program, substantially increase external research funding, enhance our national prominence, and recruit premier investigators. As a result, we anticipate approximately $24.7M in grants over the next three years from the first round of recruits – and many more are in the pipeline.
With the goal of maintaining our distinction in training future scientists, we initiated a program to provide programmatic support for new or competing continuation training grant awards.
We have accomplished much together in 12 short months. For that, I thank you. This list is just a sampling of what we have done together.
But we're not done. There's more ahead, including establishing clinical programs with colleagues at Novant and other sites, increasing our diversity, strengthening our research infrastructure, and continuing to build our reputation for excellence by keeping our patients at the center of all we do.
It's going to take a lot of love and elbow grease to get us there, but there is no doubt in my mind that we will succeed.
I am honored to serve you and this school. And I'm rewarded by the good work and progress I see every day. Thank you for a wonderful first year. I look forward to many more anniversaries!
Sincerely,
David S. Wilkes, MD
Dean, UVA School of Medicine
James Carroll Flippin Professor of Medical Science