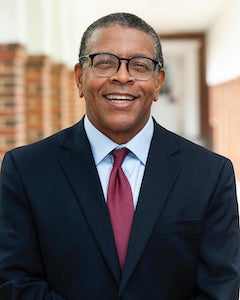 Tracy M. Downs, MD, FACS, joins the School of Medicine leadership team as the inaugural Senior Associate Dean for Diversity, Equity and Inclusion (DEI) effective Jan. 15, 2022.
Dr. Downs began his tenure at UVA in July of 2021 as the UVA Health Chief Diversity & Community Engagement Officer. Assuming the role of Senior Associate Dean for Diversity, Equity and Inclusion within the School of Medicine will allow coordination and alignment of diversity efforts across our mission areas of education, clinical, research, and community. Dr. Downs will have oversight of all aspects of diversity, equity, and inclusion in the SOM, including the Office of Diversity and all DEI efforts among the different departments and centers.
Dr. Downs came to UVA from the University of Wisconsin School of Medicine and Public Health, where he was Associate Dean for Diversity and Multicultural Affairs and Professor of Urologic Oncology. At UW, Dr. Downs played an instrumental role in overseeing the recruitment of and medical education support programs for individuals from ethnically diverse backgrounds underrepresented in medicine. Dr. Downs earned his medical degree from the University of California San Diego, completed his residency at Brigham & Women's Hospital in Boston, and completed a fellowship at the University of California at San Francisco. He earned his undergraduate degree from California Lutheran University. Join us in welcoming Dr. Downs to this inaugural role in the School of Medicine.
Melina Kibbe, MD
Dean, UVA School of Medicine
James Carroll Flippin Professor of Medical Science
Chief Health Affairs Officer, UVA Health
Filed Under: Faculty