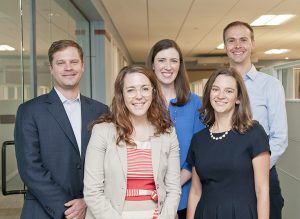 In January 2018, the University of Virginia will be applying for a Clinical and Translational Science Award (CTSA), which will allow us to join a national network of 60+ medical research institutions working together to improve the translational research process to get more treatments to more patients more quickly. The network collaborates locally and regionally to catalyze innovation in training, research tools, and processes. (We wrote about it last February, which you can read here.)
Before we apply for the CTSA, we need to demonstrate that we already have a thriving clinical/translational research program across Grounds that facilitates activity across the Commonwealth. As such, we are developing the Translational Health Research Institute of Virginia (THRIV), a pan-University effort. One of THRIV's major milestones is to create a mentored career-development award, a program that will train small groups of junior faculty seeking a clinical and translational research career. The inaugural class — which includes faculty from the Schools of Medicine, Nursing, and Engineering and Applied Sciences — was announced in May and met for the first time just a few weeks ago. The awardees, projects, and mentors include:
Every week, the scholars will come to the THRIV offices to participate in a curriculum which includes experiential learning, research methods instruction, mentored translational experiences, training in data sciences, as well as personal/professional development and off-Grounds site visits. The program started July 1 and the awardees will receive funding from the School of Medicine Dean's Office for two years.
Thank you to the mentors for participating in the growth and development of colleagues and to the department chairs for providing protected time for the scholars to pursue these research projects and goals.
Please join me in congratulating the inaugural THRIV scholars class!
Margaret A. Shupnik, PhD
Gerald D. Aurbach Professor of Endocrinology
Professor of Medicine
Senior Associate Dean for Research