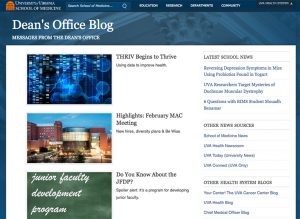 Another revolution around the sun has come and gone. This month marks the one-year anniversary of the Dean's Office Blog. The blog was created to help increase the quality and consistency of communication from my office. It is meant to provide faculty and staff with an additional channel of information to learn about important news that affects your work and the School of Medicine at large.
In the last year we have published 42 stories on strategic hires, notes from the Medical Advisory Committee (MAC) meetings, innovative methods in promoting research and enhancing education, funding opportunities, safety measures, and more.
But it has been a year, so I'd like to ask: Does this site work for you?
In looking at the site's analytics, it appears to me that faculty and staff are, indeed, visiting, reading, and (sometimes) commenting. The Dean's Office Blog has had nearly 29,000 pageviews and over 5,800 readers. And, while numbers do not lie, they rarely tell the whole story.
Can you help fill in the gaps of this story?
I'd like to know your thoughts. Please post a comment below and let me know how this site could be improved, what topics you would like to read about, and where we can make adjustments so that you are better served over the next 365 days and beyond.
David S. Wilkes, MD
Dean, UVA School of Medicine
James Carroll Flippin Professor of Medical Science
[As of May 18, comments have been turned off due to spam. If you have a comment to post, please email Brian Murphy at bpm3q@virginia.edu.]
Filed Under: Faculty, Operations