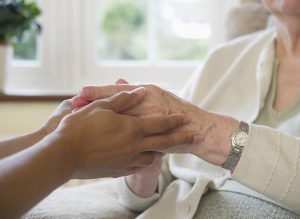 Two years ago the School of Medicine piloted a program called the Phronesis Project — "phronesis" being the Greek word for "practical wisdom." Spearheaded by Dr. Margaret Plews-Ogan, the pilot was designed to foster wisdom and empathy in our medical students.
I am pleased to announce that the project has been so successful that we are expanding it. The class entering UVA in August 2017 will double the size of the current project with the ultimate goal of having the entire incoming class in August 2018 gain "phronesis."
What Does All of This Mean?
Our students will receive a longitudinal patient experience. Starting on their first day of school, they will be paired with patients whom they will follow, care for, and advocate for through all four years of medical school. Being paired with a patient with a chronic health condition early in medical school has an incredibly positive impact on both the student and the patient. Phronesis students receive insight into what a long-term doctor-patient relationship can be — a fulfilling aspect of primary care. Past Phronesis students have visited patients in the ICU and at home, helped patients sign up for benefits, and even dealt with their patient's passing. These students come to understand early in their career the doctor-patient relationship and how to develop a professional identity.
Potential outcomes from Phronesis' expansion include:
Students internalize characteristics, values, and norms of the profession through guided experience of a long-term relationship with a complex patient
Improved knowledge retention — concepts are retained better when seen in context of their own patient
Fewer professionalism concerns throughout training due to strong mentoring and role modeling from the beginning of medical school
Students see the trajectory of illness early in their training
Students have increased resilience and wisdom; reduced burnout, especially in the depersonalization domain; and improved tolerance of ambiguity
We graduate students with a deeper social commitment and understanding of the social determinants of health
Graduating students see themselves first and foremost as the patient's advocate
It is important to note that the student isn't the only beneficiary here. Phronesis is a two-way street. In this model, the patient is also a teacher. They benefit by having direct, personal access to a healthcare advocate and through their personal satisfaction of knowing they are contributing to the field of medical education. Relationships such as these have shown to have positive outcomes for the patients, who require less acute care because of these connections.
Faculty Gain a Champion, Too
In the coming years, clinicians are likely to see more of our students as they join patients at appointments on the patient-side of the exam table. Providers benefit from Phronesis as students are involved with patients by, for example, following up on scheduling tests, coaching patients on diets, and ensuring medical instruction is appropriately followed.
The expanded Phronesis Project will continue to promote interdisciplinary care, too. As the students learn and grow, they will be involved with the entire interdisciplinary care team. (This highlights one of our main Health System Goals: "To train heath care providers of the future to work in multi-disciplinary teams.") We hope that, in the long run, we create doctors who have a high capacity for professionalism and who have the ability to nurture the doctor-patient relationship while avoiding burnout.
Thank you to Peggy Plews-Ogan for starting this program and Rachel Kon and Megan Bray for assisting in expanding Phronesis. Additional thanks to Natalie May, who has been instrumental from the beginning, and John Schorling, an original mentor who developed the reflective practice component which was further enhanced by Suzanna Williams. Pilot mentors include: John Schorling, Beth Jaeger-Landis, Ira Helenius, Mo Nadkarni, Carolyn Englehard, and Eve Bargman.
I look forward to seeing the fruits of their efforts for years to come, the effects of which will ripple positively across healthcare for decades.
Sincerely,
R.J. Canterbury, MD
Senior Associate Dean for Education