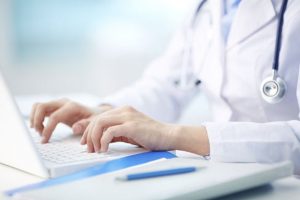 In November of 2015, faculty were invited to take part in the Faculty Forward Engagement Survey. And take part you did. The national average response rate for this survey is 65 percent; however, 74% of our school's faculty engaged with this survey. Thank you!
Much has changed since the fall of 2015. For one thing, the survey is no longer called Faculty Forward. The Association of American Medical Colleges (AAMC) has changed the survey's name to StandPoint. Going forward, we will be referring to it as such.
We received the results in early 2016 and, for the past year, have been working with chairs and departments on action plans. In total, we met with all department chairs to review results. Furthermore, we were invited to present in 15 departments and presented results directly to faculty, held focus groups, and had individual conversations — all with the purpose of tackling concerns and challenges. At the institutional level, an advisory task force met and reviewed the results, discussing how to improve three broad areas of concern: communication, governance, and explanation of finances. We lead focus groups with faculty around these topics, and began working at the school level to address them.
Some action plans are in direct response to the survey results while other initiatives that address areas of concern raised in the survey were taken independently. Regardless of their source, highlights at the school level, include providing opportunities for Dean Wilkes to directly engage and communicate with faculty and SOM leaders in decision making, implementing a new process for department chair annual review, providing additional channels of communication (like this blog), collecting diversity plans from all departments, establishing the SOM Financial Advisory Committee, and presenting SOM/UPG and Health System financials at the monthly administrators meeting.
At the department level, examples of action-plans include arranging formal mentorship agreements for new and junior faculty; developing a plan for the reporting of financial principles and performance, as the Basic Science Funding Model is revised and clarified; deconstructing research silos by actively encouraging interdisciplinary research programs; meeting with all junior and mid-level faculty every year or two to review professional development progress; fostering greater transparency in and commitment to sponsoring our faculty for professional development opportunities, award nominations, and honorary society memberships; integrating faculty more formally into education activities of the School of Medicine; forming a Shared Governance Program to allow faculty and staff to voice their issues in small focus groups; expanding and complementing scientific expertise of departments through junior and senior faculty hires; and integrating Be Safe programs into all corners of the department (not just clinical sites).
That's just a sample of what we're looking to accomplish. To see the full list of action-plan items — both at the school and the department level — click here. For more information on the survey, visit the StandPoint Engagement Survey page on the Faculty Affairs and Development website.
Thank you to the faculty for their engagement with the StandPoint survey and in working to develop robust action plans — 2017 is shaping up to be a year of extraordinary progress.
Susan M. Pollart, MD, MS
Ruth E. Murdaugh Professor of Family Medicine
Senior Associate Dean for Faculty Affairs and Faculty Development
Filed Under: Faculty