Collaboration. Innovation. Dedication. Teamwork. These are important attributes in teaching, conducting research, and practicing medicine. The Graduate Biosciences Society (GBS) has found that they are also critical when organizing its annual symposium.
Founded in 1989, the GBS is the organizing body and faculty liaison for graduate students in departments and interdisciplinary programs affiliated with the UVA School of Medicine.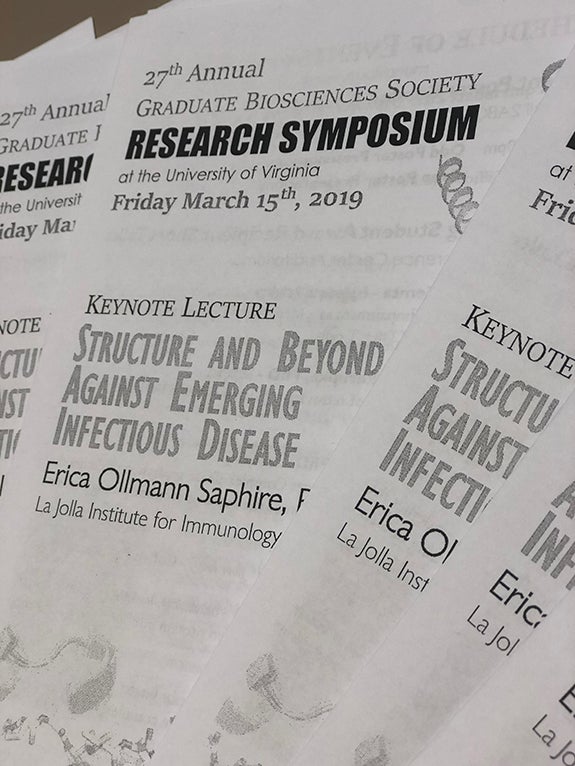 For the past 27 years the GBS has planned and organized its annual GBS Symposium. The professionalism displayed in this student-run symposium — from the early planning stages through the execution of the event itself — is exceptional. When a new executive board is seated in the summer, they set to work immediately to plan for the following spring's symposium. They identify a world-renowned scientist to be the keynote speaker, solicit abstracts for poster presentations, find post-docs and judges to participate in the poster session, detail travel arrangements for visitors, price out catering for the reception, write introduction speeches, schedule short talks by each PhD program's outstanding graduate student, and sort out the voting system for poster awards. It's a huge job and every year these students do it like professionals.
In addition to highlighting great science, the GBS Symposium has the added benefit of showing our younger students what they can aspire to with successful training. By listening to talks given by accomplished senior students and the keynote speaker, and by observing the professionalism of their fellow students in organizing the symposium, they become aware of how much they can accomplish in their graduate careers — in research, leadership, and outreach. There's a satisfying symmetry in seeing our students teach our students.
Aside from the poster session and the keynote speaker, the symposium itself is a showcase for the major annual biomedical sciences (BIMS) awards. This year's awardees include:
Michael J. Peach Outstanding Graduate Student Award: Mike Schappe (Pharmacology; Bimal Desai, mentor)
Jill E. Hungerford Prize in Biomedical Sciences: Greg Medlock (Biomedical Engineering; Jason Papin, mentor)
GBS Student Leadership Award: Victoria (Tori) Osinski (Coleen McNamara, mentor)
Poster Prizes:

1st Place: Roza Przanowska (Anindya Dutta, mentor)
2nd Place: Nadine Michel (Mike McConnell, mentor)
3rd Place: Janet Arras (Amy Bouton, mentor)

Biochemistry and Molecular Genetics (BMG) Outstanding Graduate Student: Olivia Sabik (Charles Farber, mentor)
Biomedical Engineering Outstanding Graduate Student: Greg Medlock (Jason Papin, mentor)
Biophysics Outstanding Graduate Student: Katarzyna (Kate) Skorupka (Owen Pornillos and Barbie Ganser-Pornillos, mentors)
Cell Biology Outstanding Graduate Student: Prasad Trivedi (Todd Stukenberg, mentor)
Experimental Pathology Outstanding Graduate Student: Lelisa Gemta (Tim Bullock, mentor)
Microbiology Outstanding Graduate Student: Stephanie Ragland (Alison Criss, mentor)
Neuroscience Outstanding Graduate Student: Geoff Norris (Jonathan Kipnis, mentor)
Pharmacology Outstanding Graduate Student: Michael Schappe (Bimal Desai, mentor)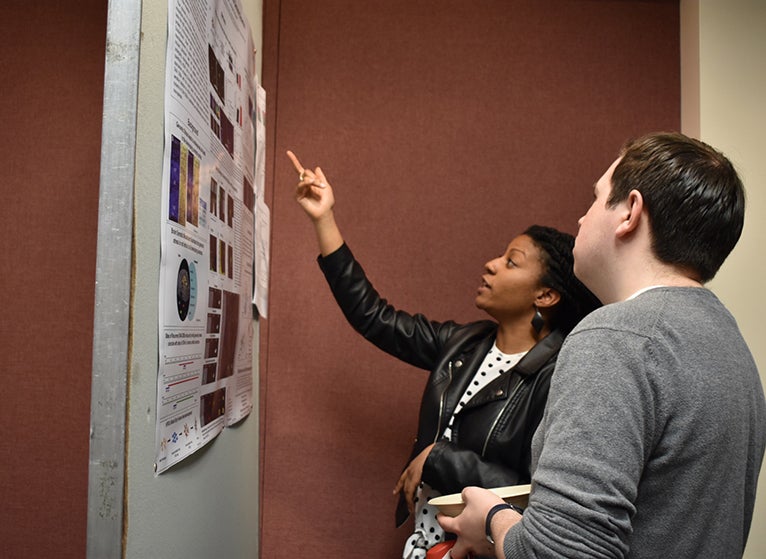 Last month, Amy Bouton, PhD, Associate Dean of Graduate and Medical Scientist Programs sent a note thanking all who helped organize this event. I echo that sentiment in congratulating and thanking GBS Academic Co-Chairs Cassie Robertson and Erin Weddle, Laura Odongo, keynote speaker Dr. Erica Ollmann Saphire, the graduate student awardees, the numerous students who presented their work, the GBS Executive Council, student attendees, and the many faculty and postdocs who helped judge the poster session. I am grateful to all for participating and sharing your knowledge and experience.
R.J. Canterbury, MD, MS, DLFAPA
Wilford W. Spradlin Professor
Senior Associate Dean for Education