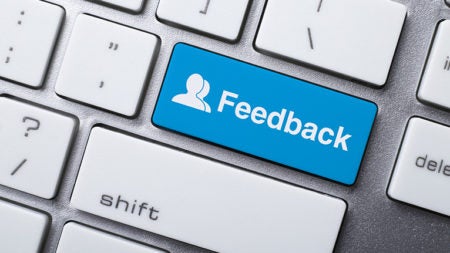 This fall, we asked faculty to participate in the 2018 Association of American Medical Colleges (AAMC) StandPoint Faculty Engagement Survey. After the survey closed last month, I was extremely pleased to see the tremendous participation rate of 79 percent. This was an increase from our 2015 rate (74 percent) and well above the 2018 AAMC cohort average (64 percent). Thank you, faculty, for responding! And thanks to all of our department chairs, who played a big role in encouraging faculty to participate.
You spoke and we heard. The next step is to act. This winter, the AAMC will analyze the survey, prepare reports, and deliver results to us in mid-January. On Jan. 30, they will come to the School of Medicine to meet with chairs, department administrators, SOM faculty senators, the StandPoint Taskforce, and the Dean's cabinet to review and discussion action-planning and next steps.
We will use your feedback to better understand faculty needs and how we can better be of service. I am particularly interested in the responses to the custom questions in the survey, specifically the items related to faculty wellness and resilience. Burnout and work-life balance are challenges at UVA and for faculty across the nation. In addition to the departmental reports, we will have survey results by service line, which is new to the survey this year. The data you provided will drive the action for a better, healthier work environment for us all.
If you have any questions about the survey between now and when the AAMC arrives in late January, please reach out to me or Troy Buer, PhD, Director of Faculty Development & Special Projects.
Thank you again for your participation and support of the StandPoint initiative.
Susan M. Pollart, MD, MS
Walter M. Seward Professor and Chair (interim) of Family Medicine
Senior Associate Dean for Faculty Affairs and Faculty Development
Filed Under: Faculty