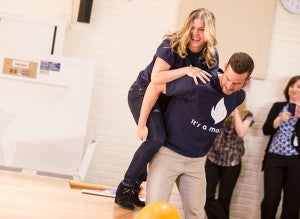 Last Friday was a great day. I had the pleasure of seeing all 153 students in the University of Virginia School of Medicine Class of 2016 match to a residency program. This is an outstanding achievement!
We can attribute the excellent Match Day results to the quality of our students, the reputation of our school, and the excellent career advising that our students have received. I could not be more proud of our students and feel inspired by the dedicated faculty and staff who assisted their journey.
Of the 153 matches, 25 will stay in Charlottesville to do their residency at UVA Health System while the rest will travel to 31 states (and Washington, D.C.). The most popular residency this year was internal medicine — the others rounding out the top 10 included pediatrics, general surgery, emergency medicine, anesthesiology, family medicine, obstetrics and gynecology, psychiatry, radiology, orthopaedic surgery, and urology.
To see the full match list, please visit: http://www.med-ed.virginia.edu/handbook/residency/Match/16/match16d.cfm
Please join me in congratulating the Class of 2016!
R.J. Canterbury, MD, MS, DLFAPA
Senior Associate Dean for Education
Wilford W. Spradlin Professor