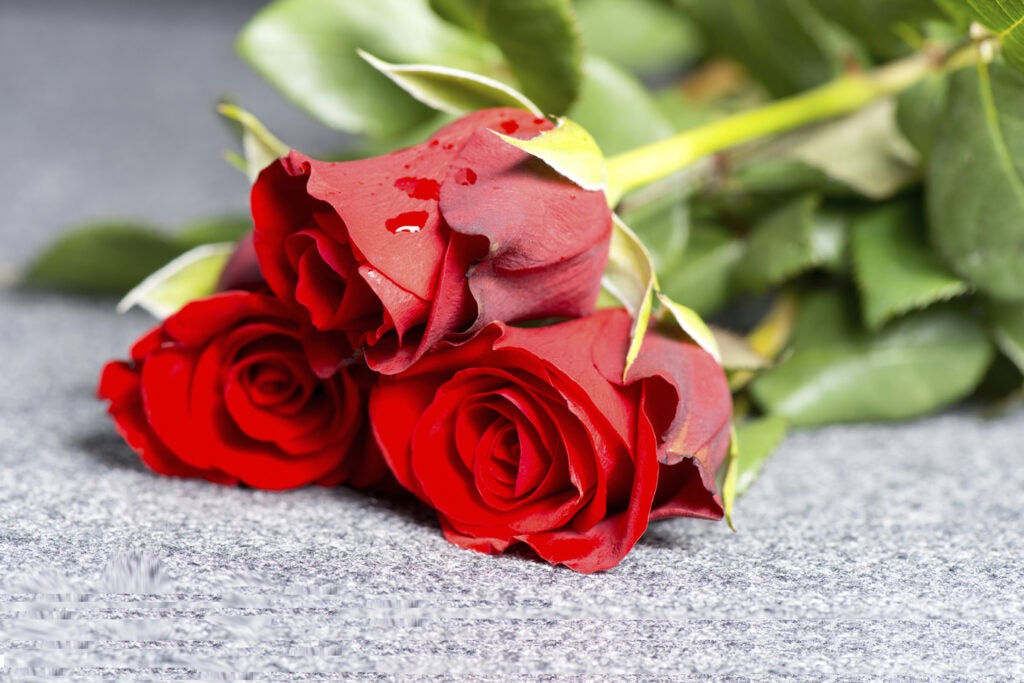 At the annual Anatomical Donor Convocation of Gratitude on Friday, Dec. 10, UVA School of Medicine students paid their respects and showed gratitude to the donors who graciously donated their bodies to help the students learn and positively impact future patients.
Organized by second-year medical students, the event was also an opportunity to thank the donors' family members and tell them how important their loved ones' gifts have been to their education. The Convocation included the students' reflections and thoughts on the anatomy experience, as conveyed through art.
We sat down with second-year medical students Misky Sharif, Elizabeth Wat, and Emily Fronk, who helped organize the event. They were gracious to share their experiences below. (Photos courtesy Zuhayr Shaikh. Video by Harry Moxley.)
You spent most of the calendar year in anatomy class. What was that experience like?
Misky: We started our anatomy experience in January over Zoom due to the pandemic. The first session, led by our amazing Director of Anatomy, Dr. Moyer, as well as our incredible Ethics Thread Leader, Dr. Chen, was designed to acquaint us with the concept of dissecting a body as well as talking through initial feelings we had as a class. On our first day in the anatomy lab a week later, Dr. Moyer walked us through how to position the body and how to use certain instruments in dissection. The following class, we started the dissection of the musculoskeletal system. Since then, our class has dissected all seven body systems and gained insight into the intricateness of the human body. During our time in Anatomy, we were also fortunate to participate in Clinical Skills Lab (referred to as CAIL lab) where we had the opportunity to further apply our understanding to procedures in lab such as inserting a urinary catheter as well as laparoscopy of the abdomen guided by our phenomenal instructors.
Elizabeth: Anatomy was a surreal experience in that I could not believe how privileged I was to study a person's body. I spent many hours outside of dedicated lab time to study, which gave me time to reflect on how our bodies encapsulate and represent who we are. I have always loved the brain and when I first held a human brain, I felt like I was holding the donor's life because of all their memories and how they processed the world were right there in my hands.
Emily: I went into anatomy feeling a small level of excitement, but was honestly mostly full of nerves. Despite the wonderful preparation we get from our head of anatomy, Dr. David Moyer, and ethics professor, Dr. Donna Chen, I think you never quite know how you're going to react to seeing a cadaver until you walk into the room. As we began to learn from our donors, I realized just how great of an impact my donor was going to have not only on my medical education, but my entire career as a physician. I really threw myself in to trying to learn as much as I could from my donor, as I wanted to make sure that their sacrifice was as meaningful as possible and propelled me to become the best physician I could be. As I learned various bones, muscles, and nerves, I often found myself creating stories in my mind about how these body parts played into my donor's life. Were her hands calloused because she spent each weekend gardening? Was her healed tibial fracture an injury from playing her favorite sport as a child? Who sat with her as she recovered from her evident abdominal surgery? In doing so, she become far more than a study tool to me, she became a human and really my first patient. It resulted in anatomy becoming not only a wonderful learning experience, but an incredibly humbling experience as I felt my nerves fade away, instead being replaced with an overwhelming sense of gratitude for their sacrifice.
Tell us about the Anatomical Donor Convocation of Gratitude. What was included in this year's event?Misky: The second-year class hosts the annual Donor Convocation to showcase our deepest gratitude to the families of our donors as well as highlight how our donors have played an unparalleled impact in anatomy. At the ceremony, we showcase the written pieces, reflective performance, and heartfelt artwork that our classmates have created over the past year to reflect their anatomy journey. This year, we were also so grateful that family members of several donors were able to attend, both in person and over zoom, to share stories about their family members.
Elizabeth: The convocation is entirely student-run by a committee of second-year medical students. We decided to host the convocation as a hybrid event (in-person and Zoom) so that family members far from Charlottesville could attend the event and, as a result, we had a record number of family members attend. In the beginning of the ceremony, Emily and I gave the families a better idea of what anatomy lab was like and how we are prepared by our ethics faculty for the first time we see our donor. This year, we also produced a video that featured students' perspectives on anatomy and their thought processes behind their reflection projects. Several students performed their reflection projects, which ranged from poems to playing original songs on the piano. Lastly, families were invited to share any thoughts or stories about their loved ones.
Emily: Each year the second-year class holds the Donor Convocation of Gratitude ceremony to thank both the donors and their families for their sacrifice. As we near the end of our anatomy journey, we as students create reflection projects ranging from written pieces to musical performances to beautiful artwork that we feel will best convey our gratitude. The ceremony is a way for us to come together with the families to showcase our projects and to really reflect on how meaningful this experience has been for us.
How was the event received by the family members? Were there any particular moments that stood out?
Misky: The highlight of the ceremony was hearing the stories from the family members of the donors. We were so appreciative to hear about the remarkable people behind this selfless gift. As future physicians, our professors have always stressed the importance of understanding our patients as the people they are because there is so much behind a patient than just the diagnosis. Though our donors, who truly are our first patients, were not able to be here with us, it was invaluable to have the people that knew them best share a little bit of that with us and something we will certainly treasure for a lifetime. At the end of the ceremony, a family member of a donor had come up to me and shared how much the ceremony had meant to her. I am not sure that I could describe in words how much that moment meant to me because our hope for the event was to convey how much the donors have touched us and I was so appreciative that the ceremony resonated with her.
I was also touched by the heartwarming reflections from our classmates. It was a wonderful representation of how incredibly talented our classmates are as well as how much the donors have meant to us. We had performances from the medical school a capella group, the Arrhythmics, as well as students who shared a song they arranged on the piano and heartfelt poems they wrote.
Elizabeth: This year, we had an unusual circumstance of a married couple who donated their bodies and happened to both end up at UVA. Their loved ones were hesitant to speak at the ceremony, but after seeing the heartfelt performances of students showing their gratitude for the donors and family members' sacrifice, they decided to share the life story of the couple with us. We were honored to hear from their granddaughter and hospice nurse all about the donors' lives and how happy they would be to see how much we appreciated their choice to donate.
Emily: We were fortunate to have many families not only attend the event this year, both in person and via Zoom, but also be willing to speak and share stories of their loved ones. This helped the ceremony to be an incredibly meaningful event for both the families of the donors and for us as students. It allowed us to come together to not only mourn their loss but also to celebrate the lives they lived and the incredible gift that they made as a final act of kindness. The moments that stuck out to me were really the responses of the family members. One shared how the ceremony made her even more grateful for her mom's choice to donate her body and caused her to consider now doing the same after her own death, something she had never previously considered. Another, after attending the ceremony, said "You bring me hope for our future. We are in good hands with young people like you who are preparing to serve others." This was particularly impactful to hear, as I think we all went into medicine wanting to make a positive difference in this world and this reaffirmed that we have the power and capability to do so.
How has anatomy and the Convocation of Gratitude affected you or the donors' families? How do you think this will affect your practice as a physician?
Misky: Grateful does not even begin to describe how deeply indebted we are to our anatomical donors. They are our first patients and most powerful teachers. We have been able to learn about anatomy in a way that would have not otherwise been possible, and they have really set the foundation for the rest of our education. We will always be able to draw upon our experiences in anatomy when trying to understand a patient's illness. As such, the donor's sacrifice has not only impacted us, it will help countless students to come. We would not be where we are today without our donors and we hope the ceremony was able to show this appreciation, even if in a small way.
Elizabeth: The convocation brought into sharp focus how many of the family members were still actively grieving, and this was the first time I had the privilege to help someone through the process of losing someone — a privilege and responsibility I will continue to have as a physician. The convocation included large gestures like performances and reflective artwork, but I witnessed how my smaller gestures like a simple hand squeeze or listening to the donor's life story brought some peace to the family members.
Emily: My experience in anatomy is going to be at the core of everything I do going forward in my future career as a physician. Each patient I'm able to help is going to be because of the sacrifice they made. Their donation is so powerful because it has the ability to positively affect hundreds, if not thousands, of lives. My immense gratitude for my donor will remain with me for the rest of my life.
Anything else you'd like to add?
Misky: Without our anatomical donors, there would be no anatomy and without anatomy, it would be very difficult to understand medicine. We are forever grateful to our anatomical donors and their families for this selfless sacrifice and for believing in us. We would also like to thank the faculty and staff who have helped us organize this event, the family members who were able to attend the ceremony and for our fellow planning committee members, Nancy Shen, Marie Mack, and Angela Tang, for their tireless efforts and dedications.
Elizabeth: If I could summarize anatomy lab in one word, it would be "empowering." Not only do I feel empowered by the knowledge that my donor taught me, but I also feel empowered by their choice to donate because I see it as an act of faith in mine and my classmates' ability to use that knowledge to help future patients.
Filed Under: Education