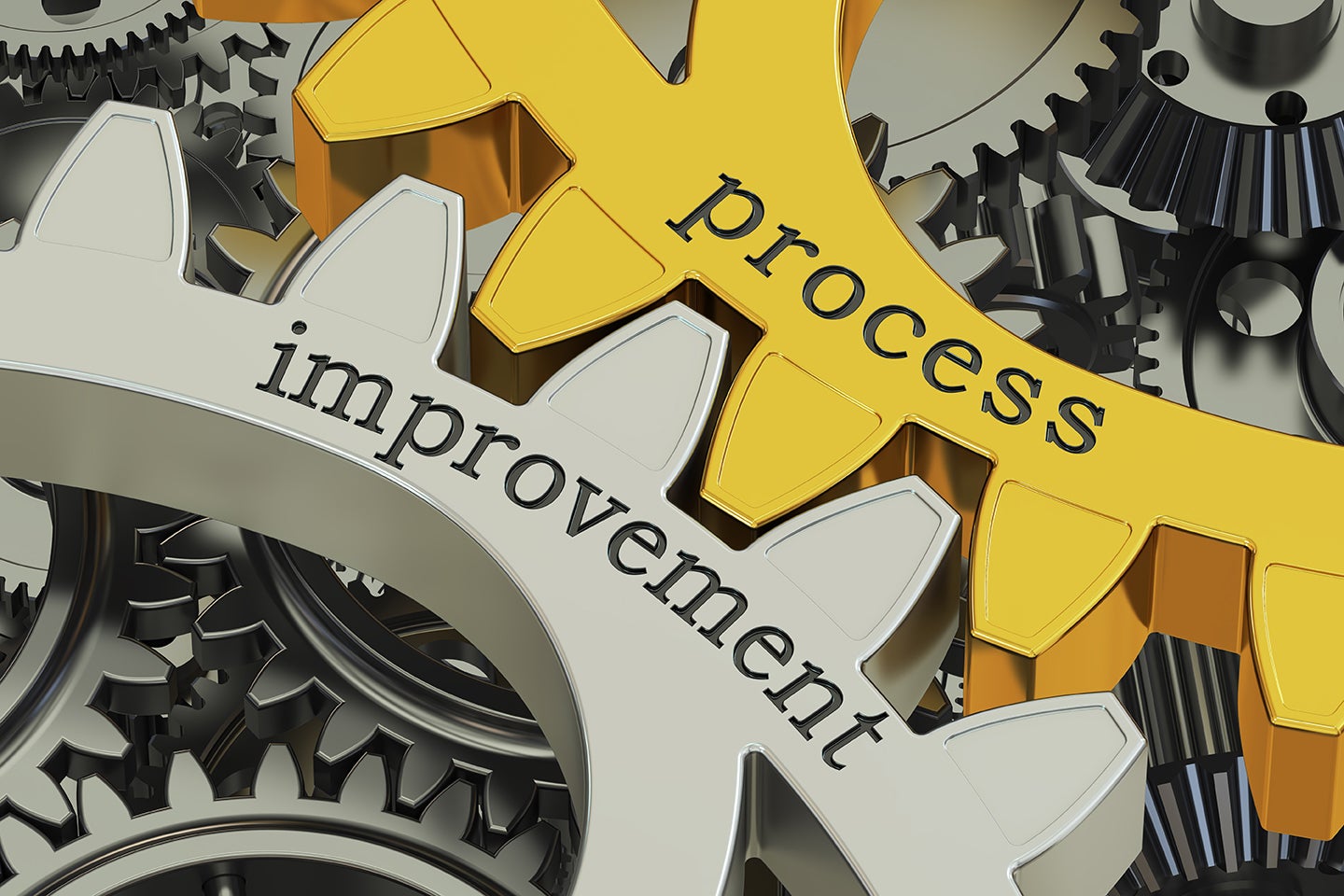 Promotion and Tenure is a core part of our faculty life cycle and navigating the P&T process is crucial to a successful faculty career. Because it is so important, we're constantly looking for ways to make improvements.
We recently performed a Lean A3 to upgrade the P&T processes. We examined how the P&T process works and where improvement was needed, looking for ways to reduce waste, such as defects in the process, low response rates and delays, transferring documents across nine different systems, and redundant data entry.
Faculty Affairs, in partnership with our departments, is creating standard work around communication and candidate support, implementing standardized guidelines and templates, and ensuring the candidates know what is expected of them (and when). Overall, we're aiming to improve consistency in practices while remaining flexible to allow departments to handle P&T in a way that makes sense for faculty. We have already made some positive changes and will continue to do so over the next year's P&T cycle.
The results have been well received. We have a new P&T website, updated templates, how-to videos for faculty, a two-year timeline, checklists, and more. These improvements help faculty understand and successfully navigate the P&T process. New processes also help our P&T contacts and Faculty Affairs team work more efficiently.
Here are some highlights of our efforts:
Implemented & Upgraded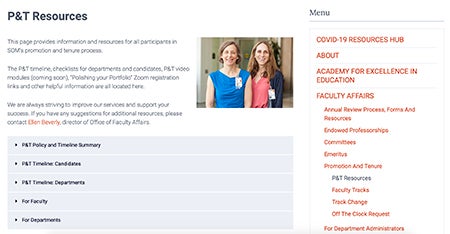 Website improvement | A one-stop shop filled with resources for faculty and departments. Visit it here.
Eligibility Reports | Newly designed and more readily available. We've received a lot of positive feedback and are currently working with our Human Resources partners to automate this process for next year.
P&T Mentor-Mentee Program | Having a helpful guide who can offer insight during the process can make all the difference.
Timelines | Printable candidate and department checklists are available for the current year, as well as a summary of both the 2021-22 and 2022-23 cycles.
Referee Letters | We have clarified the mechanics of this process and made it easier for referees to submit letters.
Improved Technology Solutions | We are upgrading our Advancement App and have moved the SOM P&T Committee review into MS Teams.
Faculty Resources | On-demand, how-to video presentations on timelines, CVs, personal statements, and referees. New research portfolio guidelines. (Note: There are two upcoming Zoom sessions on polishing your portfolio. Check them out on May 6 at 5 p.m. and May 7 at 7 a.m.)
Department Resources | Guidelines, forms, mentor-mentee program, coordinator's guide to the criteria for referees, and a video on the P&T administrators process panel.
Relationship-Building | We are forging a new partnership among The Office of Faculty Affairs and Faculty Development, Human Resources, and our departments to improve day-to-day operations in support of our faculty. Creating a supportive community that shares best practices will ensure transparent and consistent practice across the School.
For Next Year
Sending annual eligibility emails to all faculty (except full professors)
Incorporating eligibility date/academic review date into annual performance reviews
Creating a centralized web tool to provide the data needed for portfolios (e.g., Press Ganey, teaching evaluations, productivity data)
Creating guidelines for clinical portfolios and service.
Our office is engaged in continuous improvement and we look forward to faculty and staff feedback on these improvements. Eliminating redundant efforts, streamlining and standardizing processes, and creating tools for clear communications and expectations will help us better support the success of our faculty.
Susan M. Pollart, MD, MS
Senior Associate Dean for Faculty Affairs and Faculty Development
Ellen M. Beverly, SPHR, SHRM-SCP
Director of Faculty Affairs, School of Medicine
Filed Under: Faculty, Operations