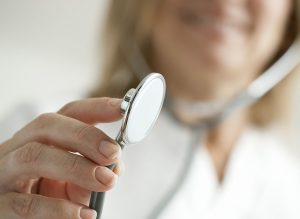 This summer, the School of Medicine began a pilot program to use assessment of entrustable professional activities (EPA) to measure the competencies of medical students and their readiness to perform patient care tasks. The EPAs are the tasks a resident should be able to perform from day one of their training; activities such as taking a patient history, documenting an encounter, performing basic procedures (e.g., starting an IV), collaborating as part of an interprofessional team, and interpreting lab values.
A lot of what we've done in clinical education is based on presumptive trust. Performing an EPA assessment involves direct observation to collect data about a student's abilities. Teachers provide feedback to students about their strengths and about skills they need to develop further and the learners then use this information to improve. For teachers, these data allow trust to be grounded in fact and enables them to design individual learning experiences for students. The School of Medicine also will be able to use the information from assessments to target curricular innovation for all students.
The pilot has been a positive experience for both learners and teachers. Here's what some of those involved have to say about it:
Joshua Eby, MD
Assistant Professor Professor of Medicine
"This was an opportunity to help students do better with histories and physical exams and a nice venue to allow attendings to give honest feedback without feeling like it's affecting a student's grades. Because of this, it allows for a more open discussion with constructive criticism on how a student is performing."

Sarah Dillon
School of Medicine, Class of 2019
"I may have been the first or one of the first to do an EPA. I liked it because it formalized a process that was already being done. I think that physicians are good at giving feedback to students, but this ensured that regular feedback was happening. It was helpful to have it happen early on in the rotation, so that I could get advice on what to work on. I did my EPA with Dr. Eby, who gave me great advice on history taking and physical exam skills. One of the big takeaways I had was how he emphasized the importance of the physical exam — taking my time and developing my own routine with doing an exam, head to toe, and being very thorough."

Brian Uthlaut, MD
Associate Professor of Medicine, Division of General Medicine
Program Director, Internal Medicine Residency Program
"One success so far has been in organizing a large number of our general medicine inpatient teaching faculty to come together for faculty development on EPA-based assessment. This was the largest workplace based assessment activity that I've been a part of at UVA. It was a good step for us, as we grow in terms of bedside observation, skills, and consistent observation of our medical students. I look forward to a greater environment for bedside observation for all of our learners — from medical students to residents to fellows. I think that the faculty development that we've started — and increasing comfort level with this — is an important step in achieving more frequent and higher quality bedside observation.
 As we get the faculty up to speed, I've heard positive feedback from faculty about the quality of the time they've been able to spend with our students at the bedside … we are off to a good start and this is really a very common-sense way to train our students with higher reliability."

Mitch Rosner, MD
Chair, Department of Medicine
"It is critical to have methods to critically evaluate the skills of our students in real-world situations. We need to ensure that our students are as prepared as possible to enter residency and this program goes a long way in achieving this goal. It is gratifying to see UVA lead the way nationally in this program."

In the next phase of the pilot, students, faculty and residents from the departments of pediatrics and Ob/Gyn will engage in EPA-based assessments.
Many thanks to the leadership team (Drs. Mitch Rosner, Gerald Donowitz, Molly Hughes, Alex Millard, and Brian Uthlaut), the faculty and the residents from the department of medicine for supporting this initiative and for their commitment to our students and the educational mission.
R.J. Canterbury, MD, MS, DLFAPA
Wilford W. Spradlin Professor
Senior Associate Dean for Education