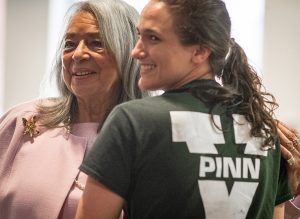 Before I arrived at UVA, a colleague of mine at the National Institutes of Health told me, "When you get to Virginia, you have to meet Vivian Pinn." It was great advice. I've become friends with Dr. Pinn over the past two years and I'll repeat that advice to you: If you have an opportunity to meet Dr. Pinn — jump at the chance. She is an outstanding scientist and an even better person.
There are many reasons I am excited to be here at UVA. But meeting Dr. Pinn and honoring her legacy by renaming a building in her honor, a building that will be dedicated to advancing science for the betterment of mankind is yet another reason.
We will soon be renovating Pinn Hall to create state-of-the-art research space to support today's most talented and ambitious scientific leaders. This facility will incorporate the latest technologies to encourage productivity and scientific partnership among interdisciplinary teams. By using open and flexible lab modules and shared equipment, this renovation will increase our space efficiency by 25%. Ultimately, this promotes team science, which is what we need to stay competitive with other elite schools of medicine.
I recommend watching the below 40-minute video from the Sept. 13 dedication ceremony. Her accomplishments and perseverance are truly commendable and worthy of your time. Included are timestamps for ease of use.
00:00 – 05:40 | Teresa Sullivan, President, University of Virginia
05:50 – 09:56 | Frank "Rusty" Conner III, Rector, UVA Board of Visitors
10:15 – 14:01 | Dr. L.D. Britt, UVA Board of Visitors
14:07 – 15:05 | Dr. David Wilkes, Dean, UVA School of Medicine
15:12 – 20:12 | Video: Dr. Francis Collins, Director, National Institutes of Health
20:21 – 25:53 | Dr. David Wilkes, Dean, UVA School of Medicine
26:08 – 40:40 | Dr. Vivian Pinn, Senior Scientist Emerita, NIH Fogarty International Center
Additionally, during Dr. Pinn's visit to UVA, she participated in the Medical Center Hour entitled "Assuring Fair Access for All." You can view that video here.
She is an inspiring speaker and I encourage you to take time to watch the video.
David S. Wilkes, MD
Dean, UVA School of Medicine
James Carroll Flippin Professor of Medical Science