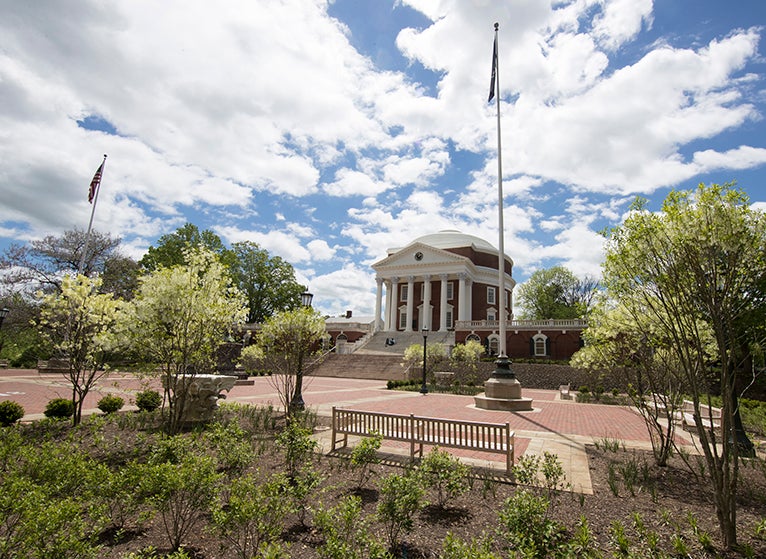 It seems to me that great advances in science and research are made when experts from different disciplines — who have been thinking about only one aspect of a problem — gather and collaborate. This is when we see real needle movement on a given challenge. Personally, I've had the most fun in my career when I've been involved with such collaborations and conversations.
Over the past few years, the University of Virginia has been creating opportunities for faculty with the pan-University institutes. The first four of such entities are the Data Science Institute, the UVA Brain Institute, the Global Infectious Diseases Institute, and the Environmental Resilience Institute.
Two of the most recent institutes — the UVA Brain and Global Infectious Diseases institutes — have had particularly wide participation by School of Medicine faculty. These two institutes have clear and inclusive visions that span many schools and they are wonderful opportunities for School of Medicine faculty.
I invite you to contact the directors — Jaideep Kapur, MBBS, PhD, for UVA Brain, and Alison Criss, PhD, for Global Infectious Diseases — and participate. Both institutes will have opportunities for faculty and trainees, and for linking people in different departments, schools, and disciplines. I hope you will take full advantage of these two exciting initiatives.
Global Infectious Diseases Institute
The Global Infectious Diseases Institute's goal is to catalyze new transdisciplinary research that reaches across Grounds to bring together faculty of varying disciplines, all directed toward combating the most vexing global infectious diseases challenges. This institute involves eight schools across Grounds and over 100 faculty, many of whom are from the School of Medicine. As it is trying to be inclusive — to reach as many experts in this arena as possible — participation is not limited. Anyone can be a member.
In the beginning, the Global Infectious Diseases Institute will be focusing on three subject areas: pandemics, antimicrobial resistance, and diarrheal diseases in children. These are some of the most pressing infectious diseases challenges worldwide. They are also areas where we feel UVA has expertise and in which we can make an immediate difference on an international stage.
This institute's research will support a range of areas from the fundamental mechanisms by which pathogens of global infectious diseases of significance cause disease, to new interventional approaches (treatments, educational approaches, and treatment policies), to deploying those interventions, to policy.
The Global Infectious Diseases Institute will be disbursing seed funding to bring together research groups to address these critical infectious diseases challenges. These seed grants will position multidisciplinary teams to gather preliminary data that can then be applied to grant or foundation applications to really grow the research enterprise. This institute will be the catalyst — the matchmaker — in that regard.
The institute has also been sponsoring activities across Grounds to begin the conversation among faculty who may not have worked together, so that we may form partnerships between and among the schools. We're hoping that these partnerships will bear fruit in the form of exciting research ventures. Though this is a brand-new institute, it has already been hosting monthly lunches on topics that are directly related to pandemics, antimicrobial resistance, and diarrheal diseases in children. In May, the institute held a symposium, open to the UVA community, that also addressed these issues. Activities such as these will continue in the coming months and years.
It's amazing how many UVA faculty have international research partners. Did you know that UVA is partnered with existing research ventures at more than 100 sites around the world? The Global Infectious Diseases Institute will help support these relationships, as well as nucleate research opportunities with these international partners. One of the activities the institute aims to nurture is an international research exchange. This would take the form of a mini-sabbatical for the UVA faculty member and the international partner to spend a short amount of time at each other's institutions to launch a collaborative project. The institute will also be supporting trainees at all levels, providing them with opportunities to position them for their next career step. (Details to come.)
It's exciting to see this institute come to fruition. School of Medicine and Health System leadership have been supportive of the Global Infectious Diseases Institute since its inception. It is the culmination of 18 months of work by UVA faculty across Grounds. This was an incredible grass-roots initiative. Faculty came up with the idea and gathered colleagues with similar interests. They realized the power they could wield, as a group, when they worked together in a way they had not done before.
For more information, please check out the website. To get involved, contact Dr. Criss.
UVA Brain
UVA Brain's mission is to develop the network of collaborating labs and individuals in brain research across Grounds. This ranges from clinicians to engineers to basic scientists to data scientists — all working together on big problems in neuroscience that would benefit society.
UVA Brain wants to take research from the bench to bedside, choosing problems that impact the care of patients and improve patient outcomes, using solutions derived from fundamental research. We are optimistic about these efforts, because UVA has already done it in the past with efforts like focused ultrasound. Less than eight years ago focused ultrasound was a concept: now we have two clinical trials. Further evidence of this bench-to-bedside success can be found in our major national clinical trials in stroke and epilepsy.
UVA Brain is building collaborations across Grounds by offering seed grants aimed at investigating transformative research and ideas. UVA Brain awarded seven grants last year and intends to repeat that this year. It also awarded six presidential fellowships for graduate students who work between two labs — again, emphasizing that collaborative research between labs.
An idea UVA Brain will explore in the future is to develop what are called "studios" at other institutions. When a clinical investigator has a hypothesis, grant, or project to develop, we will bring together experts in in multiple areas — people who know how to do clinical trial design, biostatisticians, faculty with expertise in a particular clinical area, imaging experts — whatever knowledge is needed to move the project forward. This is something that has been done successfully at Vanderbilt, Emory, and Johns Hopkins.
Since its creation, UVA Brain has helped to enhance the University's imaging infrastructure. UVA has upgraded to a 3D prisma MRI for brain research, installed a research PET scanner, and recruited a radiochemist to synthesize radiochemicals for PET scanning — with all of these new facilities, we can employ a novel set of strategies to perform medical diagnostic research in the brain. In the future, UVA Brain will also be supporting seed-grant funding with PET scanning. (Keep an eye out for details on this.)
UVA Brain has plans to expand the neuroscience graduate program from six to 12 admissions per a year over the next three years. It is also revamping the neuroscience PhD program and would like to increase the size of neuro-engineering by partnering with Frederick Epstein, PhD, Professor and Chair of Biomedical Engineering, and the School of Engineering and Applied Science. UVA Brain is also trying to break existing boundaries, crossing over to data science and engineering, and engage in areas beyond focused ultrasound and epilepsy to areas like traumatic brain injuries, sensory systems, neurodegenerative disorders, and integrative neurosciences.
Stay tuned for more details on the upcoming neuroscience retreat. Calls for proposals have been sent out and proposals are due Sept. 15.
Faculty interested in collaborating with colleagues in UVA Brain should apply for seed grants. You can also contact Diane Payne, Senior Medical Office Coordinator, to join the UVA Brain listserv.
Greater Than the Sum of Our Parts
These are important initiatives and I am excited that School of Medicine faculty have the opportunity to participate. With these institutes, we are taking advantage of strengths that have been building here at the University — strengths built by you! In connecting faculty and crossing disciplines, we will together create discovery greater than any single department or school could on its own. It's wonderful to have the University dedicate resources to these institutes for the advancement of science and, ultimately, to better the lives of our patients.
—Peggy
Margaret A. Shupnik, PhD
Gerald D. Aurbach Professor of Endocrinology
Professor of Medicine
Senior Associate Dean for Research