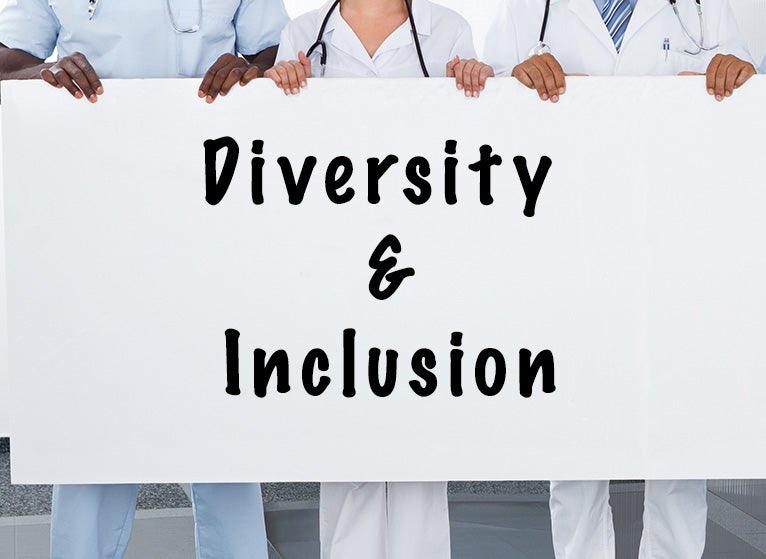 In the past year, we have made strides in increasing diversity and providing a more inclusive environment for faculty, residents, staff, and students at the School of Medicine. And we've received recognition for these efforts, including:
HEED | Last fall, UVA School of Medicine received the Health Professions Higher Education Excellence in Diversity (HEED) Award from INSIGHT Into Diversity UVA was one of 35 schools to receive the 2018 award, and this was the seventh consecutive year we have been honored.
URM | Data show an increase in our underrepresented in medicine (URM) residents, fellows, and faculty. In the past five years, we have nearly doubled the total percentage of URM residents and more than doubled the percentage of fellows. We have increased the percentage of URM faculty, but is still below the national average and continues to be a focus area for us.
LCME | Until recently, the Liaison Committee on Medical Education (LCME) had been monitoring our diversity and pipeline programs and partnerships, as they relate to faculty diversity. Last October, we received notice that we had demonstrated satisfactory compliance. Our next survey visit will be in 2022 and faculty diversity will be a major area of focus.
More Examples of Successful Efforts
Increased diversity and inclusion are the goals of other ongoing efforts. Below are examples provided by Susan Kirk, MD, Associate Dean for Graduate Medical Education, and Gregory Townsend, MD, Associate Dean for Diversity:
Evolving "self-talk" | For residency and fellowship programs, we changed the way we talk about ourselves. "We're a great program, you should come here." has been replaced with "We're a great program, and we'd be better if you joined us." This is an important adjustment in our thinking.
Welcoming touches | How we present ourselves to potential candidates gets noticed. Imagery around the School and online has been updated to better reflect who we are and who we want to recruit.Also, additions like rainbow flags on ID holders and safe-space signage explicitly state our commitment to diversity and inclusion and promote a supportive environment for all.
Diversity and Inclusion Council | The Graduate Medical Education Committee created a new Housestaff Council for Diversity and Inclusion, and invited all residents to participate. Their major accomplishment last year was to host the inaugural Trainee Diversity and Inclusion Symposium, which was attended by trainees and junior faculty from UVA and other institutions around the region.
Diversity Days | Throughout the interview season, sessions for potential residents are capped off with dedicated time for anybody who wants to participate in diversity programming. Questions on these days are less about any given department and more along the lines of "Where can I live?", "What mosque can I attend?", "Where can I get my hair cut?" and "What churches are safe for me?". Real questions about living in Charlottesville are answered by our own residents and fellows. This session has significantly contributed to the success of students matching with our residency programs.
Stipends for diversity | Fourth-year medical students visit from other institutions and are potential candidates for a UVA residency. Many of our departments are now providing travel scholarships for students interested in attending UVA and in contributing to our diversity. Our own fourth-year medical students have experienced programs like this at other institutions and have reported that it made a huge difference. They had the opportunity to go to a school they might not otherwise have been able to afford to visit, and they got the message that the institution is sincerely committed to diversity.
Expanded national recruitment | We have stepped up our recruiting at major conferences, such as the Student National Medical Association meeting, where faculty and GME trainees can speak with potential residents about topics that are of interest to them.
Faculty recruitment support fund | The Office for Diversity supports a fund for accompanying partners of hired faculty who will contribute to diversity at the School of Medicine.
Ongoing diversity efforts | Departments have embraced this, scheduling speakers for Grand Rounds to address diversity issues, forming search committees with diverse membership, identifying diversity facilitators and creating diversity committees, and participating in unconscious bias trainings and other educational opportunities related to addressing disrespectful and discriminatory behavior.
Efforts such as these will continue to expand and will become an everyday part of our culture. Long gone are the days when "increasing diversity" was something delegated to the Office of Diversity and Inclusion. We now embrace the notion that each of us plays a part in expanding the diversity and inclusiveness of our school. While there is still work to be done, things are changing and we are very excited about our future.
If you have an idea or suggestion about diversity and inclusion efforts, we'd love to hear it. Please reach out to Greg, Susan, or us with your feedback.
Susan M. Pollart, MD, MS
Senior Associate Dean for Faculty Affairs and Faculty Development
R.J. Canterbury, MD, MS, DLFAPA
Wilford W. Spradlin Professor
Senior Associate Dean for Education
Related reading:
"Diversity and Inclusion: Our Efforts Are Ongoing"
Filed Under: Faculty